Variety recently gathered a panel of seven leading women directors—including Tracee Ellis Ross, Jodie Foster, and Helen Hunt—to highlight "women behind the camera" and talk about "the challenges they've faced" in Hollywood. Which is very cool—it's just that Variety captured that meeting with a room full of men behind the cameras.
The panel chat, which seems to have been captured by multiple cameras, begins with the question, "There's been a lot of conversation lately about the lack of parity for female directors. What can we do to create more opportunities for women?" There's the usual talk of "when a door opens for you, opening it for somebody else," and "grab the hand of the next generation." Then Pamela Adlon—who directs the FX series Better Things and who you might remember from Louie—chimes in with her signature no-bullshit style:
"Look around this room. Every single camera except one is manned by a guy. Sorry, no offense, but I'm just saying! In Season 3 of my show, I said, 'I need a female key grip. There is no fucking way that this doesn't exist.' There are so many jobs that young women don't know about. My focus puller, my camera department — I just want people to learn about the jobs that are available. Why is it a guy thing?"
That teed-up Jodie Foster, who recently directed an episode of Black Mirror, to talk about the all male crews that were the norm as she was coming up as a child actress. "It used to be me and a whole bunch of guys somewhere," said Foster. "They didn't see their families, they didn't see their wives and their kids, and it was like being in a boys' camp." She admits that norm initially influenced her hiring choices as a director:

"As a director it never occurred to me to seek out women crew members. I sought out the guys that I worked with, the guys that I knew that I thought were doing great work. I'm almost ashamed of that, until recently where I realized that we actually do have to make an effort. It isn't just going to happen because you think it's wrong and then you don't change anything. You actually have to make an effort to allow women to have those first jobs."
G/O Media may get a commission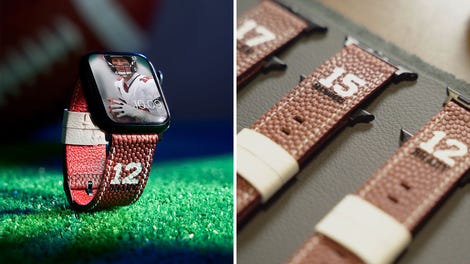 Official NFL PRODUCTS
Official NFL Apple Watch Bands
Change will clearly require more men in Hollywood making an effort.