In the new issue of Vanity Fair Farrah Fawcett and Ryan O'Neal are described as "the Angelina and Brad of their day," which seems unfair to Brad Pitt, considering he's never shot at or hit on one of his kids.
Vanity Fair bills the article "Beautiful People, Ugly Choices," as "a definitive portrait of Fawcett's meteoric rise, turbulent second act, and tragic final chapter." Unfortunately, the story mainly offers the definitive portrait of what a horrible partner and father Ryan O'Neal is, without getting at who Farrah really was, or why she chose to stay with O'Neal on and off for 30 years. The profile will be published as the cover story of one of Vanity Fair's two September covers (the other features Michael Jackson), which will be available on August 5 in New York and Los Angeles and on August 11 nationally. Below are excerpts from an advance copy of the article.
Author Leslie Bennetts first interviewed Ryan in June, after Farrah had been hospitalized with an infection in the port in her chest, which was installed because the veins in her arm collapsed from the many injections she received during her three year battle with anal cancer. Bennetts writes that Farrah's condition was so bad Ryan was "desperately trying to sustain himself with gallows humor," such as joking that he and her loved ones were just trying to get their hands on her money.
He made another crack about the 2007 incident which led to his arrest on assault and weapons charges. Ryan claims he fired a shot at his son Griffin O'Neal because he swung a fireplace poker at him. (Griffin accidentally hit his pregnant 22-year-old girlfriend in the head instead of his father.)
"When [Farrah] turned 60, we had this celebratory birthday where I shot my son," O'Neal said, his tone as casual as if there had been nothing conversation-stopping about such a remark. "I could have hit him, but I missed. Farrah was lying in bed, and she could hear it all—fights, swinging, gunshots. Welcome to the O'Neals'!"
G/O Media may get a commission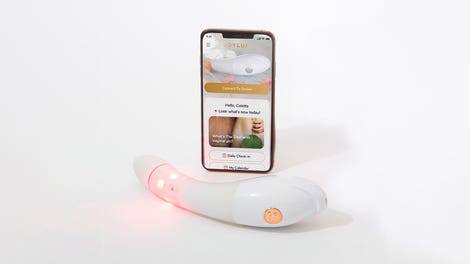 $50 Off
Joylux vFit Gold Device
In her final days, much of the public's perception of Farrah's condition was shaped by anecdotes Ryan fed to the press, which were apparently more rehearsed than they appeared. Ryan's revelation during an interview with Barbara Walters in June that he had "asked her to marry me, again, and she's agreed" was widely reported, along with his joke that he'd dress for the ceremony, "like a gigolo, you know? With a little thin mustache and slicked-back hair." Bennetts says that Ryan had already tried out the exact same lines on her, but in his first draft of the story he sounded far less sincere. Originally, he described his outfit as "a boulevardier in a silk suit, taking her for her money." Griffin claims Farrah never intended to marry his father, and that he only cared for her while she was ill because he wanted to be written into her will. No one has disputed that Ryan stayed by Farrah's side throughout her illness and to be fair, Griffin is obviously not an impartial source on the matter.
The article discusses Farrah's difficulty with her sex symbol status, suggesting that may be what inspired her "to sculpt female nudes with an obsessiveness that seemed like an attempt to understand the world's fascination with her own body." Ryan even says Farrah told him she liked her iconic hair style because "I can't see to the right or left, and that way I don't have to see people looking at me." Bennetts writes:
Aging only exacerbated her ambivlanece about her acting career. "As you get older, the young studs take over, the agents change, and you get shuffled off to Buffalo," O'Neal observes. "She didn't like that feeling."

And the process is always harder for women who have traded on their looks. "I think they lose confidence," O'Neal says. "I my mind, if I say, 'Your're beautiful,' that should be enough. But she was very high-maintenance. She took a long time getting ready to go anywhere, and that started to drive me nuts."
While most say Farrah first left Ryan in 1997 after she found him in bed with a 25-year-old actress on Valentine's Day, Ryan says menopause was another factor in their split.
"I believe Farrah was going through some kind of change," he says. "I didn't have a change of life; I was always a jerk. But they're hard work, these divas; I was sick of it,a nd I was unappreciated. I just don't think she liked me very much. So I excused myself and I was lucky enough to meet this young girl. She was more a duaghter to me than a lover, and my own daughter had flown the coop, so here was this replacement."
Many of Ryan's most disturbing statements are about what an admittedly terrible father he was to his four children (by three different women). He said he only talks to Redmond, his son with Farrah, who is in jail. As for the others,
"I was in touch with them for years, and I was a mess. I'm not in touch with them now, and I've never been happier," he says, giving me a belligerent glare. When I ask if he's sorry he had children he nods. "A couple of them I would take back."
Though Ryan insisted in an interview following Farrah's death on June 25 that since he reunited with her about two and a half years ago he hasn't been with another woman, he also says that during her funeral:
"I had just put the casket in the hearse and I was watching it drive away when a beautiful blonde woman comes up and embraces me," Ryan told me. "I said to her, 'You have a drink on you? You have a car' She said, 'Daddy, it's me — Tatum!' I was just trying to be funny with a strange Swedish woman, and it's my daughter. It's so sick."
The incident encapsulates what tarnished the image of one of the most glamourous stars of his generation: his womanizing, substance abuse, and horrifying relationship with his children. In the article Ryan pretty much undoes with his own words any public rehabilitation he may have accomplished by casting himself as the hero in the drama of Farrah's final days, but sadly we never hear Farrah speak for herself. In what will probably be one of the last in-depth articles written on her life, we're left with a better understanding of the "ugly choices" that she made, but no insight into why she made them.
Leslie Bennetts On Farrah Fawcett And Ryan O'Neal: "Beautiful People, Ugly Choices" [Vanity Fair]