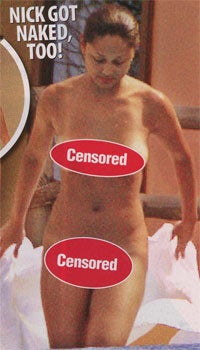 There's a brand of celebrity that doesn't really have anything better to do than get progressively skankier, and so we were not surprised to hear the news, via TMZ, of more shocking new photos depicting that brand's 3rd or 4th runner-up — knife-wielding Lindsay Lohan galpal Vanessa Minnillo — doing more sexy (?) stuff while in Mexico on this censored photo shoot. But what's this about?
"TMZ has learned that the rest of the roll shows the two not only making out, but having hardcore sex in the hot tub."
Okay, so there's sex, and then, you know, there's hardcore sex. Which means... well, what exactly does 'hardcore' mean? Did Nick Lachey shoot his load all over Vanessa's face? In her eye? Did she don a strap-on and fuck him in the ass while whipping him with one of those special slut spanking paddles? And how hardcore is any of that, in these porniful times?
Yeah, don't answer that.
Nick and Nessa's Hardcore SeXXX Pic Scandal! [TMZ]
Related: "Erotic" sex