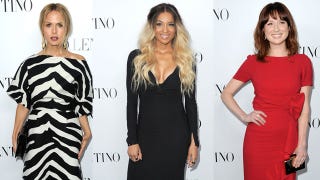 There was an incredibly limited color palette at the opening of Valentino's Rodeo Drive flagship store, with celebs mostly sticking to black, white and beige with a rare pop of red here and there.
Ciara went with a simple Morticia dress and extreme roots that almost looked like a hat. But the best part of her ensemble was clearly her 3-D nail art.
I liked the dichotomy created by Jessica Szohr's frills and bows and leather and studs. It made for cool Tough Girlie look.
Isabelle Fuhrman had a similar Tough Girlie look with her sweet, white lace dress and spiked-knuckled clutch.
Abigail Spencer sported the spiked-knuckled purse as well.
Black and white was big, and of the three—Sonja Kinski, Kim Kardashian, and Rachel Zoe—I think Zoe pulled it off the best.
The tiger on Monet Mazur's clutch is boss.
Louise Roe demonstrates how you can completely change the direction of an otherwise casual outfit through the use of the right accessories.
Nicky Hilton was always the better Hilton.
You know, lacy shoulders always look better through a Stevie Nicks lens:Jessica Stroup, Molly Sims, and Dawn Olivieri.
It seemed like everyone agreed that red was really the only other acceptable color: Rose McGowan, Ellie Kemper, and China Chow.
Alice Eve really needs to put a brarawn.