As we're all aware by now, the modern incarnation of Valentine's Day is nothing more than a consumer fabrication to get us to splash out on Godiva chocolate and a bouquet of Birds of Paradise for the person we hump on the regs. However, for those of us who are single, it can still be a crappy benchmark of the year—when you're on the train, for instance, and every dude is holding flowers and candy.
While there are plenty of gift guides and date ideas for lovers (this one! and this one, and this one...) here's one for those of us who are planning on having hate-sex with a guy who's kind of an asshole, or just making love to a box of Zebra Cakes, which is my plan.
Image via stocknadia/Shutterstock
You'll feel your H-O-T-T-E-S-T in this pair of irresistible Hanes men's sweatpants. Best accented with pizza stains and unwashed hair.
G/O Media may get a commission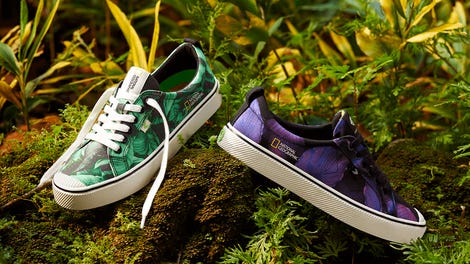 New New New
Cariuma + National Geographic
To celebrate the fact that this differentiates from the other 364 days of the year even though you might give zero craps about the guy you're hooking up with, procure some special Sir Richard's condoms. Size Extra Large, which is a pretty nice subtle compliment for the dude you're casually banging without being all "official" about it. It's called motherfucking romance, y'alls.
Don't just get drunk on Yellowtail sauv blanc like you would on any other day! Indulge in the horrific gastronomical misfire that is Pharell Williams' Qream, a majestic "liqueur for women," which Williams has described as "a truly elegant experience for the modern day queen and her court of friends." Find out for yourself. Qourself.
These are fancy Karuna face masks that Gwyneth Paltrow apparently likes a lot that are actually sheets of creepy face-shape cloth drenched in serum. You're gonna look like Jim Carey in that scene from The Cable Guy when they're at Medieval Times and he imitates Hannibal Lecter with the bacon strips on his face. But they are actually really soothing and great. +1,000 points if you answer the delivery guy at the door while wearing it for a S-E-X-X-X-Y surprise.
A perfect day for an unnecessary impulse purchase with that extra $175 you have lying around, and by "lying around" I mean you overdraw but you'll deal with it tomorrow. That's what I did when I bought this cute-ass purse on the Intarnetz.
Zebra cakes. 'Nuff said.
Please eschew the crappy rom-coms from 2004 playing back to back on TBS. Instead, starting the first season of a tense, gory procedural like Dexter is essential on Valentine's Day.
Stare at this picture of young, cute Jeff Goldblum.
Now this one.
As long as you gather these essentials, you'll be fine. Godspeed.