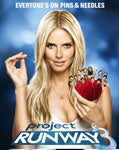 Newest update in the Project Runway legal drama: Yesterday a federal judge rejected Lifetime's attempt to move the dispute with NBC Universal out of state court.
When we last posted, Lifetime was suing basically everyone involved, including Bravo and the Weinstein Company. Lifetime is currently fighting NBCU's (Bravo's parent company) attempts to keep Project Runway on Bravo. On Tuesday, a judge ruled that the matter will not be moved to federal court, partially because of the "untimely" and strategic nature Lifetime's request. A statement from Lifetime said: "We look forward to this entire matter being resolved in an expeditious manner and remain hopeful that, in the end, Lifetime will be home to Project Runway." [TV Week]
Read the complete field guide to PR crisis here.