Bernie Sanders's presidential campaign and the Center for American Progress are beefing again, rehashing—in record time—one of the central tensions of the last presidential campaign. At the meaty heart of the beef: the role of powerful gate-keeping Democrats in undermining Sanders's insurgent 2016 campaign.

That dynamic is already beginning to repeat itself, with top Democratic operatives like David Brock expressing worry about Sanders's run and planning an anti-Sanders campaign. Sanders, rather than ignoring all of this mess, however, is throwing down some gauntlets. The whole ordeal began this past Saturday when Sanders published a letter to the Center for American Progress and its sister group the Center for American Progress Action Fund, accusing the prominent centrist Democratic think tank of playing a "destructive role" in the "critical mission to defeat Donald Trump," pointing to a series of articles that its publication ThinkProgress had published about him as well as articles it published about Elizabeth Warren and Cory Booker. One of the articles Sanders highlighted, published on April 10, noted that Sanders is now a millionaire; the other was a video that pointed out how Sanders had stopped calling out millionaires as he became wealthier, instead choosing to direct his ire at billionaires only. In his letter, he specifically called out CAP's president Neera Tanden, who, he wrote, "repeatedly calls for unity while simultaneously maligning my staff and supporters and belittling progressive ideas." He continued: "This counterproductive negative campaigning needs to stop."
If this all feels like a relitigation of 2016, and you're already tired of reading about it, well, join the club! (The club meets in hell, where we live.) But no such reprieve will come. Instead, Sanders's newly installed campaign manager, Faiz Shakir, who once worked closely with Tanden at the think tank, seems perfectly willing to continue this very public battle. From the New York Times (emphasis my own):
Ms. Tanden, in an email Sunday morning, deferred comment to the editor in chief of ThinkProgress, which she said is "editorially independent" of CAP and its action fund.

On Saturday night, after Mr. Shakir emailed a copy of the letter to leaders of the Center for American Progress groups, Ms. Tanden responded to him with an email calling the situation "unfortunate," offering to meet to discuss it, and adding of CAP "we share the goals of unity." That email was provided to the Times by Mr. Shakir.
ThinkProgress's editor Jodi Enda, in a statement released on Sunday, stressed that there is an editorial firewall between the publication and both CAP and CAP Action. In short, there was no collusion, though there have been notable instances in the past when the wall seemed rather porous:
G/O Media may get a commission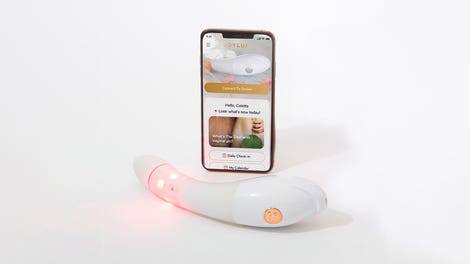 $50 Off
Joylux vFit Gold Device
Enda was referring to a post written in 2008 by Shakir titled "Regarding ThinkProgress's Editorial Independence, in which he stressed the news site's "great editorial independence to convey our honest views." Soon after ThinkProgress emailed that statement to reporters, however, Shakir fired back on Twitter, writing that "even the drafting and publishing of this post wasn't 'independent.'"
Messy!
And then on Tuesday, the New York Times published a profile of CAP's Tanden that led with this anecdote, highlighting the fact that the beef between Tanden and Shakir goes back at least a decade, before they worked together at CAP, and is maybe a little personal for the two:
The bad blood started early.

In 2008, Neera Tanden, then a top aide on Hillary Clinton's first presidential campaign, accompanied Mrs. Clinton to what was expected to be an easy interview at the Center for American Progress, the influential group founded by top Clinton aides. But Faiz Shakir, the chief editor of the think tank's ThinkProgress website, asked Mrs. Clinton a question about the Iraq war, an issue dogging her candidacy because she had supported it.

Ms. Tanden responded by circling back to Mr. Shakir after the interview and, according to a person in the room, punching him in the chest.

"I didn't slug him, I pushed him," a still angry Ms. Tanden corrected in a recent interview.
Yikes!
Now you may be asking: Who are Neera Tanden and Faiz Shakir? What's their history? I am a normal person who lives a happy life, and I have never heard anything about this! Let's dive in.
Neera Tandenn has a long history in Democratic, Clintonian politics. A graduate of UCLA and the Yale Law School, her close ties to the Clintons go back decades—she was the associate director for domestic policy for President Bill Clinton and the senior adviser for then-First Lady Hillary Clinton. She worked on Hillary Clinton's 2000 Senate campaign, and after she won office, Tanden served as Clinton's legislative director. Tanden also was the policy director for Clinton's first presidential campaign in 2008, before working as the director of domestic policy for Barack Obama's campaign and then working in his administration as a senior adviser for health reform at the Department of Health and Human Services, where she helped champion the Affordable Care Act. Tanden has been at CAP since 2010 as its Chief Operating Officer and became CAP's president in 2011, after founder and longtime Clinton ally John Podesta stepped down.
Faiz Shakir, a graduate of Harvard University, also has a long career in politics. Before joining the Sanders campaign, he was the national political director of the American Civil Liberties Union. Shakir started his career in politics as a junior researcher for John Kerry's presidential campaign in 2004. From there, he joined the Center for American Progress, serving as its vice president for communications and helping to launch its news website, ThinkProgress, during a seven-year period from 2005 to 2012, with the tail end of his time at CAP overlapping with Tanden's. After leaving CAP, he worked briefly for Nancy Pelosi, and then spent almost four years as senior adviser to Harry Reid. He also spent a brief time as an "informal adviser" to Sanders's campaign in 2016.
While punching (or pushing!) someone is certainly not conducive to building a healthy working relationship, some of the beef between Tanden and Shakir clearly stems from political differences. Emails from 2011 published by the Intercept in 2015 show how the two tangled over foreign policy issues while at CAP:
In October 2011, a CAP national security writer, Benjamin Armbruster, circulated a discussion on CNN about whether Libya should be forced to turn over its oil revenue to the U.S. as compensation and gratitude for the U.S. having "liberated" Libya.

After one CAP official, Faiz Shakir, noted how perverse it is to first bomb a poor country and then make it turn over its revenues to you for doing so, Tanden argued that this made a great deal of sense.
Tanden wrote, in an email addressed to Shakir and others:
We have a giant deficit. They have a lot of oil. Most Americans would choose not to engage in the world because of that deficit. If we want to continue to engage in the world, gestures like having oil rich countries partially pay us back doesn't seem crazy to me. Do we prefer cuts to Head Start? Or WIC? Or Medicaid? Because we live in deficit politics, and that's what is happening and will be happening even more.
Shakir then responded:
I don't think it's fair that we create our own domestic problems and then ask other nations to pay for it. You see the adverse incentive problem here right? If we think we can make money off an incursion, we'll do it? that's a serious policy/messaging/moral problem for our foreign policy I think
It's fairly safe to assume that the two likely sparred on a host of issues, given Shakir's staunch support of Palestinian rights as well as the Boycott, Divestment, and Sanctions campaign and Tanden's more centrist position when it comes to Israel-Palestine. (In 2015, Tanden received an avalanche of criticism, including from many CAP staffers, when she invited Israel's Benjamin Netanyahu to speak at CAP.)
There are also some tidbits from the 2016 Wikileaks dump of John Podesta's emails that highlight just what Tanden thinks of Shakir. Tanden is a committed defender of Hillary Clinton, which her emails to Podesta underscored. As Clio Chang and Alex Shephard wrote in the New Republic in 2016:

These emails, in which Tanden is a frequent figure, reveal an operator who, in spite of her professed deference to "serious ideas," has actively blurred the lines between policy and politics, all to advance a single goal: electing Hillary Clinton. Even Tanden's many, often amusing criticisms of Clinton, particularly for using a private email server, fall under this category. In pursuit of that goal, she has consistently prioritized politics over policy, and frozen out dissenters who might otherwise have ideas of value to contribute to the Democratic agenda.
In February 2016, Tanden and Podesta had a brief exchange about Shakir's informal role advising Sanders's campaign.
Tanden wrote Podesta:
you know about this?

Jesus

Makes sense since all these freaks after Hillary are like his spawn.
Podesta replied:
Yes. Gave him a very hard time. I have to say this does not go down easy with me. Wish him well in life.
Tanden:
He's a fucker.
I cannot imagine Shakir was happy seeing Tanden describe him as a "fucker." Shakir, for his part, praised Podesta when the emails became public, but NOT Tanden. From Politico in October 2016:
Shakir said that "of all the people in the WikiLeaks emails, Podesta comes out looking like the most decent, straightforward honest forthright individual. Regardless of whether you agree or disagree with him, you get the sense that he always tells you exactly how he feels and doesn't play games behind your back."

And Shakir added, "There are a number of times where he has been vindicated as being so much more progressive than where the campaign ultimately ended up… where his own personal inclination is consistent with the progressive base."

The emails, from Shakir's perspective, illustrate "the various pressures that cause the debate not to be as progressive as we would like it to be. And it's uplifting that one of the most senior, well-respected voices in the party is leading that cause."
Which brings us to the present, and the Sanders campaign's criticism of CAP and Tanden. Sanders is not only critical of the articles published by ThinkProgress—CAP's efforts to derail Medicare for All have also been the subject of his campaign's ire. On Sunday, Sanders's campaign sent out a fundraising email to its supports with the headline "We are under attack" that focused in part on CAP's opposition to Medicare for All. Highlighting the think tank's corporate donors and what the campaign described as its "deep connections to the economic and political elites who have done so much damage to working families in every zip code," the email warned that CAP was "trying to stop Medicare for All and our progressive agenda."

According to the New York Times, CAP is coming out in opposition to Medicare for All and "pushing its own plan, which reserves a role for private insurance companies," going so far as to hold an off-the-record briefing "picking apart the details of Mr. Sanders's plan."
Are Tanden and Shakir engaged in a sort of proxy battle, settling old personal as well as ideological scores through the wringer that is the 2020 presidential campaign? Whatever the answer is, one thing is painfully apparent—the long, excruciating Democratic primary season will be a brutal one. Buckle up, kids.