One woman has pledged to wear a single dress for one year to show how far a little creativity can go towards helping the planet. So, how's that working out for her?
Writing on her website, Sheena Matheiken explains

Starting May 2009, I have pledged to wear one dress for one year as an exercise in sustainable fashion. Here's how it works: There are 7 identical dresses, one for each day of the week. Every day I will reinvent the dress with layers, accessories and all kinds of accouterments, the majority of which will be vintage, hand-made, or hand-me-down goodies. Think of it as wearing a daily uniform with enough creative license to make it look like I just crawled out of the Marquis de Sade's boudoir...The Uniform Project is also a year-long fundraiser for the Akanksha Foundation, a grassroots movement that is revolutionizing education in India. At the end of the year, all contributions will go toward Akanksha's School Project to fund uniforms and other educational expenses for slum children in India.
She adds that, growing up wearing school uniforms in India, she was always struck by the extent to which people were able to personalize their looks, and sees the project not just as "an exercise in sustainable fashion" but as an example of the creativity that can satisfy our acquired taste for constant novelty. Of course, it should be said that she actually has seven identical frocks (for hygiene's sake, one imagines), custom-made for maximum versatility by Eliza Starbuck. Accordingly, the dress can be worn backwards and forwards, as well as as "an open tunic." Clearly, too, Matheiken has a closet full of rad accessories that amounts almost to a wardrobe in itself - and is the sort of woman to make anything look cool - so while it's a great example, I wouldn't expect many people to try this at home.
Looks range from work-conservative to wedding-fancy. (As well as, I guess, the aforementioned boudoir-crawling, if that's your thing.) A few favorites include June 18th's "summerless newyork," and today's "Catholic academy," in which the dress is embellished with a doily collar and accessorized with a vintage beret. So maybe the feather necklace wasn't great; a year's a long time. Sometimes, it must be said, the actual dress seems tangential to the overall look - i.e., when she sports it over a vintage dress - but so far, so impressive. Rather than, say, the classic French aesthetic in which it wouldn't be considered problematic to actually wear the same basics day in and day out, the Uniform Project seeks to address our need for constant innovation and novelty with minimal environmental impact - and that's no easy task.
G/O Media may get a commission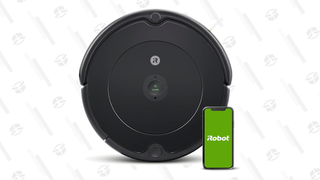 35% Off Black Friday Deal
iRobot Roomba 694 Robot Vacuum
Some of you may remember that Alex Martin did something similar: wearing a brown dress for a year. Then, the emphasis was more on the cause of "rejecting the economic system" than on the concept's fashion potential, but she did show it could be done. Of course, while simply "cutting down on consumption" is a more fraught and complex idea than it might seem at first glance - we've talked a lot about the real-life consequences of simply opting out of the market - it's also true that this is a time when we're uniquely receptive to ingenuity, creativity, and, just maybe, a change of habits. Matheiken's project is about adventure rather than compromise, which is a wholesome ethos indeed. Now, one can always question any charitable enterprise that puts one face, or model, front and center, but in this case it feels both justifiable and practical. And should the project result in a book? Hell, we'll buy it.
The Uniform Project
The Uniform Project - One Girl, One Dress, One Year [Styleist]

Eco-Friednly Fashion Like You've Never Seen It [BlackBook]

Little Brown Dress