When I was little, I was friends with a girl who rode bareback in a circus. Who isn't intrigued by itinerant circus folk, and random Catholic nuns who travel with the Greatest Show on Earth?
A piece on CNN.com profiles a number of families who travel in the Barnum & Bailey Circus. Daniel Raffo, tiger trainer, is a fifth-generation circus performer. His wife, Andrea, performs the same "aerial ballet" that her mother and grandmother did. The couple has a four-year-old son, Davian. This isn't uncommon and, as might be clear from the whole "family business" traditionalism of circus life, there's a certain stability to it: lots of family together time, an extended family of fellow performers, but also most of the comforts of — well, society. For all the sinister associations and the profusion of clowns, the circus seems like a pretty solid way to grow up. Barnum & Bailey has a teacher who travels with the circus, tutoring in what he terms "a rigorous curriculum" in a one-room tent; he adds that the small class size means far more personal attention from the teacher than they would probably receive in a conventional school. Says one circus dad, "Instead of just reading it in books, they're going to see these things, and to me, that's more fulfilling."
Perhaps the oddest and most intriguing element of the story is the circus nun who travels with them. Sister Dorothy Fabritze is a former missionary who arranges weekly clerical visits, provides spiritual counsel and holds Bible study. For a few years, she operated the curtain in the circus tent. Says the sister, "I saw that these people needed to find that they too were a parish, that they too were a community...We can support and walk with each other in this journey that we call life."
Interestingly enough, today also brings the obituary of legendary tightrope walker Pauline Penny Cosby, "Queen of the Silver Wire," who lived and worked under the Big Top for 30 years. In a time when few professions command such loyalty, it's heartening and romantic to see the legacy being carried on. Nowadays a lot more people are devoted to entertainment, but how many can call it a way of life? Ironically, this most old-fashioned of art forms retains far more mystery and mystique than all the arts of technology. And yes, in case you're curious, my friend Eleanor was still working as a bareback rider last I heard.
This Family DOES Live In A Circus [CNN]
Circus Performer Cosby Dead At Age 92 [UPI]
G/O Media may get a commission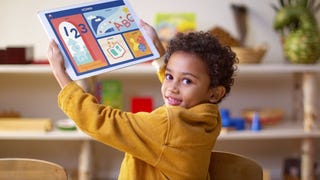 30-Day Free Trial
Homer Learn & Grow Program
[Image via Wired]