Since we last met, London Fashion Week flossed for several more days and ended and now it's Milan Fashion Week. But who cares about stupid Milan because y'all, there was so much great shit in London.
In the interest of brevity and not presenting (literally) over 15 shows in one post, here are my absolute favorites from the past few days of the hallowed Spring 2016 Brittania excursion, as well as an accompanying verbal palette to be used as a moodboard. Good night, London Fashion Week. Perhaps one day we shall meet.
Gareth Pugh
Earth Girls Are Easy meets Bowie looking in the mirror after a spot of 'shroom tea; I mean, if you landed here from another planet in a distant galaxy, wouldn't you make Studio 54 your first destination? Ever inventive with fringe and fluff and red carpet gowns that require an extremely on-point bikini wax professional (though bush dyed red to match the drapes would have been really inventive), Pugh's pairing of gold paillette sequins and latex is clearly a lightning bolt of inspiration, whether in the club or just trying to impress your boss at the Martian BDSM shoppe. That last dress, a nod to pals Siouxsie Sioux and Pam Hogg, is a real creamer. To boot: the whole jam is a protest against gentrification! Darkwave soundtrack by Matthew Stone.
Sophia Webster
I recently visited the American Museum of Natural History in New York, primarily so I could spend time in my absolute favorite room in the city, the deep oceans room with the lifesize replica of the blue whale. While the Natural History Museum often holds raves in the planetarium, it's really missing out by not taking better advantage of the rave potential of this room; I mean it's already equipped with a soundtrack and visuals. Cultish shoe designer Sophia Webster, who may be my soul mate, understands this, because her LFW presentation for Spring, titled "CrazySexyNautiCool," was populated by mermaids and sea-faring sirens and knee-high gladiator sandals that resembled fishing net if it was strung together by a crew of PLUR ravers from New Jersey.
YES SHE MADE A SHOE OUT OF FUCKING KANDI. I AM NOW DEAD. SOPHIA WEBSTER, I KNOW MY DEADNESS MAY BE A SETBACK, BUT WOULD YOU MARRY ME? Also, she has great taste in music: Katy B performed!
G/O Media may get a commission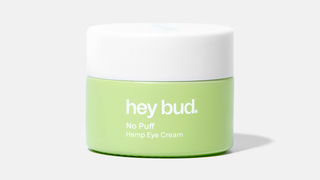 15% off
Hey Bud - No Puff Hemp Eye Cream
Simone Rocha
You know how sometimes teen goths grow up to be adult goths but are also like, "Holy shit, I like pink, who am I"? This is for the adult goth who has to like, hold down a job (at a palace).

JW Anderson
Do they sell waist trainers at art school? The puffy, squiggly looks, matching ruffles, and creepy eyes on these Ex Machina uniforms are, he says, a "woman's odyssey," which makes sense as there's something very Kubrick here, sterile to the point of being disturbing but much more art directed than the naked eye might infer. Particularly interesting are the futuristic wire bras, though if he wants to make it truly About Women, he better be manufacturing those suckers in like a 36D at least.
Claire Barrow
All That Jazz, cast with present-day versions of Fosse's sultry cage dancers, while maintaining a fealty '80s vibe through Basquiat-inspired scribbles and Memphis-invoking patterns. I would like to offer the models a glass of water, but something tells me they accept nothing less than champagne.
Mary Katrantzou
The queen of prints showed a collection that was quietly magical, frocks shimmering with pins of light in the shade of the moon reflecting off the sea—an inspiration, likely, given the mirror positioned at the butt of the runway, multiplying the models in unison. They all look like fireflies and it's gorgeous but, I must say, motherfuuuuuuuuuuuck the toeless tights. They make the digits look obscene.
Christopher Kane
As previously noted, clear is the best color, and done well it can transform and transcend an ensemble. Christopher Kane, forever the wild creative, imbued his spazzily bright shifts with pockets and cap sleeves of colored plastic that both allude to the plastic garment's birthplace—the '60s—and resemble vellum as a reclaimed medium in a collection so clearly about the fundamentals of art. Shapes, texture, the color wheel—they're all there in bursts. Can't afford it though! :(
Giles
Mary Shelley's pajama collection is ILL AS HELL!
Ashley Williams
Sharon Needles's pajama collection is ILL AS HELL!
Anya Hindmarch
Aside from looking like the Chairlift "Amanaemonesia" video down to the '80s leotards, some of accessories designer Anya Hindmarch's iconic handbags and backpacks appear to come with attached water bottles (environmentally conscious!) and spoof a logo of a British thing that I don't understand because I am American. (The Boots logo on some boots, though, is hilarious and amazing, so I'm sure all that other stuff is of equal wit.)
MM6
This is the best: shit you'd wear to a real rave, down to the sparkly gloves and makeshift recycling bags (for fashion, and for sweating off your roll).
---
Contact the author at julianne@jezebel.com.
Image via Getty