The University of Connecticut has done away with its cheerleaders because the squad was too focused on perfecting difficult stunts rather than cheering on other sports teams. They've been replaced with the "Spirit Squad," which requires no athletic ability.
Christine Wilson, assistant vice president for student affairs and director of student activities, told The Hartford Courant that the school replaced the cheerleading team with the Spirit Squad because "we want people formerly called cheerleaders to focus in on building spirit at UConn, on spending time working on ways to engage fans and to really spread Husky spirit." The new team will wear outfits similar to what the cheerleaders wore, but will focus on leading crowds in interactive cheers and spend time in "tailgating areas handing out spirit buttons and other kinds of spirit supplies," at football games, men's and women's basketball games, and other school events. According to the Spirit Squad's website, "You will not need to have gymnastics, dance, or cheer experience to be eligible for the Spirit Squad."
Twenty-four men and women were recently selected to be on the Spirit Squad, but many of former cheerleaders didn't make it. Alanna Ferguson said she was selected to be a cheerleader as a freshman last year because of her gymnastic skills, but feels she wasn't picked for the Spirit Squad because the new team isn't looking for people with athletic ability. She said creating the Squad is like, "reverting back to the 1970s or 1980s, when cheering was more about getting with the fans and dancing around... They are disrespecting cheerleaders in general by doing this."
Many cheerleaders have fought to be seen as athletes rather than just sex symbols in recent years as cheerleading has come to involve more physically demanding stunts. (Especially since recent studies say that among female athletes cheerleading is now the leading cause of catastrophic injuries, including death, head trauma, and paralysis.) Neal Kearney, who resigned as UConn's cheerleading coach in June, said that in his 22 years on the job he saw cheering become much more physically demanding and it became harder to make the squad. "A lot of people came to the first day, saw how competitive it was and it dissuaded them from trying out," he said. "They needed to be grounded in gymnastics. You had to be able to do at least a round-off back handspring."
A statement released by the university explained the creation of the Spirit Squad saying,
"By changing the style, and not requiring gymnastics experience, we will be able to offer the opportunity to participate to a broader pool of students. Students who did not have a chance to 'cheer' previously, or students who are not gymnasts, can represent their college as 'spirit ambassadors.'"
G/O Media may get a commission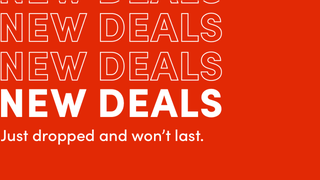 Up to 70% off
Wayfair - Cyber Week Deals
According to an article published earlier this year in The Daily Campus, UConn's student newspaper, the cheerleading squad was facing a tough season in 2009-2010 because all six male cheerleaders graduated. While the author seemed most concerned that the female cheerleaders wouldn't be able to hurl free t-shirts past the first few rows of fans, he noted,
Stuntin' will no longer be a habit for UConn cheer. In fact, with such inexperience at the the base positions, it will be awfully hard to pull off the aerial stunts that have defined the squad in the past.
Some have suggested that the school wanted to open up the team to "a broader pool of students" because they couldn't find enough men who were strong enough and wanted to join the squad. But, Michael Downard, a former captain of the cheerleading team who graduated in 2005, said he believes having less emphasis on strength and athleticism will actually make men even less interested in joining the Spirit Squad. Plus, a simple solution to not having enough men to fill the base positions in stunts would be to recruit or train stronger women to do the job, as thousands of squads around the country perform stunts without male cheerleaders. Even if school officials weren't solely motivated by wanting to see less gymnastics and more dancing in skimpy uniforms, the decision was still sexist. Rather than than making the team even more physically challenging for female recruits and those already on the team, they decided that the spirit of UConn has nothing to do with showcasing the abilities of female athletes.
UConn Replaces Cheerleaders With 'Spirit Squad' [The Hartford Courant]
Spirit Squad FAQ [UConn.edu]
Cheerleading Is Leading Cause Of Catastrophic Injury In Young Women [Science Daily]
Looking Ahead For The UConn Cheerleaders [The Daily Campus]