The U.S. Department of State's website has forums and a blogroll (aw) so that foreign service families can discuss and share their stories with the world. The site's tagline is "Careers Representing America," after all. In 2010, Jennifer Dinoia — an avid blogger and mother of three who has been a foreign service spouse for over a decade — was asked if the site could include her blog on its directory. She obliged.
Dinoia, who is also a breast cancer survivor, did not limit herself to posts about freshly baked bread or Spanish lessons like some of the other blog roll members — instead, she wrote about the struggles of being diagnosed with breast cancer while her husband serves in Iraq, scheduling multiple surgeries around her husband's postings, and, most recently, about reconstructive breast surgery and "nipple cozies."
In a PG-rated post — there aren't even any photos of nipples, just of the tea cozies she's used during her recovery — Dinoia described her ordeal with wit and charm:
Given the delicate nature of the surgery and the long healing process, the, uh, nipple has to be cared for quite carefully. Lots of antibiotic ointment and, yes, a newly created nipple cozy each and every day for the next three weeks. I can't have too much pressure, but have to wear something that keeps all the gauze in place. The surgical bras (are they made of steel?) help keep it in place, but are just too binding.
Last Sunday, Dinoia noticed that her blog was no longer featured on the State Department blog roll. When she emailed to ask what was up, she was told her blog didn't have "content relevant to the U.S. Foreign Service." When a confused Dinoia asked for more information, she got this response:
Hopefully, you can understand that some topics covered in your blog are very personal in nature, e.g. nipple cozies, and wouldn't necessarily resonate with the majority of potential candidates who are interested in learning about the FS life overseas. Through our years of recruitment experience, we found that FS prospects want to learn more about the work that's conducted, the people and cultures with whom they will interact, the travel experiences, and the individual stories our employees* have to share.
G/O Media may get a commission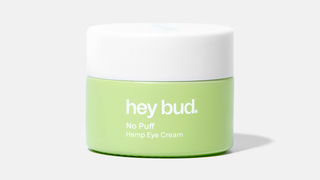 15% off
Hey Bud - No Puff Hemp Eye Cream
You know, because it's not like one out of every eight U.S. women get breast cancer in their lifetimes — if you haven't heard, breast cancer is the most common cancer among women in the United States — or that life overseas is ever anything other than a total, vacation-brochure-worthy blast.
In an angry blog update, Dinoia wrote that she didn't even care that much about being taken off the page — if they had made up some excuse, she probably wouldn't even have thought twice about the whole thing — but that she refuses to be told that her stories don't resonate for FS candidates or their families:
In fact, today I have been told repeatedly how valuable it is to others, something that made me teary-eyed, but in a good way. Quite a different response than I had when I read the email from the recruiter, particularly the above in italics, which just struck me to the core. How could the person manage to pick the *one* issue that would stop me in my tracks and leave me shaken beyond belief? How could my past illness and my desire to share what I went through (God forbid anyone else in the FS deal with it) be suddenly held against me?

All because I used the word nipple. And you thought the lack of world peace was scary? That's got nothing on my nipple!
Now, other blog roll members are speaking out about in support of Dinoia and against the Department's hypocritical attitude when it comes to blogging — a stance that goes deeper than the use of the word "nipple."
"The State Department has two completely opposite opinions when it comes to social media (like blogging)," wrote the author of a blog called "A Daring Adventure," who said her site had been shut down multiple times by officials who were nervous about how the content reflected on Foreign Services. "One side of State wants nothing more than to shut down all State blogs. Period. Blogs by employees, blogs by spouses, it doesn't matter — all of them should be GONE." But, she wrote, another, blog-happy side, "loves State blogs and blogging [and] can't get enough from us official State bloggers about State, our lives with State, our travels, our experiences, etc." Those clashing objectives — wanting to censor anything potentially troubling with wanting free PR for the Department — have resulted in an actively curated blog roll where blogs that aren't "State Enough" are replaced with "fresh, happy new ones!" on a regular basis.
The Department definitely doesn't need more bad publicity, given that it's in the middle of a nasty fight with former State Department employee Peter Van Buren, who recently came under fire for writing not-so-cheery things about the reconstruction efforts in Iraq. The ACLU has even gotten involved, accusing the Department of limiting the free speech of its employees by censoring their words in ways that raise "serious constitutional questions."
"The Supreme Court has repeatedly held that public employees retain their First Amendment rights even when speaking about issues directly related to their employment, as long as they are speaking as private citizens," the ACLU wrote. "There can be no dispute that the subject matter of Mr. Van Buren's book, blog posts, and news articles – the reconstruction effort in Iraq – is a matter of immense public concern."
Perhaps the Department should pick their battles — nipple cozies might not be their worst enemy after all.
Foreign Service spouse finds her blog no longer has a home on State Department Web site [Washington Post]
ACLU Warns State Dept. Against Firing Worker Who Criticized Government [Wired]