Yesterday, Tyra held the first annual Fiercee Awards, in which TyTy gave awards out to girls from past cycles of Top Model. The "awards" were actually more like backhanded compliments (Ugliest Cry, Biggest Makeover Meltdown, Worst Fall). Not all the girls turned up for it. Actually, it was kinda like the People's Choice Awards, where only presenters and winners showed up. (Except for Jade and Jael. They were nominated for several things, and it was a shutout.) Here are some highlights: Saleisha said she "never ever" got used to that horrible mushroom cap hairdo, Jade was salty, Jada cared way too much, Natasha is still awesome, Joanie maybe got fake tits, Joanie's teeth cost ANTM $30k, Jaslene seems to be struggling with literacy, and the clip of Shandi's BF screaming,"You had SEX!?" still makes us LOL. Clip above, and a list of the awards, nominees, and winners, as well as screen shots of all the girls who showed up, after the jump.

Biggest Makeover Meltdown
Nominees: Jade, Jada, Bianca
Winner: Jade
Craziest Phone Call
Nominees: Shandi, Natasha
Winner: Natasha
Worst Wipeout
Nominees: Rebbecca, Norelle, Jael
Winner: Norelle
Most Dramatic Exit
Nominees: Ebony (Cycle 9), Jade, Kimberly
Winner: Kimberly
Ugliest Cry
Nominees: Joanie, Shandi, Jael
Winner: Joanie
Honorary Awards:
Lifetime Achievement Award
Toccara
Most Dramatic Change
Shandi
And now for the fun part: The pictures!
April & Heather

Bianca

Camille & Diana

Ebony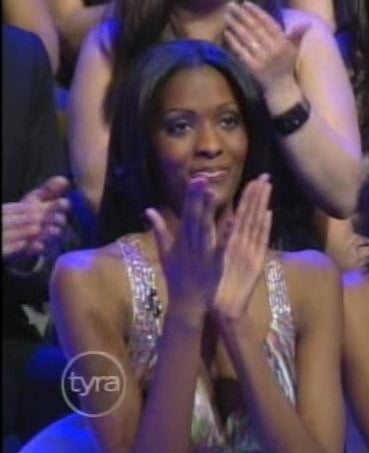 Jada

Jade

Jael

Jaslene & Nicole

Joanie & Tits

Keenyah & Jenah

Kimberly

Natasha

Norelle

Shandi

Toccara

Saleisha & CariDee