Over the past two weeks, Tyra Banks has been teasing some new project in a mildly bizarre manner. We now know that the supermodel has just launched her own cosmetics line aptly titled TYRA Beauty. So, that's a thing now.
Tyra began promoting the aannouncementby posting and tweeting a stream of black squares on her Instagram and Twitter pages.
?utm_source=partner&utm_medium=embed&utm_campaign=video&modal=true
On September 25th she began a countdown to what we now know is TYRA Beauty.
G/O Media may get a commission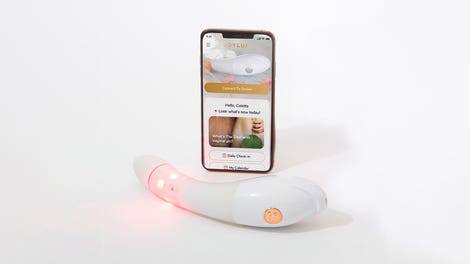 $50 Off
Joylux vFit Gold Device
?utm_source=partner&utm_medium=embed&utm_campaign=video&modal=true
And today she posted this fabulously nutty Instagram video with the official announcement.
?utm_source=partner&utm_medium=embed&utm_campaign=video&modal=true
Woo hoo? Tyra spoke to People Magazine about her new venture and could not resist repeating the same half-truth that she will probably have etched on her gravestone.
"Do you know how good it feels to finally be able to tell the world why I attended Harvard Business School?! I truly learned how to master building and leading my own cosmetics experience."
Whoa whoa girl. Hold up right there. Tyra Banks did not "attend Harvard Business School" in the way that the rest of the world means it. She completed a non-degree certificate course called the Owner/President Management Program that cost more than $30,000 and does not require GMAT scores for entry. Which is great! Continued education is a beautiful thing. However, there is a world of difference between the two and she needs to stop deliberately conflating them.
I have to say, I find her cosmetics line a bit anticlimactic. I don't know what I was expecting, but it wasn't this. It's fine, I just wonder how much more she has to offer this space. Iman has already got the model turned cosmetics maven look on lock—seriously, if you are any shade of brown check out her products because they are excellent—and the beauty industry is saturated enough as is.
The America's Next Top Model host's new line focuses on three areas: "TYover," which is a collection of stick-based cosmetics featuring Banks's "proprietary 'TY-Guide Technology';" "Smize," which is a collection of eye makeup; and "It Factory," which is a based on cosmetics used on the runway.
Tyra, girl. GIRLFRIEND. We all know who you are, you don't have to find some way to slap your name on every product. Although, I am glad that she was able utilize "smize" because it is an invaluable contribution to our lexicon.
TYRA Beauty will have an Avon-like model where the products will be sold by individual contractors called "Beautytainers."
"We are accomplishing my ultimate dream: to give people the power to be their own boss while setting their dreams free," says Banks, who will train her Beautytainers through the online TyraU, which provides them with tips and tricks to run their own businesses. "I feel fully armed to share and teach all I learned [at Harvard] with Beautytainers across the country, and later, the world!"
Good luck to you, girl. I am rooting for you. WE ARE ALL ROOTING FOR YOU (even though you did not attend Harvard Business School).
Image via AP.