Two new books — Kate Christensen's Trouble and Gloria Vanderbilt's Obsession: An Erotic Tale — handily refute claims that women can't write about sex, or that age is an impediment to eroticism.
Trouble is the story of two women in their forties who take a trip to Mexico to escape their lives. One of them, Josie, embarks on a sort of sexual renaissance. Christensen tells Salon,
She experiences sex in her 40s as being about her own desire for a man rather than the thrill of her power over him, his desire for her — which defined sex in her 20s. She knows what she wants now, isn't afraid to want, and can allow herself the pleasure of desiring a man. Part of this comes from comfort in her own skin, and part of it comes from the fact that this affair isn't about power or marriage-and-babies, it's mutual lust without expectations or pressure.
This travel-to-a-warm-climate-for-mutual-lust trope sounds a little familiar, but Christensen resists the popular idea that hot sex is a path towards self-actualization, a way to reinvent oneself and become a better person. As Josie enjoys her adventures in Mexico, Christensen says, she suffers from "selective myopia. She sees what she needs to see and what she wants to see, but she is increasingly self-involved as she gets happier and happier. When you're unhappy, you're more compassionate on some level." And while her friend Raquel "becomes more and more self-aware as the novel goes on, [...] Josie becomes more and more clueless."
G/O Media may get a commission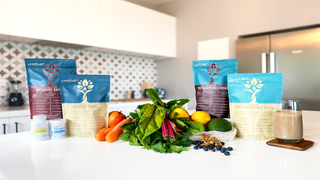 Vanderbilt's view of sex [that's her above] is a lot sillier than Christensen's. Obsession includes a carrot and an expensive hairbrush used as sex toys, a brothel where the whores go commando under their Fortuny tea gowns and elaborate feathered masks, "scenes involving dildos, whips, silken cords and golden nipple clamps," and a unicorn. The book also offers this beauty ritual: scrub your breasts with sea salt, douse them in gardenia oil, and then "let loose shaking onto the breasts a goodly amount of chocolate sprinkles, which will adhere prettily." Yum?
Vanderbilt's son Anderson Cooper is supportive, saying, "at 85, whatever she wants to write is fine with me." But he has to be a little disturbed by her assertion that "I do think all art is autobiographical." Whether or not Vanderbilt's still-vibrant sex life ("I'm always in love," she says, "that's one of my secrets.") includes carrots or unicorns, she may be speaking more metaphorically than literally. She says the character of Bee, a "highly sensual" orphan, is based on her experiences growing up without parents. "If you've never had a mother or a father," she elaborates, "you grow up seeking something you're never going to find, ever. You seek it in love and in people and in beauty."
It's not necessarily a prescription for a psychologically healthy life, but constant, insatiable seeking does sound like a pretty good premise for an erotic novel. Both Vanderbilt and Christensen seem to understand that what is sexy is not necessarily what is good for us. This is especially true in fiction and fantasy, but it has some application in real life too. In her 20s, Josie saw sex as a means to an end, and this mindset — whether the end is "marriage and babies," self-esteem, psychological or even physical health — is pretty common in American culture today. Try, for instance, to get through a whole women's magazine without finding something about how boning is good for your weight, sleep, or skin. Maybe what some women learn in their 40s and beyond is that sex is best enjoyed as an end in itself, without ulterior motives.
Sex and the (fortysomething) single girl [Salon]
At 85, a Brahmin in Blue Jeans Writes of Sex, Masks and Veggies [New York Times]