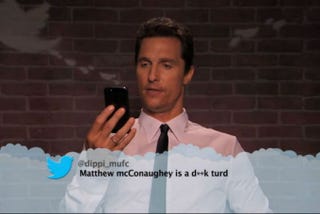 What happens when your silly/angry/drunken tweets to a famous person are featured on a national television show? Apparently you either own that shit or you make a lot of awesome excuses.
After the latest edition of Jimmy Kimmel's "Celebrities Read Mean Tweets," Vulture tracked down the original people who tweeted the unbelievably shitty things our beloved stars had to read. Here's how some of them responded:
Chip. This is not the thing you want to be famous for. Consider streaking during a nationally televised sports event or participating in a Fox reality dating show. Anything but this.
Yes, Jason. Because this is and will always be the eternal question.
Well. She kind of did, Ben. But take it in strides. We've all had June Squibb tell us to fuck off at one point or another in our lives. I consider it a rite of passage. If June Squibb didn't tell me to fuck off, I'd consider my entire existence a waste.
This is one person who handled her newly found notoriety with the best possible reaction:
Not for nothing, but if I could get Merle Haggard to read all the many, many, many things I've said about him since I opened my various social media accounts, then let's just say I could die a happy woman.