Are you a woman? Do you enjoy laughing, and do you sometimes do so in public? While this seems about as innocuous as, well, being in public, according to Turkish Deputy Prime Minister Bülent Arınç, laughing in public could indicate that a woman is *gasp* unchaste.
In a statement given on Eid al-Fitr, a celebration marking the end of Ramadan, Arınç spoke of chastity, which isn't shocking or surprising considering Ramadan is all about discipline and abstaining. However, he went on to voice far more conservative and troubling remarks regarding women. Via Hurriyet Daily News:
"Chastity is so important. It is not only a name. It is an ornament for both women and men. [She] will have chasteness. Man will have it, too. He will not be a womanizer. He will be bound to his wife. He will love his children. [The woman] will know what is haram and not haram. She will not laugh in public. She will not be inviting in her attitudes and will protect her chasteness," Arınç said, adding that people had abandoned their values today.
Once again, the idea that the treatment of a woman is 100% dictated by the behavior of a woman is not only illogical but incredibly harmful. And really—laughing? Are you fucking kidding me? That might actually be the most literally dehumanizing way to subjugate women, while continuing to equate them with the "morally base."
"Where are our girls, who slightly blush, lower their heads and turn their eyes away when we look at their face, becoming the symbol of chastity?" he said.
G/O Media may get a commission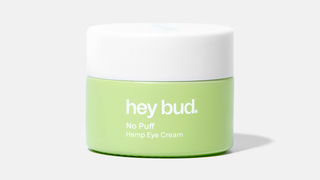 15% off
Hey Bud - No Puff Hemp Eye Cream
This question absolutely befuddles me as the image he evokes (a vintage and theatrical expression of modesty) is about as relevant as the Transatlantic accent. So if we're just asking irrelevant questions, I too would like to ask, Where have all the cowboys gone?
But of course in the end, Arınç took the time to address the real issues affecting the moral integrity of women today—talking on their phones:
"Women give each other meal recipes while speaking on the mobile phone. 'What else is going on?' 'What happened to Ayşe's daughter?' 'When is the wedding?' Talk about this face to face," he said.
So ladies: stop yapping on your phone and stop laughing in public, and maybe, just maybe we'll have a shot at rectitude.
Image via Getty.