Are you ready to have your mind freaked? As usual, some crazy shit on Tumblr is here to do it for you.
A new Tumblr matches up pieces from the Ikea catalogue to paintings made before 1650, proving that either famous artists time-traveled to the future to buy cheap, un-assembled furniture for their work or Ikea hires time-bending sorceresses to handle their product placement (only two logical solutions). IKEA b4 XVI is the brainchild of Cecilia Azcarate, who previously matched up contemporary rappers with pre-16th century art. Some of them aren't immediately obvious, but the basic elements are there:
STOCKHOLM Rug, flatwoven, net pattern, yellow: The durable, soil-resistant wool surface makes this rug perfect in your living room or under your dining table.

The Adoration of the Magi Hieronymus Bosch (Netherlandish, 's Hertogenbosch ca. 1450–1516 's Hertogenbosch) View here
FÅGELSTA Frame, acacia $5.99 Can be hung horizontally or vertically to fit in the space available

Christ Blessing, Surrounded by a Donor Family German Painter (probably active Hamburg and Lower Saxony, 1560s–80s) View here
G/O Media may get a commission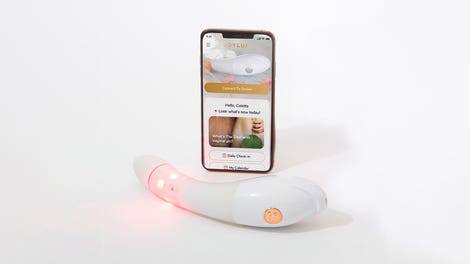 $50 Off
Joylux vFit Gold Device
AINA Curtains, 1 pair, pink $49.99 The curtains lower the general light level and provide privacy by preventing people outside from seeing directly into the room

The Young Virgin. Francisco de Zurbarán (Spanish, Fuente de Cantos 1598–1664 Madrid) View here
GURLI Cushion cover, red $4.00The zipper makes the cover easy to remove. Choose between a feather- or polyester-filled inner cushion

The Annunciation Hans Memling (Netherlandish, Seligenstadt, active by 1465–died 1494 Bruges) View here
Most art critics who've discussed her project think it's a reflection of the timelessness of classic works of art and certain basic elements of style. NOPE. It's clear to me now that Ikea is not a furniture store at all. It's a vampire which travels back in time to place it's shoddy furniture pieces in historical works of art in order to subliminally influence everyone to buy it.
How else can you possibly explain Ikea's popularity? The meatballs? OK, sure, those are pretty good. I have no idea, but I can't talk about it right now because I have to head to Ikea. I have to go there, right now, for some reason and buy more end tables. You can never, ever have enough LACK end tables in a home. And some shelves. We need lots and lots of shelves. (The quiet sound of weeping you hear behind me is my boyfriend, thinking of all the hours he is going to spend figuring out how to make the "blernklamp" fit into the "stilflug" without a "mihlgabluk.")
Images via Ikea B4-XVI.