We may earn a commission from links on this page.
One annoying thing about the American media is that anytime some asshat politician decamps to Gettysburg, Pennsylvania to rail about whatever, news outlets rush to call it a "Gettysburg Address." Why? And just how incapable must the politician be at speaking a single coherent sentence to not merit the comparison to Lincoln?

Recent Video
This browser does not support the video element.
Case in point: Sketchy Cheetos sculpture Donald Trump delivered a speech in Gettysburg on Saturday, purporting to lay out the agenda of his first 100 days as President, were that ever to happen. But before he got to all that, according to CNN, Trump whined for 15 minutes about how the system is "totally rigged", particularly against him, a millionaire by birth and a tax-evading real estate mogul by vocation.
G/O Media may get a commission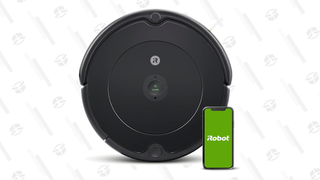 35% Off Black Friday Deal
iRobot Roomba 694 Robot Vacuum
During this rant, Trump vowed to take legal action against the many women who have accused him over the years of sexual assault. "Every woman lied when they came forward to hurt my campaign," said Trump. "Total fabrication. The events never happened. Never. All of these liars will be sued after the election is over." It is unclear whether this is to be part of Trump's 100-day plan.
That's a lot of potential lawsuits. On Thursday, Karena Virginia became the tenth woman to publicly bring accusations against Trump, claiming he'd groped her at the 1998 U.S. Open.
Trump went on, in his speech, to blame his poor polling numbers on reporters, saying that a "simple phone call," affords these women, "wall-to-wall coverage with virtually no fact-checking ever," which honestly sounds more like a description of an efficient carpeting service than of our media.
As for the rest of the speech, per CNN:
"Trump offered no new major policy announcements, instead mostly reiterating key plans of his presidential campaign and offering sparse new details."
I suspect that if future generations deign to learn about Donald Trump, it will be his depositions, not his speeches, that they study.