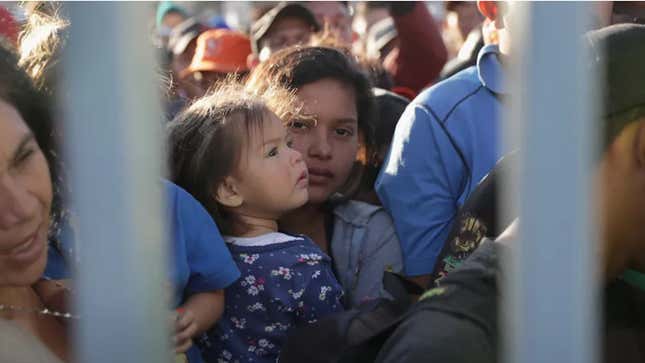 Donald Trump announced on Monday that he intends to dramatically change the process for migrants seeking asylum, including instating a fee for asylum applicants.

In a White House memo, Trump announced that the new policy will also ban anyone who crosses the border illegally from obtaining a work permit, as well as give courts just 180-days to adjudicate asylum claims.
"If the Democrats don't give us the votes to change our weak, ineffective, and dangerous Immigration Laws, we must fight hard for these votes in the 2020 Election!," he wrote on Twitter shortly after the White House published the order.
Characteristically, the memo paints asylum seekers not as people escaping dire circumstances in their home countries, but as criminals bent on leeching off America's bounty: Here's an excerpt, per Politico:

Many aliens travel in large caravans or other large organized groups, and many travel with children. The extensive resources required to process and care for these individuals pulls U.S. Customs and Border Protection personnel away from securing our Nation's borders. Additionally, illicit organizations benefit financially by smuggling illegal aliens into the United States and encouraging abuse of our asylum procedures. This strategic exploitation of our Nation's humanitarian programs undermines our Nation's security and sovereignty. The purpose of this memorandum is to strengthen asylum procedures to safeguard our system against rampant abuse of our asylum process.
The memo dictates that the attorney general and homeland security secretary must take action within 90 days. But as with Trump's previous attempts to stop the arrival of asylum seekers, it's expected that this latest initiative will face court challenges.