Village Voice columnist, author, adult film director, anal sex guru, and all-around sex educator Tristan Taormino is one of the most quotable women I've ever met in my life. When I interviewed her on Friday morning in Vivid Entertainment's booth at the Adult Entertainment Expo, I was having a hell of a time — in my hung-over condition, mind you — trying to write as fast as she talked. Seriously, I haven't worked my hand that hard since, well actually, since I got home last night and watched Chemistry 3, the latest installment of her reality DVD series that's sort of an experiment in pornography. Tristan puts six porn stars in a house for 36 hours, with no script, shooting schedule or scene requirements, and lets the sex happen naturally, allowing the performers to establish their own boundaries (or lack thereof). It's concepts like this that has Tristan challenging the existing order of things in the adult industry, as well as challenging typically non-porn watching audiences to open their minds to something they hadn't realized they could enjoy. Oh, and also, she's kuh-raaazy smart.



Lately, more than ever, there seems to have been a resurgence of second wave-y anti-porn sentiment in feminism — and even on Jezebel — which to me, is weird for many reasons, perhaps most notably because mainstream people seem to be embracing the idea of pornography more than ever. I mean, the pages of O magazine even recommend a sex-positive attitude about porn, for crying out loud. Tristan agreed that it's growing trend, citing Ariel Levy's Female Chauvinist Pigs as an example.
"Porn has always been, and continues to be a huge issue for women. I don't know if the debate will ever be over," Tristan said, "But it's hard to hear from other feminists. They haven't seen my porn, they haven't seen Candida Royalle or Belladonna. So they don't see that porn is not one monolithic thing that's all bad."
G/O Media may get a commission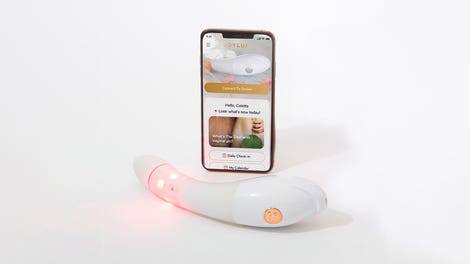 $50 Off
Joylux vFit Gold Device
When asked how she deals with that, she said that she believes everyone is entitled to their opinion, but that they should watch her movies before expressing it to her. "Porn is complicated. [The perception of it by the public] has been over simplified. Porn is as cerebral as it is visceral."
And that makes sense, considering many of her movies are educational. Her Expert Guides series (for anal, cunnilingus and fellatio) sort of break the porno mold: She's into organic and authentic climaxes. ("I would rather the actors share a part of their sexuality, than have me tell them what to do.") And in the Guide to Cunnilingus, there aren't any penis penetration shots, which, she said, Vivid initially told her wouldn't work, because "if there's no cock, there's no scene."
But changing the way things are done is all part of Tristan's master plan. "Everything I do is deliberate—very deliberate."
Jeff Koga for Fleshbot" />
Earlier: Fear And Clothing In Las Vegas

Last Night I Boned An AVN Award Nominee

You Never Forget Your First Time: My Day At The Adult Entertainment Expo

Related: 2008 AVN Awards: Dispatches From The Front

(Lots And Lots More) AVN 2008 Red Carpet Photos: Still Gagging On The Glamour