The trial of Laura Ling and Seung-Eun (Euna) Lee, American journalists whom North Korea accuses of crossing into its territory, has begun.
The two are accused of illegally entering North Korea while working on a Current TV story about refugees on the China-North Korea border. Some say they were actually arrested in China, and never trespassed into North Korea, but on thing seems clear — the North Korean government now wants to use the women's detention to pressure the United States. New Mexico governor Bill Richardson, who has negotiated the release of Americans held in North Korea before, says, "The North Koreans want to use these two American detainees as bargaining chips. [...] They want direct talks with the United States. It's a high-stakes poker game." The stakes have gotten higher since a recent nuclear test worsened US-North Korean relations.
If Ling and Lee are convicted, as many assume they will be, they may face up to ten years of hard labor in a North Korean prison. However, some take it as a good sign that the women were allowed to call their families. Ling's sister, TV journalist Lisa Ling, says Laura is "extremely scared" and believes that "the only way that she may be able to get released is if our two countries communicate." Hong Jung-wook, a member of the South Korean defense committee, says the phone calls mean "North Korea has left the door ajar." He adds,
Because the American reporters can be used as the trigger for bilateral dialogue with the United States, the North is not likely to mistreat them. The North Koreans will release the women when the timing is most favorable for North Korea's eventual purpose of engaging the United States.
G/O Media may get a commission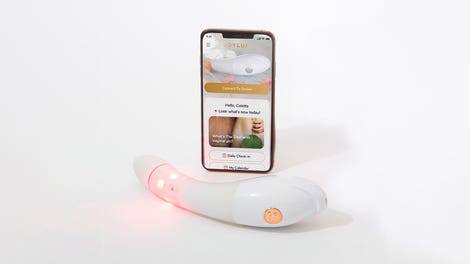 $50 Off
Joylux vFit Gold Device
The women's families and supporters hope this is true. Vigils on behalf of Ling and Lee were scheduled in several American cities last night. Protests have been held in the US and in South Korea. Meanwhile, Lisa Ling says she is drawing support from Facebook:
Through Facebook..., this whole grassroots movement has been born. I've been at home, late at night, feeling emotional, and I'll post something so intensely personal on Facebook, so random, I'll just type, 'I miss you Laura.' And I don't know who's reading it. But after I hit update, I'll think to myself, 'Why did I just post that for thousands of people I don't know to see?' And I think the reason is because there is no support group for this. For some reason, when people I don't even know, send me a message that says, 'We support you,' 'We're praying for you,' 'We're behind you,' somehow there's the strangest comfort in that.
UPDATE: While other media outlets are following the trial, Gawker wonders why Ling and Lee's employer, Current TV, has remained entirely silent on the issue.
North Korea To Hold Trial For Two U.S. Journalists [Reuters]
North Korea Tries US Journalists [BBC]
Journalists Caught In The Nuclear Crossfire [Independent]
Lisa Ling: Facebook Has Provided The 'Strangest Comfort' [BayNewser]
North Korea Puts Two U.S. Journalists On Trial [Washington Post]
Related: Current Stays Silent as Its Reporters Stand Trial in North Korea