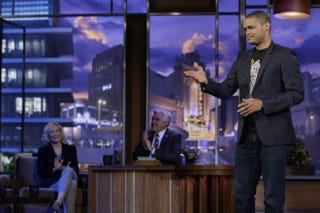 According to Variety, Daily Show correspondent Trevor Noah is on the "short list" to replace Jon Stewart. Noah joined the Daily Show in December, 2014. Prior to the Daily Show, Noah performed stand up throughout his native South Africa, the UK and the US. His website indicates that he was the first South African comedian to appear on both The Tonight Show and the Late Show with David Letterman (as you can see above, Glenn Close thinks he's pretty funny).
Like Stewart, Noah is no stranger to tackling thorny issues. In South Africa, he was known for riffing on the topics of race and politics, even using his mixed-race parentage to get laughs. Noting that his mother is a black South African and his father a white Swiss, he once told an audience, "I was born a crime," according to a 2013 report in the Wall Street Journal.

And he has experience with wee-hours programming, He hosted a latenight show in South Africa for two seasons...
Here is Noah's debut on the show:
Image via Getty.