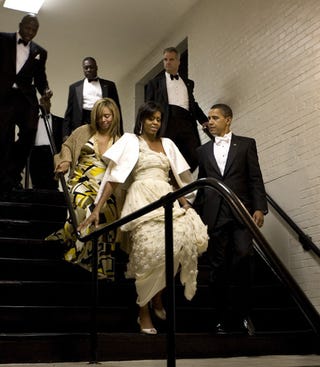 The Root's Dayo Olopade writes about 28-year-old Kristen Jarvis, "special assistant for scheduling and traveling" to the First Lady. Jarvis, who's worked for the Obamas for five years, has done something no one in her position has ever done:
Being a young, African-American woman overseeing the affairs for the first black first lady in the White House has its unique, historical responsibilities. During the grueling campaign year Jarvis spent with Mrs. Obama, she created a spreadsheet that had most likely never been created during a campaign before-a list of black hair salons from Las Vegas to Chicago. "Hairdressers in every state!" she laughs now. "It was a struggle."
Jarvis, a Spelman College graduate (seen above holding Ms. Obama's dress), works long hours and has to make sure, that when making appearances, the First Lady has things like Sharpies, her BlackBerry, Oreo cookies, and hand sanitizer. Actually, Jarvis says: "She's on this healthy kick now. She's over Oreos." The job entails lots of long flights and intimate details (at last week's Health Fair, it was Jarvis who removed Michelle Obama's wireless microphone so she could hula-hoop and double-dutch, and repositioned the First Lady's Azzedine Alaïa belt). But Jarvis calls Michelle Obama her "big sister" and gushes about the Obamas. Olopade writes:
When [Jarvis'] brother passed away last year, the president called her cell phone directly. "It was the North Carolina primary night, a big day. And he took the time to call me. The first lady called me," she remembers. "There's a million and one staff members and you take the time out of your day. That's why I'm here. I work for great people."
The Woman Behind Michelle Obama [The Root]
Michelle Obama's Body Woman [Newsweek]