Scarlett Johansson, who has a star on the Hollywood Walk of Fame and whose resumé lists all of these awards, who infamously donned black hair and dark eyes for her role as a Japanese cyborg in 2017 for Ghost in the Shell, remains immune to criticism of for taking a rare role of trans man for a mainstream movie, Rub & Tug. Trans actors are asking why, of all roles, she would choose what, for a trans man, would be a once-in-a-lifetime opportunity.

Trace Lysette of Transparent tweeted a link to the Bustle story with the captions:
Oh word?? So you can continue to play us but we can't play y'all? Hollywood is so fucked... I wouldn't be as upset if I was getting in the same rooms as Jennifer Lawrence and Scarlett for cis roles, but we know that's not the case. A mess.

...

And not only do you play us and steal our narrative and our opportunity but you pat yourselves on the back with trophies and accolades for mimicking what we have lived... so twisted. I'm so done...
Jamie Clayton similarly tweeted:
Actors who are trans never even get to audition FOR ANYTHING OTHER THAN ROLES OF TRANS CHARACTERS. THATS THE REAL ISSUE. WE CANT EVEN GET IN THE ROOM. Cast actors WHO ARE TRANS as NON TRANS CHARACTERS. I DARE YOU #RupertSanders @NewRegency #ScarlettJohansson
G/O Media may get a commission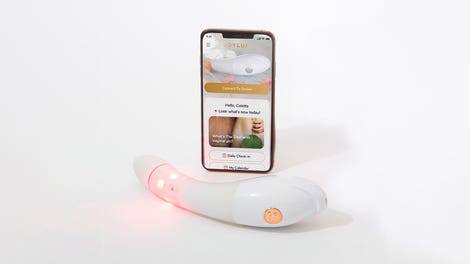 $50 Off
Joylux vFit Gold Device
Johansson's representative replied through Bustle with a "that's-the-business" excuse which, by Johansson's own logic as an advocate for Time's Up, is no longer tenable. "Tell them that they can be directed to Jeffrey Tambor, Jared Leto, and Felicity Huffman's reps for comment," they said. Ummmmmmmm.
The backlash to Lysette's post says even more about the industry, though, than Johansson's dismissiveness. Lysette and others have been dogged by a long line of expletive-laced trolling mainly from actor/comedian Michael Rapaport, who isn't involved with Rub & Tug or Johansson-sized projects or trans issues but is known for BEING VOCAL, and whose argument matters because it's a typical demonstration of what-aboutism and rage which comes at people who protest the establishment, always. A summary:
1) You're jealous

Michael Rapaport says Lysette is not skilled enough, and actors are allowed to play whoever they want like "boxers and killers" and that people who are upset are "Jealous Ass Hating Ass Motherfucka's [sic]".

Peppermint of Drag Race chimes in saying that Scarlett Johansson wasn't picked over trans actors; it's that trans actors "aren't even ASKED."

2) You're not trying hard enough

Rapaport says trans people should make their own opportunities, for example, movies on their "IPHone cameras."

Lysette said she did, actually, write a pilot.

3) You're not trying hard enough

Benjamin Enfield (247 Hip Hop) says she needs to "get a better agent."

Lysette says she's with ICM

4) Private businesses can do whatever they want

Benjamin Enfield suggests "buying all the rights to the trans movies" because Hollywood "ain't about change over feelings, it's a business"

Lysette asks how that money is supposed to come from a community with three times the national unemployment rate as of 2015

5) You're using an emotionally-based argument to make him look insensitive

Rapaport said Lysette is trying to "scarlet letter" him "with some Phobia bullshit."

[Nobody dignifies that with a response]

6) Acting is about playing different kinds of people

Rapaport asks if "mafia roles should be played by real mob guys"

Actor Rachel Leishman says that he misunderstands the job of acting, which "[does] not equate to gender/race/sexuality representation."

7) You're a whiney ass wimp

Rapaport calls Leishman a "whinny [sic] ass wimp"
In the end, Lysette pinned a tweet to an open video letter to Hollywood.
Surely if lending a big name to a project is a business decision, Johansson could have supported another movie; or maybe Rub & Tug has room for a cis co-star; or maybe the already-famed director (Rupert Sanders who also directed Ghost in the Shell) would create a new star from trans men who are virtually invisible in Hollywood; and maybe there are trans men out there working just as hard. You can watch a few reading for Johansson's roles here and use your directorial imagination.
At the very least, as Evan Urquhart has pointed out for Slate, Sanders could cast a cis man, since that's the character's gender.