Everyone who thinks fashion is serious, un-fun, and not socially relevant, here is exhibit A from the glorious excursion that is Tokyo Fashion Week, which just ended: the latest runway jaunt from designer Yoshikazu Yamagata's label WrittenAfterwards, which featured bright, couch-comfy sweatsuits and childlike dreams of space and stars and, most importantly, galaxy-wide peace. Yamagata's mission for the label is, after all, "education, society, culture and environment in fashion."
Are you old enough to remember classic '90s FreshJive, from the rave days? Maybe it's partly the bucket hats, but this is emitting those vibes, shiny happy primary colors mixed with pop art spaceships and a feeling of ecstatic unity. However, you can't really get the full impact of this show until you watch a little of the video, in which a barelegged human wearing the above costume of an alien sitting on top of the world emerged while a children's chorus sang a heartfelt rendition of Michael Jackson's "Heal the World":
Also giving schoolgirl fashion but in an entirely different, more classically chic iteration was House of Holland, the British label crafted by Henry Holland that shows in Tokyo. Harking back to the ever-popular '70s, he showed fun and crafty peplum and neckerchiefs in pink plaid, all very proper but slick and poppy at the same time.
An even better interpretation of these clothes, though, was in the front row, on ever-excellent Japanese DJ and style icon Mademoiselle Yulia. She took that plaid trench and transformed it into a punky version of Twin Peaks's Audrey Horne, just a flawless look with a composition book accessory (is that a handbag?) and baby barrettes. How is she always so great!
G/O Media may get a commission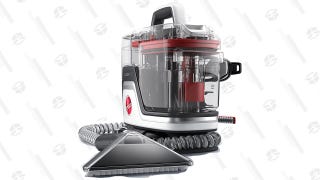 Save $10
Hoover CleanSlate Plus Carpet & Upholstery Cleaner
Another take on an alien schoolkid, if you will: the quadruple-layering and unexpected hemlines from Facetasm, which gave us super-cool streetwear that looked straight from the X-Girl/X-LARGE glory days (there's that era again; everyone loves the '90s and the '70s), bigass skater pants, bigass hooded capes and slightly bigger than mini miniskirts for the city ragamuffin who wants to wreck shit (but also has money to buy these garments, apparently!). It's a fantastical viewpoint on the mean streets of youth-culture NYC circa 1996, but with a traditionally Japanese-design take on the more "formal" pieces (read: I spy the ghost of Rei!) so that the whole thing was fresh as the morning dew, despite any gestures to ancient eras. How good is this!
That's all for Tokyo Fashion Week, in which every day feels like your birthday! I do not want my birthday to end!
Images via Getty
---
Contact the author at julianne@jezebel.com.