A toilet paper manufacturer plans to ditch the cardboard rolls in a new line of products, in an effort to cut down on waste.
The cardboard roll has earned an iconic spot in American bathroom culture. It's been the subject of hundreds of stand-up comics punchlines about lazy husbands/boyfriends. We all have our fond memories—you perhaps know it best as that thing your damn roommate never ever ever ever ever changes ever. So you say "fuck it" and refuse to change it (because you're not the one who let it run out in the first place) and pretty soon more and more toilet paper rolls are just piling up around it, because no one wants to take it on the chin and actually put a new roll of toilet paper on.
But thanks to Kimberly Clark (which recently acquired Scott, the brand behind the new toilet paper) the days of re-enacting the final standoff in The Good, the Bad and the Ugly through paper products in your bathroom might finally be over. The company recently unveiled a new product that ditches the cardboard tube altogether. Via Entrepreneur:
With the national rollout of Scott Naturals Tube-Free bath tissue, the company says it is looking to cut down on unnecessary waste. "This simple step has major potential to eliminate a portion of the 17 billion toilet paper tubes thrown away each year," according to a press release, "which is enough to fill the Empire State Building twice."

Ironically, Scott — which was acquired by Kimberly-Clark in 1995 — was the first company to introduce toilet paper on a roll in 1890, according to The Toilet Paper Encyclopedia. Previously, the product was mostly consumed as packaged sheets.
I know what your immediate reaction is to this story: "Sweet holy moly, there is a toilet paper encyclopedia? Why was I not informed?" Yes, there is. But I warn you, if you start reading it now, you will get sucked into a tedious fact micro-vortex that will have you spouting off toilet paper tidbits no one ever really wanted to know in the first place. ("Did you know in 1391 the first toilet paper reported was used by the Chinese emperor? It was a luxury item that only royalty had access to and was made in 2 ft x 3-ft sheets.")
The new product works just like the one you are familiar with, according to a spokesperson for Kimberly Clark. "You just put it on the spindle like regular bath tissue. And when you get to that last sheet, it just rolls off. There's no wasted cardboard tube left behind," Jared Mackrory told the Milwaukee Journal Sentinel.
It's a good idea if it keeps the tubes out of landfills and sewage systems, since some people flush them down the toilet, said Ken Fischburg president of ToiletPaperWorld.com, an online supplier of tissue and cleaning products.

"Those paper tubes hardly ever make it to the recycling collection center, even though they're made from recycled content," Fischburg said.
G/O Media may get a commission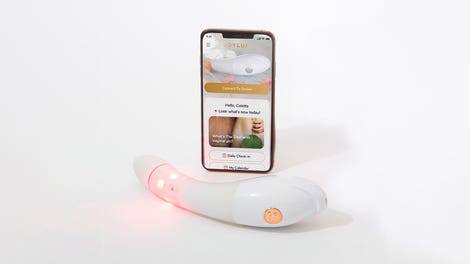 $50 Off
Joylux vFit Gold Device
Entrepreneur points out the new product is priced comparably (with about a 30 cent difference in one size). No word yet on if there are any other companies planning to follow suit.
Image via Kimberly Clark.