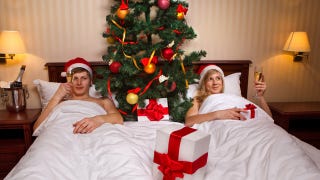 What are your plans for today? If you said, "having sex," then you've got lots of company. (Although hopefully you're not doing it right this second. You don't want to be rude!) It turns out that the period between Christmas and New Year's Day is a time when a huge amount of babies are conceived. A study found that 9 percent of all conceptions in the United States occur in December. And the most common birthday is September 16th, which just happens to be about 9 months from right now. So, who knows what unexpected gifts this Holiday season could end up delivering to you.
Another study found a seasonal uptick in condom sales, with more than twice as many condoms being purchased in the week before Christmas than in the week after. According to the study's authors, this pattern is "strongly suggestive of an acute increase in sexual activity over the Christmas period." So even if you're not in the mood to reproduce, rest assured that you're not the only one out on the town looking to move in for a little Christmas closeness, Hanukkah nookie, or New Year's boots knockin'.
It's High Time for Conception: Studies Show Peak Times, Weather for Sex [Daily Beast]
Really? Most Babies Are Conceived Between X-Mas & New Year's [Strollerderby]
Image via Wallenrock/Shutterstock.