We were psyched to learn that a homeless blogger won an internship with Elle's E. Jean — and a lot less excited about W's "homeless chic" photo shoot.
Good news first: after failing a screen test for an Elle reality show, a Bri who currently lives in an RV in a Wal-Mart parking lot, wrote E. Jean for advice. Instead, she got an internship with E. Jean herself, whom she calls "a very funny, slightly crazy, super-awesome columnist whom I've read for years." Though it took a while for her to find out about the offer — she didn't know that E. Jean had published her letter — she's now slated to start September 1. She'll be telecommuting to E. Jean's "East Coast mountain office," a remote hideaway that kind of makes E. Jean sound like Dick Cheney, but with better hair. And better taste in employees.
The bad news? Someone at W thought the recession was a good time to offer up what Fashion Week Daily calls "A Whole New Meaning to Homeless-Chic" (what was the old meaning?). In addition to the shot above, there's a model sort of "passed out" on a pile of Prada bags, and an urchin in a fur coat who appears to be begging — for Versace. Marie Antoinette, anyone?
In her letter to Elle requesting her initial screen test, Bri wrote,
I do love writing, and I love fashion, especially vintage and retro clothing. I bet I could out-cute SJP and her super-overpaid stylist any day, haha.
G/O Media may get a commission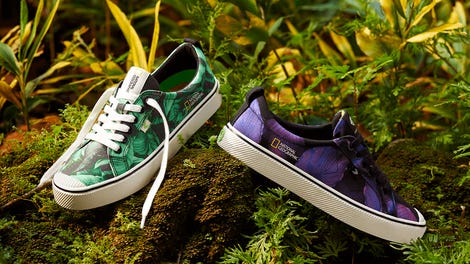 New New New
Cariuma + National Geographic
Hers sounds like a voice that could make fashion magazines less elitist, less focused on expensive shit and predictable advertorials and more accepting of the creativity and originality that can make fashion truly exciting. Fashion mags don't have to curry favor with big-name brands — they could be spotlighting independent designers, DIY, and vintage clothes that don't cost $5,000. Maybe if Bri stays in the industry, she can help point it in this direction — and away from photo shoots of girls wearing Dior bags.
Elle Magazine Offers Internship To Homeless Girl [Homeless Tales]
Ask E. Jean: I Bombed It [Elle]
A Whole New Meaning To Homeless-Chic [Fashion Week Daily]