It really feels like 2008 was the year of "You're Wearing The Wrong Bra Size." But is it all just a bunch of B.S. or do we too easily accept bra sizes as set in stone?
Okay, confession time: my cup does not runneth over, my breasts are an average size on a good day and they are pretty easily ignored, most of the time. I thought I was pretty comfortable with my boobage until I made a trip to Agent Provocateur.
While attempting to try on one pretty little bra, a saleswoman jumped into the fitting room with me and explained that Agent Provocateur sizes are not like "American bras" and that I should consider trying on different sizes. Okay, sizes are (frustratingly) different everywhere, so I tried to keep an open mind about it.
I awkwardly tried on my regular 34B while the saleswoman stood there ("Hey...uh...oh, you're not leaving? Okay....) and emitted an exasperated sigh. "Let's talk about bra sizing," she said. Great, I'm a female failure, I don't even know my proper bra size. She then ran out of the fitting room and came back with bigger bras. "You're a 32D," she said flatly.
G/O Media may get a commission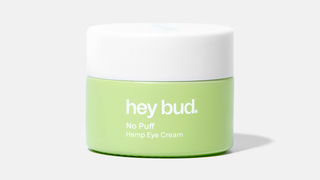 15% off
Hey Bud - No Puff Hemp Eye Cream
What?
Me? A D-cup!? For small-to-average boob-havers out there, D is a magical-sounding size. That's the size that curvy movie stars and Joan Holloway probably have, right? D-cups fill out a sweater and fill up a hand. D-cups make even a t-shirt look feminine. Instead of regular coffee cups, I felt like I was holding cafe au lait bowls. I had, you know, breasts.
Naturally this made me a little excited, I felt like a 14-year-old who had just gotten sized at Victoria's Secret. Suddenly, I had to buy as many bras as I could, or else I might lose the magical-sounding D-cup. When I got home and looked at my receipt, I suddenly felt played. Just because I was a D-cup in Agent Provocateur sizes didn't mean I was a 34B in every other bra I owned. And, hey, there are a lot of women out there with larger breasts than me, how are they supposed to squeeze into these cute bras if they cut smaller?
But was I really getting tricked? Maybe I was caught up in the re-sized afterglow, but everyone is a different size in different brands of clothing. I've worked retail and I know there is a lot of vanity-sizing out there so it causes sizes to jump up and down. I have no problem trying on several sizes of dresses when I go to a new store, so why should I assume that I am always going to be the same size in my bra? It isn't Agent Provocateur's fault that I naively expected all bras to fit the same way and put up with some ill-fitting bras because I was lazy. Could women's magazines and morning talk shows be right, at least a little bit, about being open to wearing different bra sizes in different bras?
Earlier: Bra Science: Hope For Those Whose Cup Runneth Over
Wearing The Wrong Bra Can 'Damage' Breasts—So What?