It's the holidays, and therefore it's the busiest shopping season of the year. It's also the busiest season for shoplifting, fraudulent returns, and other forms of theft — which retailers are now bracing for. Stores say that organized groups of shoplifters target them during this time because busier stores can mean a more distracted staff and security personnel. Women's Wear Daily reports on a troubling spate of recent shoplifting-related incidents that have led to violent confrontations and even deaths:
In recent weeks, suspected shoplifters have been caught in a spate of more serious incidents. In Houston earlier this month, an off-duty deputy who was working security at a Wal-Mart store shot and killed a suspected shoplifter who allegedly tried to run him down with a car. A Bridgeport, Conn., shoplifter was arrested Thursday after hitting several vehicles with his getaway car, including a police cruiser. In Santa Fe, N.M., local police are searching for two female shoplifters who tried to use a car to plow down a Kohl's store manager after he chased them into the store's parking lot.

Over Thanksgiving weekend, a suspected shoplifter died after a confrontation with Wal-Mart employees and a security guard in the parking lot of the chain's Lithonia, Ga., store. In Cherry Hill, N.J., police are looking for three men who stole $20,000 worth of Burberry clothing from a Nordstrom store in a "smash-and-grab," stealing from mannequins near the entrance. Lieutenant Sean Redmond said, "We have also seen more sophisticated operations, where they will use a mule who goes back and forth to a car to keep dumping things."
Stores are responding by hiring extra personnel and training staff to recognize behavior that could be shoplifting. [WWD]
---
In 2012, Mario Testino shot more covers (13) of any international edition of Vogue than any other photographer. Dolce & Gabbana was the designer brand most featured on Vogue covers, and Arizona Muse was the top Vogue cover model of 2012, with seven covers. [Fashionista]
---
G/O Media may get a commission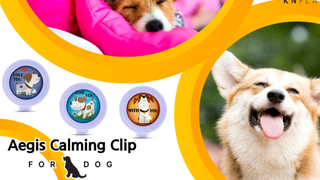 20% off
Aegis Calming Clip for Dogs
Here are all the contestants and their bios on the new reality show The Face, which is hosted by Naomi Campbell, Coco Rocha, and Karolina Kurkova and apparently works something like The Voice. Unsurprisingly, most of the contestants already have some modeling experience. [Oxygen]
---
Duro Olowu's J.C. Penney collection looks fucking fabulous. [Racked]
---
A group of Democratic congressmen wants the U.S. government to investigate Bangladesh's continued eligibility for preferential trading partner status in the wake of the disastrous factory fire that killed more than 111 garment workers, including many who were prevented by their managers from leaving their workstations even as the building went up in flames. Safety standards in Bangladesh, which pays garment workers one of the lowest minimum wages ($43/month) on earth, have come under scrutiny as the country has grown in recent years to become the second largest exporter of apparel, after China.

"We are seriously concerned about the deterioration of working conditions and worker rights in Bangladesh," Reps. Joe Crowley, Sander Levin, Jim McDermott, and Bill Pascrell wrote to the U.S. Trade Representative Ron Kirk. "The latest apparel industry fire, with over 100 workers killed, in the Tazreen garment factory is the latest in a series of events and practices constituting this decline. Chillingly, concerns about fire safety and the failure of Bangladeshi authorities to enforce laws in this regard have been raised repeatedly by the labor community both here and in Bangladesh."

[WWD]

Next summer, the Victoria & Albert Museum will host a fashion exhibition about London's 80s night club scene. [Vogue UK]

Paparazzi photographing Kate Moss and Jamie Hince on vacation in St. Barths also captured a completely naked man who happened to be standing behind them. Penis photobomb FTW. [TMZ]

With the acquisition of Marni, Diesel chief Renzo Rosso says he wants to turn his company into a luxury group to rival the big players, Louis Vuitton Moët Hennessy and PPR. "My intention is to create a beautiful holding with a fresh vision — farsighted, contemporary and recognizable," says Rosso. "It's my big dream, to create a modern group that is an alternative to the existing ones. We are beginning to become one such group, and we are working on consolidating it." Rosso also owns Viktor & Rolf, Diesel, and Maison Martin Margiela, as well as a manufacturing concern that produces and distributes apparel for Just Cavalli, Dsquared2, Vivienne Westwood, and Marc Jacobs. The whole group had sales of $1.9 billion last year. [WWD]

Naomi Campbell tore a ligament in her ankle and went out to dinner on crutches at the Beatrice Inn with Carlyne Cerf de Dudzeele and Steven Meisel. Donna Karan, Vera Wang, and Calvin Klein were seated nearby and got up to say hello to her. And this was totally mundane social interaction somehow made Page Six. [P6]

Emily Current and Meritt Elliott are leaving the denim label they co-founded, Current/Elliott. The designers provided no reason for their departure, but said they will continue to work together. The brand has been owned by Serge Azria since its inception in 2008. [WWD]

Polish model Magdalena Jasek only booked the Louis Vuitton runway rehearsal last year — when the brand has a different bunch of models than will be in the show rehearse the runway choreography until it's finalized. "One year ago, I did the show with the elevators. I only did the rehearsal, but, I think, seven times. I didn't do the show," explains Jasek. "They bring in different girls for the rehearsal, so the girls the day of the show don't have to practice as many times." But this past season, Jasek walked for Louis Vuitton for real. [The Cut]

Federal authorities have seized 89 Web sites that sold counterfeit luxury goods. Over 90% of the sites were selling counterfeit Louis Vuitton. [WWD]

Jason Wu explains the differences between his main line and the new, lower-priced Miss Wu collection he's doing for Nordstrom:

"You can see the Jason woman is much more polished and manicured. The Miss Wu girl, on the other hand, is she's a little more worn in, a little grittier, her hair is a little messier, her makeup might be from the night before. But the base of it all, like with my Jason line, is that it hits on all the things I love."

Givenchy has announced it will not present a couture collection this season. Last year, the brand went from a live couture show to a presentation. [WWD]

This spring Jimmy Choo is launching its second perfume, which will be called Flash. [WWD]