I know, right?
Lindsay, there's finally a reason for you to sober up! Tina Fey told E! on the SAG red carpet that she hopes there will be a Mean Girls musical. YOU BETTER NOT BE YANKING OUR CHAIN, FEY!
When asked about said the possibility of said musical, Fey answered: "Maybe! We want to. I would love to," "I'm trying to develop it with my husband, who does all the music for 30 Rock and I think Paramount's onboard."
So fetch.
Also fetch, Fey is impressed with Mariah Carey, and not just because she's Mariah Carey:
...Tina already has one musician in mind to take on one of the now-iconic parts: Mariah Carey.
"I loved it!" Tina gushed when asked about the recent American Idol fight between Mariah and fellow judge Nicki Minaj over Mean Girls. "And I think Mariah won. Like, Mariah seemed to really know all the characters."

During the spat, Ms. Carey was adament that she was no Regina George and Tina agrees: "Maybe she can play Amy Poehler's part in the musical."
YES YES YES, a million times YES! I want to see Mariah Carey sporting a velour Juicy Couture tracksuit and misaligned nipples sipping "virgin" margaritas and singing about being a cool mom.
Lord*,
If you can hear me, please please please make this happen. I promise to never write anything mean about you ever again. Also, I love your skirt, where did you get it?
G/O Media may get a commission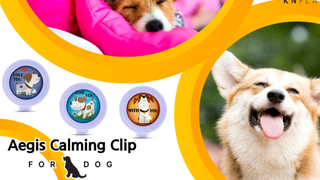 20% off
Aegis Calming Clip for Dogs
Love,
Laura and Everyone Else
*Mariah Carey
p.s. For more on Fey's pressing career updates, check out what she said after she won for Outstanding Performance by a Female Actor in a Comedy Series at the SAG Awards tonight. (Spoiler alert: New Muppets movie!!!)
[E!]