The always refreshingly plainspoken Tim Gunn says something that probably no plus-size woman in America would disagree with: that the apparel market woefully underserves them. "Have you seen most of the plus-size sections out there? It's horrifying. Whoever's designing for plus-size doesn't get it. The entire garment needs to be reconceived. You can't just take a size 8 and make it larger," says Gunn, the former head of the fashion design program at Parsons. "I've been talking to designers, but only a half-dozen make an effort. Most say, 'I don't want a woman who's a size 10 or 11 wearing my clothes.' Well, shame on you! It's not realistic. We need to address real women with real needs. At Parsons, we had fit models that ranged in size from 2 to 10. We've got to reconceive clothes for all sizes." Gunn says that he's even thought of starting his own clothing line, just because he'd like to stick it to designers who don't want to dress women of all sizes, and he wants to "be a part of the solution." [Marie Claire]
---
Ads for David Beckham's underwear collection for H&M, which goes on sale February 2, have been revealed. [WWD]
---
G/O Media may get a commission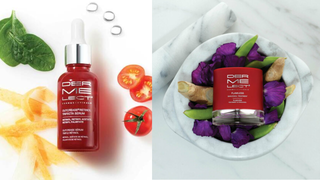 Save $19
Retinol Renewal Kit
Some blogger thinks Eddie Redmayne doesn't look sexy enough in his new Burberry ads. "We can't help but think the sexy-time poses look a little forced on the Eton-educated Redmayne." Really? You can't help it? He and Cara Delevigne both look pretty damn sexy to us. [Racked]
---
Sadly, these Vans printed with designs from vintage Hermès scarves are not for sale. They were specially made for stylist Robert Verdi. [PSFK]
---
Lingerie model Irina Shayk is out to prove she's a real classy broad in the new British Esquire. "I would never do Playboy. Yes, I am a lingerie model, but I have class. Playboy offered me so much money last year. I was like: 'No. Way.'" Yes. Cindy Crawford's Herb Ritts issue of Playboy is nothing if not déclassé. [NYPost]
---
Marie Claire editor Joanna Coles says that she was offered the chance to be the designer mentor — i.e. the Tim Gunn role — on Project Runway All Stars at the last minute. "I'm sure several other people must have turned them down first because it came up rather at the last minute — I had about twenty minutes to decide. So I thought, 'Why not? What fun.' It was only halfway through filming that I realized, 'Oh, goodness, what am I doing? Tim Gunn is really the star of the [Project Runway] world. What on Earth would make me think that I could replace him?'" Well, if all else fails, there's always biology: Coles says that providing a "woman's perspective" is one area where she hoped to contribute to the show. [The Cut]

Janice Dickinson, who previously owed back taxes of over $250,000, is in trouble with the IRS again. She apparently owes another $43,000. [RadarOnline]

This long piece on the Gucci company and how it has found its way in the post-Tom Ford period is worth a read. The author relates the circumstances of her interview with creative director Frida Giannini thus:

I meet Giannini at the Cipriani Hotel, where a PR executive sits in on the interview. A digital recorder rests on the table, and it's already running. Nothing about Gucci is spontaneous. Everyone stays strictly on message, endlessly reciting the words "heritage," "craftsmanship," "artisan," "legendary" and, yes, "iconic."

[Departures, via Slate]

A shy-seeming 11-year-old boy who dreams of becoming a fashion designer went on Rosie O'Donnell's talk show. Ben talked about his love of RuPaul — "I just admire him because he's not afraid to do anything. And if someone's rude, he just tells them to go away" — and showed the camera a yellow, ruffled one-shouldered dress he'd designed "for the red carpet." Ben says he's been called "gay, and a loser," for liking fashion. Then O'Donnell brought out a special surprise guest: RuPaul. [OWN]

Kinder Aggugini is going to costume a new production of "The Rite of Spring" at the English National Ballet. [WWD]

André Leon Talley, like many Americans in the first days of January, seems to have his mind on weight loss. The Vogue editor Tweeted about his "need to embrace new weight loss," and how he has the feeling Jennifer Hudson, Janet Jackson, and Mariah Carey are all sending him "dream signals to loose [sic] weight." He also wrote, "Mimi's song as she flips out in Divadom Old School on Jenny Craig sends telegraphic signals, get up and loose [sic] the poundage. Process it!!!" Previously, as shown in The September Issue, Talley has tried tennis to lose weight. As he explained, "Miss Anna don't like fat people." [@OfficialALT, @OficialALT]

Eleven law professors with expertise in trademark law filed an amicus brief with the court that is deciding whether to uphold Christian Louboutin's trademark on the red-colored sole in footwear. The professors are not sympathetic to Louboutin, whose company sued Yves Saint Laurent for producing a line of red shoes with red soles, accusing the fellow luxury brand of causing confusion within the market. "A woman who buys red shoes is doing so for a reason — red shoes have a particular meaning to her, and to others, that cannot be supplied or even approximated by shoes of a different color," write the professors, even though what is at issue is not red shoes but the specific use of the red sole, and not just any red sole, either, but a particular shade of red leather sole. "Given the substantial creativity involved in both fashion design and fashion consumption, courts should not lightly allow one particular competitor to monopolize particular fashion submarkets." So because fashion is a highly creative field, the creative things it comes up with deserve less protection from IP laws? That...doesn't exactly make sense. [WWD]

The agency Next has signed everybody's favorite manufactured indie singer, Lana Del Ray. [Elle UK]

Liz Claiborne, Inc., will as of this May be known as Fifth & Pacific Companies, Inc. The change comes after the conglomerate sold the Liz Claiborne brand to J.C. Penney. Fifth & Pacific owns such brands as Kate Spade, Lucky jeans, and Juicy Couture. [WWD]

And now, a moment with Gary Wassner, who runs a company that provides factoring and financial services to fashion brands. If you're interested in how the money works in the fashion industry, where brands expend sometimes hundreds of thousands on semiannual shows that then garner retail orders, fill those orders for delivery dates sometimes six months into the future, and receive payment only months after that, when the goods have finally sold and the money's been counted, this one's for you. Gary, what is factoring, exactly, anyway?

"Factoring is cash flow oriented. We set a percentage we're willing to lend to the client, and that percentage is based upon the total of the open, unpaid accounts receivable the client has on the books. So the line we establish grows as the business grows and the shipping increases. A bank loan is a fixed, pre-established amount. Bank lines are generally more balance sheet oriented and they don't automatically increase as business increases or accounts receivable increases. In addition, factoring services far exceed the services a bank provides. There are two sides to factoring: lending and credit/collection services. All our clients submit their orders to us as they receive them. We credit check them in our systems and against the financial information we have on file. We then advise our clients which stores we are willing to guaranty and which we are not. We provide detailed reasons when we decline a store's credit so the client then can go back to the store and establish credit card or prepayment terms. When we guaranty a store, if our client ships according to order and sample, and the store does not pay due to its financial inability to pay (not a merchandise dispute) then we pay the client."