Tiffany Haddish posted a throwback picture to Instagram of herself as a young comedian who was "homeless, hungry, scared, and hurt" with a message to her younger self.

The caption reads:
"I look at this picture and want to cry tears of joy for this Girl. I remember that night. She was homeless, hungry, scared, and hurt. I promised her if she kept faith in God and Herself, We will get to a place where we will be Housed, Over Fed, Less Hurt and Fear Free. I am so Grateful that she Believed. I am so Happy we have come this far and excited about where we will Go. Tiffany Sara Cornilia Haddish I Love and Approve of you and most of all God does too. You are prefect [sic] enough for both of us right now and always."
So very glad Tiffany in the photo kept at it because she is a goddamn treasure, and we're all lucky to have her on our screens and our Instagram feeds.
---
Just when that other fake college admission scandal was losing steam, Blac Chyna has replenished our gossip cycle with a brand new one. Actual Harvard grads got their little Ivy Leauge knickers in a bunch when it was suggested Blac Chyna had the chops to get into their online business school. Harvard alums harumphed and angrily twirled their pince-nez until someone looked into this sordid business.
G/O Media may get a commission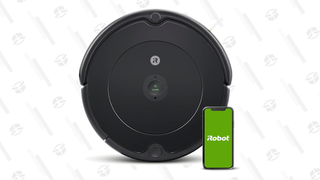 35% Off Black Friday Deal
iRobot Roomba 694 Robot Vacuum
And...it turns out that admission letter she leaked to TMZ was a fake and some bullshit "PR firm" was planning on taking the course for her in exchange for $1,000.
The DIY Ivy League admissions scandal is officially my new favorite publicity stunt, and in light of this further information, I continue to stand by my assertion that she's earned her certificate.
[TMZ]