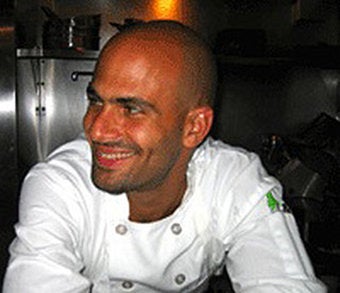 It was like, you want cooking? I'll give you cooking: Ecco, Iron Chef is filming at the White House, Doctor Quinn and Nigella are there, and the new kitchen staff is extremely hot (in a locavore-chef-maybe-slightly-Billy-Zane-but-it's-ok sort of way.)
Michelle Obama has put her money where her mouth is. Talk all you like about the validity of her husband's Nobel: the FL has been walking the walk. Beyond pressing her message tirelessly. Mrs. Obama has gone multimedia. The garden has been highlighted on The Biggest Loser. From getting flak for not cooking, Obama's now hinting at penning a cookbook. And, as detailed in today's Times, there's the Iron Chef, with First Chef Cristeta Comerford for some reason partnered with Bobby Flay - throwing down against Mario and Emeril. The judges include Nigella and, um, Jane Seymour, who I suppose in her career has certainly demonstrated her advocacy for natural health.
In a collision of politics, cooking and popular culture, Michelle Obama will reveal the secret ingredient that the chefs must use in their televised cook-off: anything that grows in the White House garden (no further spoilers here, though). Mrs. Obama will also talk about her crusade to reduce childhood obesity through better school lunches, community gardens, farmers' markets and exercise, which around the White House has the working title Healthy Kids Initiative.
Also in the Times comes a story about the White House's new chef-cum-food-policy-advisor, Most Beautiful Person and University of Chicago grad (two phrases we U of Cers don't often get to use in one sentence!) Sam Kass - described as "steeped in all matters locavore and was a moving force behind the White House garden" - and, inevitably, a wonk-heartthrob.
Part chef and part policy wonk, he is reinventing the role of official gastronome in the Executive Mansion. Indeed, Obama administration officials describe him as a vital conduit to the first family. "How do I get to the first lady, how do I try to transmit ideas and messages to her? Sam Kass," said Kathleen Merrigan, the deputy agriculture secretary. "He's been a real ally when we talk about farm to school."
And in bringing sexy back. Also, get this exchange from the Iron Chef shoot:
Mr. Batali told Mr. Flay, "You have a much cuter partner than I do."

The cute partner, Cris Comerford, to Mr. Batali: "I think he's cute too."
A White House Chef Who Wears Two Hats [NY Times]
Someone's In The Kitchen With Michelle: The Secret Ingredient Is Politics [NY Times]
Chef Sam Kass Will Cook At The White House...[ObamaFoodorama]
Most Beautiful People [People]