As Americans prep for Thanksgiving, Pictorial has decided to honor our communal gorging by taking a look at promotional recipe pamphlets of days gone by.
A great, gleaming pile of vegetables looks so appetizing. Clearly, that is what Seabrook Farms Frozen Foods was trying to mesmerize its customers into remembering with this booklet of "miracle meals" incorporating their products.
Stare directly into the basket of tomatoes. Do not look away from the tomatoes.
This pamphlet's opening pages recap Seabrook Farms' long and illustrious history of vegetable preservation, noting that they began freezing them in 1930. And that's not all: "Research never stops at Seabrook. New strains of vegetables adapted to freezing, new methods of processing and freezing, and now, with the advent of frozen prepared foods, a new kind of freezer pack that may revolutionize American cooking."
G/O Media may get a commission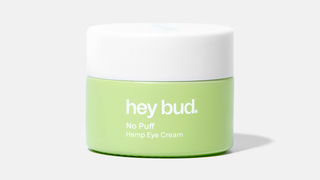 15% off
Hey Bud - No Puff Hemp Eye Cream
That would the "Miracle Pack," which is "a see-through laminated plastic envelope, heat-sealed and leak-proof." Of course, you won't see any photographs or detailed illustrations of the Miracle Pack—just a few stylized two-color illustrations. The emphasis here is on the tasty, healthful dishes you can create with these frozen vegetables, which have definitely not been rendered bland by the freezing process.
Based on some perusal through the archives, I'd estimate we're looking at something from the tail end of the 1950s, which is when Seabrook introduced their glorious Miracle Pack. Notably, the recipes are getting zanier than yesterday's edition of the Thanksgiving throwback, 1940s-era Aunt Jenny's Favorite Recipes. Featured recipes include: chicken mousse; pancake club sandwiches; turkey and broccoli au gratin; Delmonico beef hash, bonne femme; and baked pork chops with lima beans mornay. Ingredients for that last one include flour, milk, grated swiss cheese and an egg yolk.

Can't I interest you in some Boeuf a la Mode en Gelée? That would be the jello mold, center right. Translation: jellied beef in red wine. Yum, yum!
The emphasis here is helping you—the homemaker—succeed at fanciness. (What could be fancier than jellied beef?) "What a wonderful cook you'll be with Seabrook Farms Miracle Pack Vegetables and Entrees—PLUS your own imaginative touch," chirps the introduction. "Let Seabrook do the groundwork. Seabrook's master chefs are your kitchen staff." That leaves you room to stunt:
And, when you want to do creative cooking, to have the satisfaction of serving different, elegant and seemingly intricate dishes without the time-consuming drudgery of pre-preparation—begin with Seabrook Farms Miracle Pack prepared foods, and go on to create your own specialties.

A handsome, quivering Boeuf a la Mode en Gelée transformed from Beef in Red Wine; meltingly tender, buttery-rich muffins with a surprise bonus of Asparagus Hollandaise style; chef's specialties such as custardy Asparagus Quiche, old-time satisfactions including Potato donuts—all are within the reach of aspiring cooks, thanks to Seabrook.
Now your beef, too, can quiver handsomely!
But easily the best bit from this particular pamphlet are the categories. In addition to obvious groupings like family dinners and hors d'oeuvres, they've added these two successive categories. First:
Offerings in this category include: oysters Rockefeller, jellied chicken loaf, rolled stuffed cabbage, five-layer casserole, and something called "spinach velvet." Yes, those do sound pretty unbelievable as diet foods.
Then, for youngsters in the house:
What does one feed a teen? Chicken and waffles, egg and asparagus casserole, "asparagus beef chipper," pickled corn relish, and an "after the game bracer" consisting of one package Seabrook Delmonico potatoes and one cup boiling milk. (If you like, you can add instant chocolate.) Those Soviets aren't going to beat themselves, kids.
In comparison to yesterday's installment, this little booklet contains relatively few explicit references to the female homemaker feeding her husband and family. Guess by the late 1950s it just went without saying that men were constitutionally incapable of feeding themselves. Their advertising wasn't above a little husband/wife callout, however.
If you look closely, you'll even see a reference to working wives. What, you think that job means you're escaping your dinner responsibilities? Not likely.

---
Contact the author at kelly@jezebel.com.
Scans via Seabrook Farms Miracle Foods Cookbook. Final ad image via Google Newspaper Archive, from the Toledo Blade, 1959.