Three employees at an Indianapolis-area high school have been arrested for "child seduction" after they all admitted to having various types of sexual contact with one 16-year-old student. Somehow making things even worse: they apparently talked about the student amongst themselves.
According to the Terre Haute Tribune-Star, the three accused staff members are band teacher Craig Rogers, substitute Spanish teacher Nicholas Vester, and lifeguard/swim coach Brandon Largent, all of North Putnam High School. All appear to have confessed: Rogers and Largent said they kissed the teen while he was at school, and also texted him. Rogers says he also sent "pictures" — no word on what they were of, and maybe we don't want to know. Vester went further — in addition to texting the kid, he also picked him up and drove him to a parking lot, "where they kissed and engaged in sex acts." He also picked the student up from a game at the high school and they had sex by the side of a road.
The age of consent in Indiana is 16, so the three men, who were arrested last week, aren't charged with rape. Instead, they face charges of child seduction, a crime in which school employees or other guardians of teens between 16 and 18 have sexual contact with them. The fact that this category exists means Indiana lawmakers have acknowledged that even if a teen is old enough to consent, that doesn't mean it's okay for his Spanish teacher — someone in a position of authority who's supposed to be looking out for him — to have sex with him.
What's especially creepy about this story is the very last detail in the Tribune-Star report — news "that Vester and Rogers had discussed the student." It's not clear what they talked about, but the sheer fact that they talked about him at all is disturbing. It makes it sound like there may have been a conspiracy — or at least an agreement — to target one specific kid. At least now his abusers will get justice — and hopefully he'll get whatever counseling he needs.
3 School Staff Members Accused Of Child Seduction [The Indy Channel]
Warrants issued following police investigation of North Putnam High School employees [Indianapolis Tribune-Star]
G/O Media may get a commission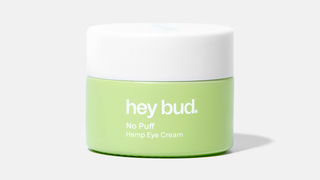 15% off
Hey Bud - No Puff Hemp Eye Cream
Image via aceshot1/Shutterstock.com