Welcome back to Midweek Madness, in which we stroll the fairways of the celeb tabloids. Last week, Star reported Tiger was cheating, this week we learn more. Also: Lindsay's doing coke and Britney found out she's pregnant.
Ok!
"$75 Million For Baby #2."
Can we talk about this cover for a minute? We find it very conversational: "Shhhh!" and "Sorry Nicole — We Can't Keep A Secret" amd "OMG! Tiger Reveals What Really Happened." Inside, "sources" tell Ok! that there's been tension between Katie and Tom because he's been pushing for another baby since Suri was delivered. Wait, since Suri was delivered? Was he in the hospital when she came out, saying, "Gimme another one!" Anyways. Katie plans to get pregnant in the next year and Tom plans to set aside $75 million for his new offspring. A "pal" says part of the reason Katie's going to have another kid is because "she no longer feels like she's just Mrs. Cruise — she's her own person again. A sidebar headline reads: "Meanwhile, Tom's Ex Nicole Looks Pregnant." (see image 7) Dr. Christopher Sipe, who does not treat Nicole, says: "It appears she may be 30 weeks pregnant. Or she could be teasing the media." Wait wait wait. Nicole is 7 ½ months along? Or joking? Glad we narrowed that down. Moving on: Liza Minnelli and Adam Lambert are "surprise look-alikes." (See image 8.) Angelina Jolie says of Brad Pitt, "I met the right person and I don't like being without him." Reese Witherspoon and Jake Gyllenhaal are "taking a break." Jake is reluctant to live a "middle-aged lifestyle" what with the two kids and the farm and whatnot. They came to an agreement to spend some times apart and reconnect in a couple of weeks and see how they feel. Finally: Jessica Simpson is "smitten" with former Smashing Pumpkins frontman Billy Corgan "since connecting with the bald bad boy at a November 6 party." They left together and that was the last anyone heard of them for days!
Grade: F (flubbed shot)
G/O Media may get a commission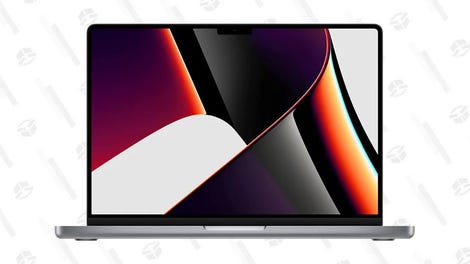 Save $300
2021 14" 1TB MacBook Pro

Life & Style
"The Truth About My Marriage."
Ugh. As you may have noticed, L&S pushes the Kardashians on every other cover. They're on one week, off the next, then on again, and it's been going on basically since July. Or maybe earlier. We guess the editors struck a deal with the family, but the coverage is seriously tedious. Here's what Margaret learned from this incredibly long interview: Khloe says Lamar would be happy if she got pregnant right away, but she'd like to wait. And even though she met his 11-year-old daughter from a previous relationship, Destiny, she has never met his 7-year-old son Lamar Jr. That's what you get for rushing your reality TV wedding! Margaret thinks Lamar should concentrate on having his son meet his new wife instead of trying to make a new baby. Moving on: Lady Gaga is "making everyone crazy" and is responsible for Adam Lambert's sexed-up AMA performance, for Rihanna's "barely-there bodysuit" at the AMAs and for Miley Cyrus being more seductive. Britney Spears and Jason Trawick are talking about having kids; she wants a girl. But, the magazine warns that Britney "relies heavily" on two medications to remain stable. And it might not be wise to take them while she is pregnant. Health advice is servicey! Gwyneth Paltrow has been spotted in London without Chris Martin and an insider says they're staying together for the children. Gwynnie refuses to get divorced, but "she's lived the last year or so of her life like a divorcée." What does that mean? Because I picture it involves drinking wine and wearing cleavage-highlighting outfits. Lastly: In Tiger Woods news, an insider names another woman, Kalika Moquin, as someone Tiger has hooked up with a bunch of times. "Tiger told Kalika that married life isn't all it's built up to be," and that he was unhappy and feeling lots of pressure. Kalika is a marketing manager for The Bank nightclub in Las Vegas, and the mag has a pic of her (See image 9.) When contacted, she did not confirm or deny the affair, saying it was "not appropriate" for her to comment one way or the other. We take this to mean she hasn't yet settled on a dollar amount for which to sell her story.
Grade: D- (fat shot)
In Touch
"It's Worse Than Anyone Knows."
As we learned last week, Angelina wanted to take the kids to Asia for Thanksgiving but Brad was against it, because he wanted to go to his parent's house. Now Brad's parents are advising him to leave Angie "before the relationship destroys him." The Cambodia trip allegedly fell through, so the Jolie-Pitts stayed in LA for the holiday. The copy here reads: "With no obvious reason beyond his partner's selfishness, Brad was forced to call his mother Jane on November 17, canceling the plans his whole family had been looking forward to for weeks." On the phone, "Jane sensed Brad's hurt" and asked if he was alright. "For a change, he didn't sugarcoat it." GASP. "He told his mom, 'It's worse than you think,' the insider reveals, adding that Brad was 'in tears' during the call." Jane was shocked it was so bad and told Brad to leave Angelina. The mag adds: "His only joy these days is Jen, 40, with whom he has been talking or texting nearly every day." Brad has confided to his parents that he still has feelings for Jen and they are urging him to follow through. Brad was disappointed that Jen went to Morocco for the holiday but they made plans to meet when she's back. And! Jen invites Brad's parents to her annual Christmas Eve dinner every year, and this year, they accepted, for the first time. Oh, and Gwyneth Paltrow and Jennifer Aniston bonded when they were both in Morocco; they are both worried about Brad's future and almost called him together but decided against it. Moving on: Reese and Jake are being torn apart because he's very serious about marriage and children and wants to "make things official" but Reese never gives in. Maggie Gyllenhaal is trying to reunite them. Lindsay Lohan is having a "secret romance" with Entourage star Kevin Connolly. They've known each other for years but hooked up at a party at Leonardo DiCaprio's house in November and are "sneaking around." Ooh, plastic surgery special! Zac Efron's nose was "refined." Megan Fox had implants, lip injections and a nose job. Etc. (See image 10.) It goes on for a few pages. Lastly: Tom Cruise begged Katie Holmes to join him in Europe for Thanksgiving, but she stayed in New York.
Grade: D (double bogey)
Star
"The Fight To End All Fights!"
An alarm went off at Brad and Angie's house in LA, so the cops came, and left 20 minutes later. The mag claims: "Five alarm fights are the norm for Brad and Angelina these days." Apparently Angelina is a "screamer" and will get physical, shoving Brad. He wanted to go to Missouri for Thanksgiving; she wanted to take Pax on a humanitarian mission. So they fought. He told her she was selfish; she started hyperventilating and threw a chair at him. Brad stormed out of the house and went to Chateau Mirval — he said he was going to set up the house for Christmas, but he really just wanted to get away from Angelina. Brad is also mad that Angelina is trying to adopt from Africa again and not involving him in the process — and he doesn't want another kid yet. Please note: The image used on the cover is a picture of Angelina Jolie crying on UN World Refugee Day — June 20, 2003 (click that link and see). Brad and Angie did not get together until 2005, nearly TWO years later. Moving on: Tyra Banks is "super skinny" and "looks gaunt and waif-like." She looks fine to us? (See image 11.) Blind item! "Which singer is less of a gentleman than he seems? He hits the red carpet with gorgeous gals while hiding his real girlfriend — because she's a stripper." Hmm, Ne-Yo's album is Year Of The Gentleman… Reese Witherspoon had 40 people over for Thanksgiving and after eating they all sat around the piano and sang. Jake Gyllenhaal was a no-show, and "everyone was told not to mention his name." Reese and Jake broke up because he wants to get married someday, but felt that Reese was pushing him into it — he got freaked out and said he wasn't ready for such a commitment. David Hasselhoff went on a three-day drinking binge and was put on a psych hold at the hospital, but has been released. Britney Spears is pregnant! A "family insider" says she took a home pregnancy test after feeling queasy; her period was 2 weeks late. Two tests were positive! She called sis Jamie Lynn, who was not very supportive, telling Brit she hoped it was a false positive. Britney made JLS swear to secrecy, but JLS told the whole family. Jason is scared of making a huge commitment right now and "nobody thinks Britney's ready to be a mom again." Um, she's already a mom, right? Finally: A friend says Lindsay "just feels defeated and doesn't care what happens." She thinks "no one can save her, not even herself." LL was partyhopping on November 12 and wound up with Brandon Davis, her former enemy, and they were seen "bending out of sight and then wiping their noses after they stood back up." Which translates into "sniffing coke." When she saw photographers outside the house, she started throwing food out the window and acting crazy. At another party, Lindsay begged Leonardo DiCaprio to help her get a film role and he "gently suggested" she clean up her act. An insider says Lindsay took that as a slap in the face and the kind of help people are offering is not the kind she wants. Plus, her friends are abandoning her and she's resorted to hanging out with strangers. "These people don't care about her, so they don't stop her from taking so many drugs," a source says. "She could overdose and they wouldn't do anything. Lindsay knows it's dangerous, but she doesn't care anymore."
Grade: C (par for the course)
Us
"Yes, He Cheated."
In an exclusive interview, cocktail waitress Jaimee Grubbs, claims she's been having an affair with Tiger Woods for nearly three years. She played a voicemail from November 24 for the mag, which goes like this: "Hey, it's Tiger. I need you to do me a huge favor. Can you please take your name off your phone? My wife went through my phone and may be calling you. So if you can, please take your name off that. Just have it as a number on the voicemail. You got to do this for me. Huge. Quickly. Bye." In a sidebar on Jaimee, she spills details about how they met; when things first started getting physical; their first sexual encounter; how she made Tiger watch Desperate Housewives, which he "allowed" because "My friend Teri Hatcher is on it." Jaimee shares sexy texts from Tiger with the mag and there's a picture of her holding her iPhone with Tiger's name listed in it. Tiger told her his life was overwhelming, but that he needed the endorsements and busy schedule because he wasn't as financially stable as he wanted to be. "I thought, fuck him, I'm just an average person, that's a slap in the face. But he has really high goals for himself." And the end of the piece, Jaimee says: "I do apologize that his wife is going to have to read this… Whatever happens with Elin, I hope Tiger and I can reconnect and remain good friends." Yeeeahhh… Not gonna happen. Meanwhile, Rachel Uchitel is saying she did not have an affair with Tiger Woods but met him twice. Her friends, however, say that he was exchanging sexts and emails with her. And one email is about how he had a terrible dream that she was "getting fucked by [former flings] Derek [Jeter] and David [Boreanaz]. Some part of me thinks you would like that." MOVING ON. We loved Mindy Kaling's "25 Things You Don't Know About Me" — especially "I will see any movie that features a makeover set to music." (For more see image 12!) Next, Nicole Kidman is not pregnant, her rep confirms. John Mayer has a late night show "in development," but 85% of Us readers would not watch it. Jessica Simpson was overheard at a restaurant asking her mom, "Do I like Gouda cheese?" Have you seen Heidi Klum's adorbs new baby? See image 13! Also, you probably were not aware, but "Thanksgiving Is For L♥vers." (See image 14.) Lastly: "No celeb goes to Villa in West Hollywood on Thursday nights anymore." But on November 19, Lindsay Lohan and Jessica Alba's husband Cash Warren both showed up with their friends and sat together, and after about 30 minutes, started making out "lip on tongue." "It was raw," says an eyewitness. "They were not shy." Lindsay spoke to Us and says she and Cash are friends who are collaborating on a potential TV show. "This is so absurd. He is married. I wouldn't dare kiss him."
Grade: C+ (1 over par)
From Ok!
From Ok!
From Life & Style
From In Touch
click "full size" to enlarge
From Star
From Us
click "full size" to enlarge
From Us
from Us
click "full size" to enlarge