Welcome back to Midweek Madness! Every Wednesday, we "read" Star, In Touch, Ok!, Us and Life & Style so you don't "have" to. This week: The Bachelor's Emily and Brad are dunzo; Bradley Cooper and Renée Zellweger broke up over her love of sweatpants; Fergie has a new face; and Suri Cruise is taking midnight meetings and paging through Vanity Fair for her super secret start-up project.
Ok!
"It's Over!"
A staffer from The Bachelor says that Brad and Emily are pretending to be together for the sake of the show's "brand." But after all of the breakups and makeups, it's over. For good. They had "out of control fights" while the show was airing because she didn't like seeing him make out with scores of other women. "Every Monday night was a war zone," according to an insider. The contract that they signed about doing appearances together is pretty standard, and if they do breakup, neither of them get to keep the ring. Then again, why would you want to? Moving on: "Pregnancy Panic!" is about how Mariah Carey has found the last eight weeks of her pregnancy difficult, and will have to get a C section. And! Her marriage will face "a big test" when the twins arrive, because Nick is so much younger and likes to hang out. As for Kate Hudson, she's having morning sickness, but since Matt Bellamy is British, he brings her tea. BREAKING: Louis Bullock is so cute he has caused a heartsplosion in the office, we cannot handle his tiny fists and pouty face GAH. (See Fig. 1). In Brad and Angelina news, an insider says that Maddox Jolie-Pitt had a "serious talk" with his parents and told them that he felt that they should adopt Japanese kids orphaned by the earthquake and tsunami. Brad and Angie have promised to consider it! By the way, Angelina's boobs look bigger, so an OB/GYN who has never met her says "it's possible" that she is pregnant! No, really! (See Fig. 2) Lastly: Spring weddings are coming up! Reese Witherspoon's reception will feature dessert trollies being wheeled around. Kourtney Kardashian is thinking about having burgers. As for Kate Middleton, she is suffering from insomnia and panic attacks, poor thing! She's so nervous, she can't eat, and is getting skinny. Seriously, though, if we were about to be married in front of millions of people and then paraded like a showpony through the streets of London wearing historic jewels and riding in Princess Diana's horse-drawn carriage, we'd have a tummy ache, too.
Grade: F (4-year-old having a total meltdown)
Us
"Leah & Corey's Wedding."
Leah from Teen Mom got married on October 17, 2010, but the images are just showing up now because the ceremony will air during the show's finale on March 29. Try to get excited about this superfluffy boring interview! Moving on… In Britney Spears's "25 Things You Don't Know About Me," we learn that she takes two baths a day and does not own a cell phone. Tyra Banks was freaked out, at first, about living in the dorms at Harvard Business School, but now she wouldn't have it any other way. Five days after she announced her split from Justin Timberlake, Jessica Biel was spotted partying in Shreveport, Louisiana with Gerard Butler — then again, they are filming a movie together — and it's called — wait for it — Playing The Field. They were celebrating a crew member's birthday at a bar, and a source says when Gerry got there he made a "bee line" for Jessica. Two nights later, they were seen throwing back margaritas at a Mexican restaurant, and were out again on the 19th, and on the 20th they went to karaoke with a group. Sounds like fun. Tiger Woods' new 22-year-old girlfriend was a fan of his when she was a kid and would draw him pictures in crayon. Now they are dating. Here is a quote from Lamar Odom after the mostly naked ad for his fragrance with Khloe Kardshian aired: "I got killed in the locker room. But it's cool!" Kate Bosworth and Alexander Skarsgard have hit a rough patch. They're on the rocks! They've been fighting! Breakup imminent! Snooki says: "Hopefully after Jersey Shore is over, I can get that ring and start popping out some guido babies." Brad, Angelina and the kids went on a swamp tour in Louisiana, and when an alligator rose out of the water and snapped, the boys got super excited. Renée Zellweger has been out and about looking "smoking hot" in New York — but even though she's been laughing and smiling, she's only acting! Her breakup with Bradley is super sad. There was no cheating, he's just into his career and things were not working out.
Grade: D+ (4-year-old barfing up cupcakes)
G/O Media may get a commission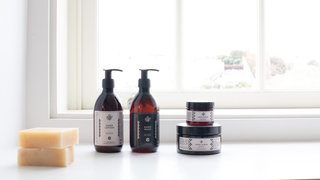 Exfoliate and Hydrate
The Handmade Soap Company
Life & Style
"Suri's Twisted World"
This story is beyond ridiculous. First of all, the headline, "Little Girl Lost," is the name of Drew Barrymore's autobiography detailing her extensive drug use. Yeah. But here's how this Suri story starts: "It was another late night on the town for the girl with the long brown hair…" Basically, Suri was spotted at Serendipity in NYC with her mom at the wee hour of 1am. Eyewitnesses say she was "cranky" and kept covering her eyes. The next evening, Suri hit an 8pm performance of Wicked, and when the show let out at 11pm, she hopped on a helicopter, flitted over to the airport and caught a flight to L.A. Vicki Panaccione, a child psychologist who has never met Suri, was asked to get all concerntroll on the girl — and obliged! "She's keeping late-night hours, wearing adult clothing and makeup, and attending adult shows." Panaccione adds, in case you're unaware, "kids are not little adults." Suri also went to see How To Succeed In Business and was spotted reading Vanity Fair, so we expect her to launch some kind of entertainment enterprise any day now — clearly she was doing research! Perhaps she will be a producer or a casting agent? Oh! But! When Suri is not being treated like an adult, she's being babied. The pacifier, the bottle, the temper tantrums. In fact, the night she left Serendipity, she threw a tantrum in the car — Katie and the nanny were trying to get her to sit in a carseat, but she didn't want to — and Suri got her way! The magazine has an expert from AAA point out that "until children are 8, they need to be in a booster or car seat, or else they're at seriously increased risk in a car accident." Thank you, we had no idea. Moving on: The "exclusive" story about Jersey Shore's Sammi and Ronnie breaking up contains no new information. Kate Middleton is in a "panic" after losing weight, and "fears" her wedding gown will be too big. She's lost seven pounds since the end of 2010, according to Kate Nicholl, the author of The Making Of A Royal Romance, who is not a doctor. Laurel, the ex-girlfriend of The Bachelor's Brad Womack says: "I feel bad that Emily is clueless. I want Brad to be happy, and I want him to be with someone he loves and thinks the world of, but I just want Emily to realize that he needs some sort of help [for his anger issues]. He can't do it on his own." Next: Bradley Cooper and Renée Zellweger broke up not because she was looking for a ring, but because Bradley Cooper's dad died, and "losing a parent causes you to take inventory of your life," says a psychiatrist who does not treat the two. Lil Jon lost 30 lbs., thanks to daily workouts and a low-carb, low-sugar diet. His waistline went from 38 to 32 inches. Michael Jackson's son Prince has a girlfriend. "They just started dating about a week or two ago," says Tito Jackson. The 14-year-olds met at school, and Prince is probably really unhappy with Uncle Tito right about now. Is Hugh Hefner's fiancée Crystal Harris dating Dr. Phil's son, Jordan McGraw? They were spotted cozying up to each other at Chateau Marmont on March 14. Jordan was seen kissing her shoulder and trying to hold her hand — the one with the six carat engagement ring on it! A source says they've been sneaking around because Crystal is supposed to be happily engaged to Hef. Now what? Fergie has a "new face." She may have gotten Botox, upper eyelid surgery, a nose job and some tightening of the jawline. (See Fig. 3) Finally, check out who had big hair in high school: Kelly Ripa, Adam Sandler, Chelsea Handler and Jenny McCarthey (See Fig. 4).
Grade: D (4-year-old with smeared lipstick)
In Touch
"Battle For The Baby."
Scott "American Psycho" Disick has "cruelly" called off the wedding and is consulting with a custody lawyer, in case things don't work out with Kourtney Kardashian. Scott was "secretly" trying to shop a reality show about himself and Kourt, but there were no takers, and he found that they'd be less interesting to viewers as a married couple. Plus, he's jealous of Khloe and Lamar's show. Anyway, an engagement announcement was supposed to be part of the finale, and producers planned ahead, filming two versions — one where Kourtney says yes, and one where she says no. Scott pushed for the "no" version to air, which has upset Kourtney. She's also afraid she is boring without Scott and is insecure about how much people like Kim and Khloe. Uh-oh. Ashley Greene dumped Joe Jonas for Jared Followill from Kings Of Leon. "What's Their Bikini Body Age?" consists of pictures of female celebs in swimsuits being judged by a trainer and "fitness talent," who decides how old the stars really are, based on how they look in a bathing suit. SO ABSURD. (See Fig 5). Pregnant Natalie Portman is being "rushed" to the altar, because her family is so religious. Benjamin "Millipede" Millepied would like to wait until after the baby comes — and he wants a "big, over-the-top Hollywood affair." The Bradley/Renée story here alleges that he is a player and not a good partner, and that dating Bradley was "the worst mistake she ever made." Also: Sweatpants ruined the relationship. The text actually blames Renee for dressing so comfortably around her man. "She may have unwittingly taken the spark out of their romance… One can only wonder if the right low-cut dress might have changed Bradley's mind." Seriously? Sweatpants can conquer true love? WHY HAS NO ONE TOLD US ABOUT THIS BEFORE? We don't even have to tell you what "Is Suri's Sweet Tooth Out Of Control?" is about. You already know. A "friend" says: There are always cupcakes and candy in their house." Simply shocking, for family with a four year old. Positively scandalous. Pete Wentz told a friend that the whole thing with Ashlee rebounding with his friend Craig will make dating and hooking up with a new girl much easier. Kate Hudson is "pregnant and betrayed," because Matt Bellamy was spotted flirting with a "young, sweet, college girl" at a party at the mansion he shares with his band in the Hollywood Hills. He and the young lady disappeared into a private room and didn't come out until sometime the next day. Apparently Matt has destroyed three past relationships by cheating! Despite all this, he doesn't want to have his kid out of wedlock, and that is why he's proposed — twice — to Kate. (She keeps turning him down, and even has a custody agreement drawn up in case she and Matt split.) Lastly: Diane Kruger, Whitney Port, LeAnn Rimes, January Jones and Emma Roberts are all celebrities with "toothpick legs," a "scary-skinny trend."
Grade: D (4-year-old with a broken high heel)
Star
"Hollywood Stylists Tell All!"
This eight-page story features lots of little blurbs from insiders revealing "secrets" about celebrities. Some of them are interesting, some of them are not. A sampling: Kim Kardshian makes her own face masks out of stuff in the fridge. LeAnn Rimes has been eating fewer than 1,000 calories a day for months and is now "looking like a walking skeleton." If you work with Nicole Kidman, you are not allowed to look her in the eye. Madonna walked away with a shitload of expensive makeup, brushes and creams from a video shoot without even asking. Angelina Jolie hates her feet. Ryan Seacrest wears mascara. Oprah is addicted to Spanx — "long, short, and in every color," with a closet devoted to shapewear. Jay-Z likes all of his shirts to be freshly ironed and warm to the touch, and insists that his schedule is sent out in military time. Jennifer Aniston "looks incredible naked" but has fungus on her fingernails. And! Sandra Bullock likes to put duct tape on her nipples. Plus, we got two blind items. Number one: "This reality star's love of racy outfits — not to mention her potty mouth — have stylists and producers in a tizzy as she gets ready to make her network TV debut." Hmm… A Kardashian? Number two: "Here's a nugget of gossip for all you celeb lovers (and Upper East Siders): After showing up for a photo shoot hungover and stinking like booze, this young actor puked all over the on-set bathroom — and left the mess for the stylists to clean up. XOXO!" Oh Chuck Bass, as if we didn't already love you dearly. Next: NeNe Leakes is dating Star Jones's ex, Al Reynolds. They dined at STK in NYC on March 9 and have been flirting on Twitter. Ooh, juicy details about Jessica Simpson's prenup with Eric Johnson! He is on a "vesting plan," says an insider. He'll get $500,000 as a wedding present, then, on each anniversary, he'll get another $200,000. If he and Jessica make it to 5 years of marriage, he'll get another $500K bonus — and a $1million if they make it to 10 years. Kind of awesome, yet small change, since Jess rakes in a billion with her fashion empire! Vanessa Hudgens, 22, is dating a younger man, 18-year-old Josh Hutcherson, from The Kids Are Alright, and crying on his shoulder as her nudie pix circulate the web. Last week, Star's cover story involved Bradley Cooper cheating on Renée Zelweger with Sandra Bullock. This week, Star notes that Renée recently showed up on Sandra's doorstep in New York. When Renée asked Sandy about Bradley, Sandra gave her a big hug and reassured her that nothing happened. Then Renée "cracked from all the stress" and started bawling her eyes out. Sniffle.
Grade: C- (4-year-old not in a car seat)
Addendum:
Fig. 1, Ok!
Fig. 2, Ok!
Fig. 3, Life & Style
Fig. 4, Life & Style
Fig. 5, In Touch