Welcome back to Midweek Madness, in which we search for hot, steaming gossip in the pages of the celerity weeklies. That's right, we read In Touch, Star, Us, Life & Style and Ok! So you don't "have" to. This week: Cameron Diaz and Alex Rodriguez are probably about to get engaged since he likes her muscular arms; Miley Cyrus has stopped speaking to her dad; and Rihanna is making Ryan Phillippe say oh na na what's my name.



Ana Gasteyer Satirizes the Girl Boss in 'American Auto'
Ok!
"How I Lost 10 Lbs. In 2 Weeks"
Oh look! How novel. Kendra is talking about her body. Quoth she: "By eating ultra-small portions with mostly protein and working out hard, you can lose a lot of weight fast." Paging the ORLY Owl. ORLY Owl to the white courtesy phone, please. Next: Cameron Diaz and A-Rod might be getting engaged! A longtime friend says that Cammie D has commitment-phobia, but will move in with A-Rod anyway. He's asked her to marry him twice! Cameron's "friend" shares some other info we didn't want to know: "I think their main attraction is their mutually ferocious sexual appetite." Ho-kay. Brad and Angelina are "settling down" in New York City. They're looking for a TEN bedroom townhouse. TEN. Their last place was "too small" at eight bedrooms. Dude. Those kids need to share. Even with the nannies, the family only needs four or five rooms. Put all the boys in one and the girls in the other and then have a nursery and a guest room. Or make all the kids sleep in the same room, like in Peter Pan! Jesus. Anyway, Brad and Angie need so many rooms because they plan on extending their family after they get married. ALLEGEDLY. The mag provides a handy map (see Fig. 1), showing all the "awkward" run-ins Brad and Angelina can have with Jennifer Aniston when all of them are living in Manhattan, because this town's not big enough for the three of them. Lastly: Kim Kardashian is in love, but not pregnant, if you care.
Grade: F (cold dishwater)
G/O Media may get a commission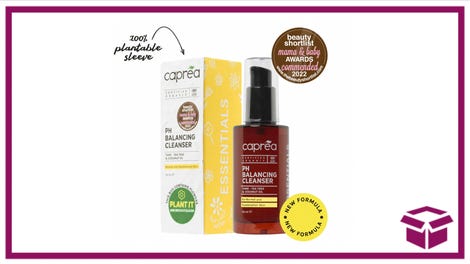 Save $9
47% Off Essential Organic PH Cleanser
Sustainable beauty
Caprea's Essential Organic PH Cleanser is just $10 with promo code TEN. Normally $19, this foaming face wash is crafted with organic Monoi oil. It's meant to target the production of oil secretion while protecting your skin against air pollution. Normally $19, you can save big on this richly-lathering face wash while supporting a brand that keeps the environment top of mind.
Life & Style
"Baby Joy And Drama!"
Kim Zolciak has baby joy! But when asked if she sings "Tardy To The Party" to her baby, she replies "no." It's a happy, bubbly, boring interview, and in the pictures, her wig looks like it's about to fall off. A Photoshoppy photo titled "Kim Loves Her Changing Body" comes with arrows pointing to her boobs, "fuller face" and "expanding belly." Kourtney Kardashian has "$3 million baby" because Mason is "the breakout star" of Keeping Up With The Kardashians. An owner of a model management company says Mason's "personality shines through in all of his pictures." Wow! Natalie Portman is in the "baby drama" category, because her "seemingly perfect relationship" with Benjamin Millipede (yes, we know it's Millepied, but we prefer the American/arthropodic spelling and pronunciation) is under attack because folks think he's with her for the wrong reasons. He's been called a social climber and a "great schmoozer," and someone close to Benjamin says, "If I were Natalie Portman's mother, I would be scared for my daughter." Apparently Millipede loves to shack up with ladies and then peace out; he's known as a player in the ballet world, and was engaged, in the past, to someone he was with for 10 years, but always tries to "upgrade" women. Allegedly. If you would like to gawk at a $90,000 engagement ring furnished for The Bachelor, see fig. 2. Matthew Morrison and Olivia Munn are all up in each others' business and making out in public and a source says they've known each other for years. Good news: Mary Murphy from So You Think You Can Dance is cancer-free. Kelly Osbourne is drinking again. A "friend" says that ever since she broke up with her ex-fiancé, she's been hitting the bottle. She's fine for now, this pal claims, but given her history, there's concern it could escalate into a problem. Lastly, Jessica Simpson was heard talking about her armpit hair at the Polo Lounge in the Beverly Hills Hotel. She says, "I tried to get it waxed, but "I really don't care, because my man doesn't mind." Aww.
Grade: D- (cool, oily chicken soup)



In Touch
"Leah's Double Life."
Apparently Teen Mom's Leah has been "secretly" getting together with her "bad-boy ex" Seth — who has been arrested for petty larceny and joy riding. Leah has a "wild streak" and feels "trapped" by marriage and motherhood, probably because, you know, she's 19. Anyway, a source says: "she comes across like a goody-goody on TV, but Leah loves to party and get wasted." Moving on: Kat Von D doesn't want to share Jesse James or his kids with Sandra Bullock. "She has been doing her best to make them like her," a source says. "but the kids keep talking about 'Sandra this' and 'Sandra that.'" Kourtney Kardashian and Scott "American Psycho" Disick are "blowing through millions," yet an insider claims that Kourtney felt humiliated when she found out that "Scott was trying to get a free engagement ring in exchange for mentioning it on the show." In addition to designer clothes and $500 shoes, Patrick Bateman spends a fortune on cars and yadda yadda yadda. It's kind of tough to tell if he actually overspends or just tries to look like he does — by renting/calling in favors. Meanwhile, Khloe Kardashian's husband Lamar Odom and another Lakers teammate were spotted partying with "gorgeous Russian dancers" at a club in New York. "Lamar wasn't touching the girls, but he also wasn't stopping them from grinding all over him," says a spy. Cameron Diaz is "buffing up" for A-Rod. She has "gone from slim and toned to downright jacked" in just a few months. The mag helpfully points out that muscular is A-Rod's type (see Figure 3). Here's a reality show we won't be watching: the one following LeAnn Rimes and Eddie Cibrian as newlyweds. Save the date: George Clooney turns 50 on May 6. It will be A Happening. Last, but in no way least, the mag has prepared an incredibly entertaining spread for Jennifer Aniston to take to her hairstylist. The "gold ringlets" are cute; the Rihanna hair turns her into Rhea Perlman; the Katy Perry hair is just mean. (see Fig. 4)
Grade: D (room temperature tea)


Us
"Destroyed By Daddy."
Basically, Billy Ray Cyrus is worried about Miley Cyrus, and worries that she is out of control, yet HE was the one who was fame-hungry. "I'm scared for her," he says. But! A source says he pushed her into being a star and is now jealous that she eclipsed him in the spotlight. Meanwhile, Miley is pissed that her dad's been talking to the press about her. Dramz. Paris Hilton and Kim Kardashian are talking again. Kate Middleton has requested clothing from Victoria beckham's spring/summer clothing collection, so be on the lookout for that. Kourtney Kardashian and Scott "American Psycho" Disick: Not engaged. Ryan Phillippe and Rihanna have been bumping uglies for months. The day he was spotted talking to her at a Gucci brunch — and she allegedly rejected him — he actually spent the night, and a source says: "She thinks he's hot. They totally had sex." Whoa. Apparently Ryan's relationship with Amanda Seyfried is non-exclusive. In other news, Christina Aguilera 's drinking is "out of control" and she spends oodles of time "boozing it up" with her boyfriend. Jersey Shore's Sammi says: "It sucks to relive negative moments in my life, it's sad and hurtful to rewatch." Even though Ronnie yelled at her and broke her glasses, she says, "he is a good person. Nobody's perfect. I get out of hand, he gets out of hand."
Grade: D+ (lukewarm milk)
Star
"Destroyed By Fame"
Miley Cyrus and Billy Ray Cyrus are "pretty much estranged," reveals an insider. "Miley says she doesn't trust him. She can't believe that the father who she was so close to has turned on her like this." And! "he pushed Miley to do Hannah Montana and he was more of a friend to her than a father. He always defended her wild antics in the press, but now that his cash cow is gone, he's suddenly upset." PLUS! "Billy Ray didn't seem to mind letting his daughter wake up at 5 a.m. every day to work for five years — because it gave him a job." Phew. Moving on. Sofia Vergara and Katherine Heigl are having the "celebrity feud of the week." They're both in the rom-com New Year's Eve, and a source spills: "Katherine's always complaining about having to stand outside in the cold for long periods of time, and Sofia can't stand her whining. Finally, Sofia told her to be grateful that she has the role in the first place." This didn't go over well, and the ladies have resorted to ignoring each other on set. Blind item! "Which Hollywood A-list hunk has become so insecure about his looks, he's following his age-obsessed wife to the plastic surgeon? This young heartthrob is convinced that it's time to start erasing any signs of aging from his pretty face." Any guesses? Ashton? Cameron Diaz had lunch with Alex Rodriguez in L.A., and the word "prenup" was mentioned "over and over," says an eyewitness. Russell Brand is having a tough time with wife Katy Perry being on tour: He shouted at her over the phone while on the set of Saturday Night Live, and "she's afraid he'll fall back into his old habits." Sigh. Scarlett Johannson and her first love, Josh Hartnett, had dinner in the garden of the Chateau Marmont and were all over each other, "practically on each other's lap." She fed him bites from her plate, the stars aligned, the moon hit her eye like a big pizza pie. Jesse James is writing a tell-all book, and a publicist says: "The reality is that how much Jesse gets paid is completely tied to how much he'll say about Sandra." What could he possibly dish about? Glad you asked: "They had a very adventurous sex life for many years," an insider claims. "There may even be a sex tape!" On the one hand, if JJ spills that kind of stuff, he's a jerk, but on the other hand, if his worst secret about Sandy is that she's hellcat in the sack, well… David Arquette taped a show with Oprah on February 17, and someone in the audience says: "He seemed totally out of it and just kept blurting out odd bits and pieces of sentences." Set your DVR! Lastly, a plastic surgeon who did not treat her took a look at Camille Grammer's high school yearbook photo and deduced that she's had a nose job, lip filler, a boob job and Botox. (See Fig. 5)
Grade: C (tepid coffee)


Fig. 1. From Ok!
Fig. 2. From Life & Style



Fig. 3. From In Touch



Fig. 4. From In Touch (click to enlarge)



Fig. 5. From Star