Welcome back to Midweek Madness, in which we guzzle gossip from the glasses of In Touch, Us, Ok!, Life & Style, and Star. This week, Jessica Simpson is both delighted and afeard of being a new mom; Johnny Depp and Vanessa Paradis are dunzo for reals; Kim and Kanye are talking marriage and a reality show; and (shocker) Rihanna loves booze and weed.
---
Ok!
"Baby Meltdown"
Jessica Simpson is suffering from "baby panic" because she is "cracking under the intense pressure" to get back to work as quickly as possible. Her boyfriend Eric Johnson thinks she should slow down and think about her family, and a source claims: "In the last months of her pregnancy, Jessica was coming home exhausted. [Eric] doesn't understand why Jessica does it because she doesn't need the money." Working because you dig it? Unheard of! Basically, Eric wants her to stop doing Fashion Star. So her "biggest panic" is that she'll "lose everything" — her career, her looks. And that she'll be a bad mother. Crap story is crap. Moving on. The only other story of note in this issue is the one claiming that Jennifer Aniston is back in touch with her ex, John Mayer. See, he released a single, "Shadow Days," that's about his love for her. So she texted him to tell him "the words in the song are so beautiful." According to the mag: "He texted back!" Now she is "desperate" to see him again. Sure, sure.
Grade: F (lemonade and Baileys Irish Cream)
---
G/O Media may get a commission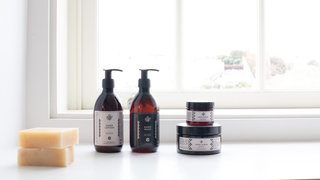 Exfoliate and Hydrate
The Handmade Soap Company
Life & Style
"I'm Going To Be A MOM!"
Hmm. This story sounds familiar. "Jen's baby dream comes true" offers a few items for proof: She dropped out of a TV honors ceremony at the last minute; she went to dinner with Tom Hanks and Rita Wilson but only drank water and didn't eat raw fish; when she goes out she ducks behind car doors or uses a jacket to shield her body; and, MOST TELLING, her roots are showing. Add it all up, and she's knocked up! Apparently Jen froze her eggs three years ago and now she is "overjoyed" (read: pregnant) and, as the mag notes, "It's been an astonishing 75 days since Jennifer has set foot on a red carpet or shown up for a TV interview." Obvs she is preggers. Also inside: Kim Kardashian is "desperate" to please Kanye, so she's been barely eating and working out like crazy. "Kanye's been dressing her head to toe, but the designers he's obsessed with make very small clothes," explains an insider. Cutting-edge European and Japanese fashion designers don't cut for curvy Armenian gals. But Kim loves being his "fashion muse," so she is starving herself. The relationship between Johnny Depp and Vanessa Paradis has "fallen apart." He's banging Amber Heard and she is flirting with a singer named Matthieu Chedid. And "amicable separation" is imminent. Did you know that Teresa Giudice didn't lose her virginity until she married husband Joe, at age 27? It's true. Eva Mendez and Your Boyfriend Ryan Gosling went to the Magic Castle in Hollywood and hand a great night of dinner, drinks and MAGIC. Last, but not least, the "Operation Bikini Body" story includes helpful tips like "eat more, weigh less" and "sleep yourself skinny."
Grade: D- (Mountain Dew and Everclear)
---
In Touch
"Ditching Their Monster Mom!"
Tale as old as time: Mom is evil, kids want to get away. Kris Jenner is so overbearing that only Kourtney hung out with her one recent evening when the fam was supposed to be celebrating signing a $40 million contract for three more seasons of Keeping Up With The Kardashians. Khloe left before the fun started and Kim skipped the whole thing, even though she was in NYC. Basically, she's hard on her girls and they're sick of it. Let's move on! Stars who dress like Ron Burgundy should be trapped in a glass case of emotion (See Fig. 1). Rihanna has "finally found a replacement" for Chris Brown: She is dating Oakland Raiders star Darren McFadden. They were spotted holding hands in the lobby of a hotel in Hawaii, and it had better work out because "she's desperate to find a new Chris." The article titled "Being A Mom Is Harder Than I Thought" is not actually an interview with Jessica Simpson but a tale about how her "bliss didn't last long" after she gave birth, since she's got to lose pounds quickly — she signed a contract with Weight Watchers — and she can't exercise yet, because of her C-section incision. Miley Cyrus weights 100 lbs and exercises every day, and the mag deems her "underweight" and calls what she's doing "overboard." The piece ends with the sentence, "Relax and eat a pizza, Miley!" Dancing With The Stars hottie William Levy — who has a girlfriend and two kids — recently hooked up with a restaurant hostess and showed her some videos on his phone. They were videos of him having sex with other women, and he tried to get her to make one, too. He couldn't convince her, but the lady does say that William was "sensitive" and "affectionate" in bed. "He's the epitome of a Casanova." Finally: 25-year-old Drake is "romancing two cougars." He and 36-year-old Rashida Jones are secretly dating after meeting at Sundance… but he was also spotted having a frozen yogurt with 38-year-old Tyra Banks. YOLO.
Grade: D (bourbon and Tang)
---
Us
"At Home With Baby!"
Don't you love when they say stuff like "inside Jessica's first days as a new mom" and yet inside, there are only old pictures of Jess and a helicopter shot of her house? Anyway, apparently her nursery has pink floral wallpaper, a chandelier and a white armchair. Jess and Eric can't stop holding little baby Maxwell, and Eric is being a very hands-on dad. Zzzzz moving on! Angelea Preston, who has the dubious honor of being kicked off of America's Next Top Model, is married and five months pregnant. How I Met Your Mother's Colbie Smulders and SNL's Taran Killam will get married this September, and their 3-year-old daughter is psyched: "She really wants a dress," says Colbie. On an upcoming track, Kanye West raps: "I saw you in the club in the white dress/Now I want to put you in a white dress." Meaning: Kanye wants to get hitched. A source says Kim and Kanye are "100 percent having conversations about marriage." Finally, Us loves to gloat and prove that their competition is often wrong, hence the "FAKE NEWS" section, calling out In Touch and Star for their false headlines. Jen's twins have been incubating for YEARS now. (See Fig. 2)
Grade: D+ (grape juice and gin)
---
Star
"Rihanna's Deadly Party Binge"
Your girl Rihanna is on a "fast track to disaster," say people who know. She is "out of control" and may be "the next Whitney." Drinking, smoking weed, dancing, grinding on strippers: These are her hobbies. "She's actually a very lonely girl," says an insider. "She gets fed up with sitting in her hotel room, so she goes out drinking." OMFG everyone panic good girl gone bad how dare she enjoy herself or her twenties clutch your pearls and prepare to faint! Also a mess: Joe Jonas. Apparently his brothers want to stage an intervention, because the past few months, he's been spending his time drinking and "cruising babes." He's 22. This is a problem why? Next: Kim Kardashian has suggested that she and Kanye do a reality show all about their blossoming romance. Guess what? He doesn't hate the idea! He thinks it could show the world a softer side, and also promote his music and fashion lines. Win-win! Except for the human race… We all lose. Meanwhile, Kirsten Dunst is engaged! She had a 30th birthday party on April 30 and her boyfriend, hot hottie Garrett Hedlund, organized cream and pale pink roses and a huge white cake to show up — then he asked her to marry him. Lucky bitch. She said yes, they'll pick out a ring together. Finally: Sad news, J'Anthrax fans. Justin Theroux and Jennifer Aniston are at the "breaking point." He left the love of his life for Jen and he's starting to realize he made a mistake. Plus, Jen insisted he move to LA, and, but he hates in there, and misses New York. As an insider puts it, "The honeymoon will be over before it begins."
Grade: C+ (vodka and Kool-Aid)
---
Addendum:
Fig. 1, from In Touch
Fig. 2, from Us.