Welcome to Midweek Madness, where we—oh motherfucker. Damn it. Damn it, damn it, damn it. Blake Shelton impregnated Gwen Stefani. This is miserable news. Absolutely miserable. Hurry the hell up, 2016, because a Gwake Baby just made 2015 boil over.
Ugh.
---
InTouch
BREAKING NEWS: PREGNANT
A source has exclusively told In Touch that Gwen Stefani is pregnant. That means one of Blake Shelton's sweaty little sperms somehow swam drunk down Gwen's reproductive highway until crashing into an egg. Your sixth grade teacher probably called this "the miracle of life," but rest assured—this was no miracle. This thing growing inside Gwen will soon be a permanent reminder that we, as a nation—as a SPECIES—allowed Gwake to happen. Shame on all of us. Anyway, she's pregnant and Gavin wants to drag out their divorce as long as he can to make her miserable. How pleasant!
G/O Media may get a commission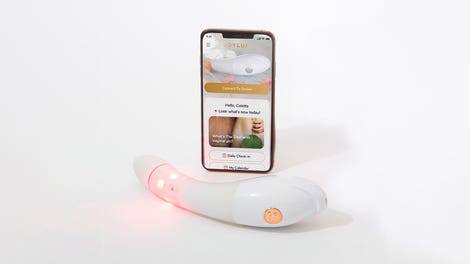 $50 Off
Joylux vFit Gold Device
Oh look, a story about the Duggars!
Oh look, I just turned the page!
KIM IS SO UPSET, EVERYONE. She CAN'T lose the BABY WEIGHT! She just can't do it! And it's making her "frustrated because she thought [the weight] would come off way faster than it has, and that she'll never get back to her skinny self." The story then goes on to reveal that she has "several top plastic surgeons who specialize in post-pregnancy makeovers" lined up, so... why the tears, Kim? You'll be fine once the anesthesia wears off.
And Also:
Kim Richards collapsed somewhere.

Eva Longoria hugged an elephant somewhere.
Scott Disick is doing cocaine somewhere.
Kaley Cuoco existed somewhere.
January Jones and Jon Hamm are fuckin' like there's no tomorrow.

Teresa Giudice's life as a free woman is just as bad as it was in prison.
42 percent of InTouch readers think Yolanda Foster is faking her illness.
Kaitlyn Bristowe and Shawn Booth are more in love than you could ever hope to be, you miserable, loveless jerks.
Grade: F (Any mention of that baby leads to an automatic F.)
---
Star
GWEN & BLAKE: PREGNANT
If it's the cover story of two tabloids in a single week, it must be true. I don't know how I can keep writing this, but I suppose I must, as it is my job to cover these stories even if I think they're signs of the apocalypse. Star says Gwake are going to move to Oklahoma at some point in the near future, which is actually good news for all of us! Stay away from LA. Go into hiding in some enormous ranch, and keep your skin-crawling displays of affection out of my tabloids.
But enough about that! Let's never talk about them again, actually! Kendall. Jenner. Is. About. To. Come. Out. As. Gay.
Star claims "a few fashion insiders" already know about her sexuality, but that her family is clueless. She's reportedly "a little afraid of the reaction she'll get, especially from mom Kris Jenner." But Kendall! It's fine! You're fine! Tell Kris! She won't care. You could tell her literally anything and she'd find a way to make it profitable for her. Like, go up to Kris and say, "Mom, I hijacked a bus filled with passengers, drove it into the East River, escaped with scuba gear, and left everyone else behind to drown," and Kris would be like, "GREAT SWEETIE WE'LL SELL A SHOW ABOUT YOU BEING A SCUBA INSTRUCTOR TO BEAR GRYLLS' PRODUCTION COMPANY."
And Also:
Jennifer Garner got a lot of plastic surgery as a way of dealing with her divorce.

Kourtney Kardashian got a lot of plastic surgery as a way of dealing with life in general.
Sandra Bullock's relationship with Bryan Randall is nearing the final stages of its life.
Rene Angelil is "nearing the final stages" of his life.
Ryan Gosling's uncle says Rachel McAdams was "the one" for him.
Anna Duggar something something.
Anne Hathaway something something.
Wrong Answer:
Grade: F (You thought I was fucking kidding?)
---
OK!
JEN & PATRICK: SECRETLY DATING
Finally, something other than the spawn of Gwake! Oh, wait. This? This?? Jennifer Garner and Patrick Dempsey are dating? This is as boring as Gwen's pregnancy is repulsive. Just look at them—with their perfect teeth, symmetrical faces, and brown hair. OK! says this snooze of a love affair all started "a few months back, when Jen asked Patrick to meet for coffee." Coffee! Typical. I bet they both drank decaf cappuccinos. Anyway, a source says they've "been friends for years" and that their simultaneous breakups made it "only natural for them to confide in each other." So they confided in each other, then they god knows what to each other, and now here we are, thinking about them doing any number of things to each other and, somehow, it's all a little dull.
WAKE UP. Let's move on.
KENDALL JENNER HAS "REVEALED TO CLOSE FRIENDS THAT SHE IS GAY!" Two tabloids, same story! Kendall is getting ready to come out, and Cara Delevingne "has played a critical role in helping Kendall accept her feelings." Oooooh and this is already getting good. St. Vincent is apparently annoyed that Cara is spending so much time with Kendall and feels "left out." I mean, hypothetical same! If I were tight with Cara Delevingne and she suddenly started hanging out with Kendall Jenner instead of me, you'd better believe I'd become an insufferable monster, texting her every day with messages like, "how r the kardashians? more fun than me?" and, "been pretty hard to KEEP UP WITH YOU lately" and then like three dozen upside-down smiley faces.

And Also:
Anna Duggar ______________!
Kim Richards is FINE.
Adele and her father are FINE.
Kaley Cuoco is FINE.
Tina Fey told her nannies they're not allowed to wear "halter tops" or "sexy clothing."
James Harden dumped Khloe.
Ryan Reynolds and Blake Lively's relationship has gotten more boring since they moved to a farm, which seems impossible?
Grade: C- (You sit next to Patrick and Jennifer at a restaurant and have too listen to them talk about god knows what.)
---
Life & Style
JEN & MILA: NEWLYWED DIVORCE BOMBSHELLS
Here are the two headlines:
JEN & JUSTIN: IT'S OVER AFTER FIVE MONTHS
and
ASHTON & MILA: THE FIGHT THAT TORE THEM APART
Both stories are filed under the banner of "NEWLYWED DIVORCE BOMBSHELLS," and neither is actually interesting.
Jen and Justin "were apart roughly 119 days out of 140 days total of marriage." Jen's lonely. She wants out. They fight on Skype a lot. They have a prenup. The Leftovers is amazing. She'll be fine.
Ashton and Mila "can't agree on how to go forward," whatever that means, and "it could destroy their marriage." This story isn't really filled with many details (fake or true), but from what I can tell, Mila wants to work again, Ashton wants to keep working, neither wants to hire a nanny, neither wants to give up their career, and now they're in counseling.
Tom Cruise is very very much in love with a woman named Sofia Boutella. He loves her very very much and thinks she would be a very very good wife and that they would live so so so happily ever after together in a home filled with love and happiness and more love and more happiness. He really really really loves her so much and can't wait to spend the rest of his life loving her so much. Tom loves love. Love is so good.
Look:
And Also:
Taylor Swift kicked Selena Gomez out of her squad to make room for Blake Lively.
Kourtney told Scott to go to rehab for the 399,382th time.
Louis Tomlinson doesn't really care about his pregnant ex-girlfriend.
Courteney Cox and Will Arnett ARE dating, regardless of what else you've heard.
Britney Spears and J.Lo will soon share a stage in Vegas as they go back and forth between residencies and Britney has reportedly "requested to have larger props built for her [Las Vegas] show so she can take over the prop space J.Lo has, just to make her feel unwelcome."
God, that's a good item.
Wrong Answer:
Grade: A+ (The Britney/J.Lo story is the best thing I've read all week.)
---
Appendix:
Fig. 1 - In Touch
Fig. 2- In Touch
---
Contact the author at bobby@jezebel.com.