Welcome back, friends. Once again Callie Beusman assists as we "read" the tabloids so you don't "have" to. This week: Selena Gomez may have gotten boobs for Bieber; Mila Kunis is pregnant and alone; Beyoncé and Jay Z are done for real this time; and Kim Kardashian is in tears because Kendall says "I'm the hot one now."
---
OK!
"I'M THE HOT ONE NOW!"
Kendall Jenner thinks she's the hottest Kardashian now, upsetting the fragile ecosystem of America's Favorite TV Family and threatening to plunge the world as we know it into perpetual disorder. Thus, OK! has dubbed her "HOLLYWOOD'S BIGGEST BRAT." Here is the evidence they've amassed: pictures of Kendall on the runway (Fig. 1, the image taken from the Chanel show is not actually her, oops!!!!), proving that she likes fashion now; summaries of some previous episodes of Keeping Up With the Kardashians in which she acts like a surly teen; a picture she Instagrammed of her butt. She is a terror, we are encouraged to conclude. Also, apparently she told Kim that she's a "total joke," which is illustrated on the cover with a particularly good Kim crying pic. A+ Kendall Jenner tabloid garbage-fabrication, would half-heartedly flip through again. In other news, OK! helpfully reminds us that Jennifer Aniston and Justin Theroux still do not live together all the time, a fact that tabloids have been bringing up for centuries now. Will they get married? OK! wonders boringly. Moving on: Selena Gomez got a boob job to win Justin Bieber back because he has been cavorting around with some large-chested girls and that is how love works. A plastic surgeon was consulted in creating this article; he says that her breasts are perhaps too round to be true. Responsible journalism. Elsewhere in the mag, Tina Fey and Amy Poeher are butting heads on set at their new movie because, you know, ladies be jealous and female friendship be something humans have a hard time believing is real. Siiiiigh. Finally, in a piece billed on the cover as "WHY WE KEPT OUR BABY A SECRET," we learn nothing about why Ryan Gosling and Eva Mendes kept their baby a secret. Perhaps because tabloids enjoy spreading batshit rumors about them, as evidenced by the series of batshit rumors contained within these very pages (Rachel McAdams is soooooo sad about the baby, the magazine insists).
G/O Media may get a commission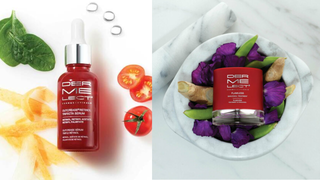 Save $19
Retinol Renewal Kit
GRADE: D (walking over razor blades)
---
Us Weekly
LOVE TRIANGLE
There is a love triangle on the Bachelorette, a television program built around the premise of several men competing for one woman's heart. This is a very shocking development. Apparently, whomever did not successfully win her heart tried to pursue her after the show, and she was like, "Nah," and he thus became bitter. Wow. In other news, Ryan Gosling grocery shops for Eva Mendes, who is pregnant with a baby he helped create, and makes her pasta. He is dreamy. In addition, his mom likes Eva, so that's good for them. On the subject of extremely hot couples, Sofia Vergara and Joe Manganiello love making out all over California and onlookers seemingly love to gape at the PDA and then tell tabloids about it. A beautiful symbiotic relationship. The best part of this article is that Us Weekly interviewed Retta on how she feels about losing her imaginary boyfriend on two separate occasions: on July 10, she told the magazine that she had a "heavy heart." On July 13, she said she was doing "okay." We will all recover at our own speeds, Retta. Don't rush it. Finally, Kate Middleton and Kate Middleton of Across the Pond (Kim Kardashian) are both trying to get pregnant, according to hearsay. Sure, why not. They both want two kids. That will be fun.
GRADE: F (swallowing a razor blade)
---
Life & Style
THEY'RE ALL PREGNANT!
They're all pregnant, guys. The Kardashians. All of them. Kim is pregnant, says Life & Style, because she has been consuming food in public: Specifically, "she inhaled a large portion of rich spinach and artichoke dip" in a restaurant, then "called a waitress over and asked for ribs — and looked crushed when the perplexed server told her they don't have them." WE'VE ALL BEEN THERE. Anyway, it seems that the mere idea that Kim might be pregnant again is more than enough justification for tabloids to trot out the body-shaming tropes (we are also told that she "stuffed her Cobb salad into her face" at the restaurant and consumed a churro and a corn dog in public another time). Hooray!!!! Kourtney is pregnant, which is actually true; the magazine says she gave Scott an ultimatum because of his partying, which is a tale as old as time. And Khloe is pregnant with French Montana's baby, 'cause why not try to include all three of the eldest Kardashians in this fabricated pregnancy pact. Cool. In other news, Selena Gomez got implants to win Justin Bieber back, as you may have already heard. This article did not consult with a plastic surgeon, although it did ask a psychotherapist to comment on her mental state. The psychotherapist is worried. And, in other redundant news, Bachelorette Andi is going to get married really soon to whomever won the show. Whoever said modern romance is dead?
GRADE: F (accidentally brushing teeth and gums with razor blade)
---
Star
THE FIGHT THAT STOPPED THE WEDDING
Mila Kunis has been granted the highly coveted "Pregnant and Alone" headline inside this issue, and the story is about how she is insecure, controlling and needy, calling or texting Ashton Kutcher every 30 minutes, so he "stormed out of their house and flew to Brazil." Granted, he already had World Cup tickets, but still: They are "hanging by a thread" and he "has a history of cheating, so her insecurity is justified." Also inside: Selena Gomez is on a "sad spiral" and may have gotten "boobs for Biebs." Boobs for Bieber is kind of like Jews for Jesus, right? Bradley Cooper and Suki Waterhouse might be secretly married, since they are both wearing gold bands on that finger. Finally, in "Kim: Absentee Mom" we learn that Ms. Kardashian spends too much time in the gym and shopping and "has been spotted publicly with her daughter just four times." If you're not parading your infant in front of the paparazzi at all times you are a failure at modern motherhood.
GRADE: F (razor blade stuck in eyeball)
---
In Touch
IT'S OVER!
If you read very carefully, the story inside says Beyoncé and Jay Z's "crumbling marriage is ending" and "the romance is over" but then a source clarifies that Bey has "considered ending their marriage after the tour wraps in September." Considered. So which is it? It's over or it MIGHT be over in a few months? The mag claims "it's just a matter of time before the fairy tale ends" and a "friend" says "divorce is inevitable." Jigga what? Like death and taxes. Also inside: Christina Aguilera's baby shower featured a cake of Christina, naked, and the head of an infant coming out of her vagina (Fig. 2). Next: Justin Bieber's father, Jeremy Bieber, is to blame for his bad behavior, says a former family friend named Cory Bernier. Cory claims that he's saw Jeremy give Justin Percocet when the kid was 18, and that they smoke weed and drink together. They also pick up chicks — mother-daughter pairs — in clubs. And! Jeremy taught Justin: "Stick to [getting blow jobs] and you won't have kids." Excellent paternal bonding. Moving along, J'Anthrax are supposedly getting married in Cabo; Portia thinks Ellen cheated on her; there's a Kim Kardashian spread titled "I Can't Stop Eating!" and the "i" in "eating is an ice cream cone. "Male Stars Get Plastic Surgery, Too" features Tom Cruise's filler-filled face and eye-bag-removal; Brad Pitt's smoothed-out crow's feet; Zac Efron's nose job; Mario Lopez's frozen forehead; and Matthew McConaughey's fab new hairline. Finally, news you can use: The "style spy" page declares: "Crotch Is The New Cleavage!"
GRADE: F (razor blade stuck in skin between thumb and index finger)
---
Addendum
Fig. 1, from Ok!
Fig. 2, from In Touch