Welcome back to Midweek Madness, in which we roll around in the dirt dug up by In Touch, Star, Life & Style, Ok! and Us. This week: Pixelated blobs at the True Blood wedding! Travolta's weave fridge! Spiced Hamm sandwich!!!
Ana Gasteyer Satirizes the Girl Boss in 'American Auto'
Ok!
"Double Wedding!"
This mag claims that when Britney And Jamie Lynn Spears were at a Lady Gaga show, Britney made a joke to JLS about how they could have a double wedding. The sisters went back and forth about all the crazy things they could do — arrive in a horse-drawn carriage, or walk each other down the aisle! "A lot of it was crazy stuff," says a source. "But Britney is just crazy enough to put the plans in motion." Moving on: There are two pages featuring 12 photos from Hilary Duff's honeymoon in Cabo, where they had "amazing dinners" prepared by a personal chef and they fished, drove go-karts and played games. In an interview with Scott Disick's ex-girlfriend, we learn that he and his friends would bring girls home, share them and watch each other, and an "insider" says that he was violent with his ex when they were in college. Oh, and few years ago, he stripped in front of her parents. Yuck.
Grade: F (digging through rotting, worm-filled compost)
G/O Media may get a commission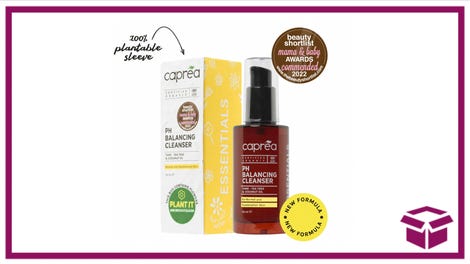 Save $9
47% Off Essential Organic PH Cleanser
Sustainable beauty
Caprea's Essential Organic PH Cleanser is just $10 with promo code TEN. Normally $19, this foaming face wash is crafted with organic Monoi oil. It's meant to target the production of oil secretion while protecting your skin against air pollution. Normally $19, you can save big on this richly-lathering face wash while supporting a brand that keeps the environment top of mind.
In Touch
"Stabbed In The Back!"
Do not confuse this with being Stabbed In The Heart , or, um, Stabbed In The Heart. Here's how Angelina was stabbed: Brad Pitt's mom is still friends with Jennifer Aniston, and Angie doesn't think that's fair, so to punish Jane Pitt, Angie took her twins to Eastern Europe (on the Salt promotional tour. Yawn. The Bachelorette's Ali and Roberto are "struggling" to save their romance and going to counseling to deal with it — they're fighting about everything, from closet space to finances. And love "isn't the only reason" they're trying to make it work: "They both want to be famous, and realize they're more marketable as a couple," says a source. FYI: Ashlee and Jessica Simpson both love mom jeans. Tom Cruise is "desperate" to look ten years younger by the time he shoots Mission Impossible IV later this year. He's working out, eating grilled chicken and veggies and CONSIDERING getting Botox and fillers. Hilary Duff is included in the "Hollywood Baby Buzz" section of the mag, because she got married and therefore is "hoping for a visit from the stork." Jennifer Lopez and Mark Anthony interviewed to become members of a country club in California, and a witness says: "J.Lo showed up looking like Jackie O., and Mark was wearing some ridiculous preppy outfit — it was like they looked up what people wear to country clubs, and then tried to imitate it." You may have heard that Sharon Osbourne wants to sue In Touch for printing an untrue story about Kelly Osbourne; the very short item is on page 48. It claims that on a night out at Hollywood hotspot The Colony, supposedly sober Kelly was spotted downing several vodka cocktails. An insider says: "She could barely walk. Her friends wanted to get her home, but she wanted to stay to party and drink more." Finally, in a piece called "Heidi And Spencer's Twisted Scheme," a friend says: "Their popularity is dwindling, so they teamed up again to generate buzz in hopes that they'll land their own show. They still see each other and talk daily, as they plan the next step to get back into the spotlight." Boo.
Grade: D- (sowing seeds in sand)
Us
"Inside Their Secret Wedding."
It's ridiculous that this mag actually printed grainy, pixelated shots of Anna Paquin's wedding to Stephen Moyer. The people look like blobs! (see image 7) Here's what we learned: The ceremony in Malibu was 20 minutes; she wore a cream-colored gown and purple nail polish, and changed into a "racy" red dress for the reception. It was a purple/lavender- themed bash, with an all-organic menu, and the music was by Pilbilly Knights, the band of Todd Lowe, who plays Terry on True Blood. The actors who play Jason Stackhouse, Tara and Sam all attended, but Alexander Skarsgard couldn't make it because he was shooting a film in Sweden. Moyer has two kids from a previous relationship, and Anna has a "great relationship" with Lilac, 8 — they often go for ice cream or bike rides. Moving on: Sofia Vergara's gym bag is a $9,000 Birkin. In Spencer/Heidi news, a source says that their plans to release the sex tape are just a PR stunt. The tapes do exist, but they'll never sell them — they're still a couple. Bachelorette runner-up Chris Lambton has "cold feet" about being the next Bachelor, but producers are still hoping he'll say yes. In Glee news, Santana (Naya Rivera) and Puck (Mark Salling) were dating, but he was seeing other women. She got so pissed that she egged and keyed his Lexus. Drama! There's a four-page story about Khloe Kardashian and Lamar Odom's true, true love, and the copy reads, "did anyone predict the pair would still be having a good time — or even be together — nearly a year after their jaw-dropping 32-day courtship?" They're living in a $4 million house, with a 7-foot 4-inch bed, and a closet just for his shoes — and Khloe's brother Rob lives there, too. Rob and Lamar both never had brothers so they're in a bromance. And, unsolicited uterus update: Khloe swears she'll be pregnant within a year.
Grade: D (plotting in a washed-out mudhole)
Life & Style
"I'm Removing My Breast Implants."
Heidi Montag tells the magazine that she wants to downgrade her size G breast implants to a D or DD. She's gonna go to South American to find a good surgeon now that Dr. Frank Ryan is dead. She says the breasts make it "impossible" to work out, and she can't hug her dogs. She has to be careful about her nose, too — she's been wearing nose tape since November, and has to wear it all the time, unless she's being photographed, or else her nose will settle weird. "I feel like a porcelain doll," she says. When the magazine brings up body dysmorphic disorder, she says: "That one is very funny." Asked to explain what's so funny, she says: "Because surgery is surgery. Who's to say what's too much and what's not — 99% of Hollywood has had plastic surgery. Everyone wants to look better and has dabbled with Botox. That's part of our industry." But… Botox is not surgery! And you're not in the "Hollywood industry"! Ugh. As for why she and Spencer split, she says: "No one wants to be taking care of his wife — who looks like she's been in a horrific accident — 24 hours a day. Especially after he begged her not to do it in the first place. Spencer didn't sign up for this in our marriage." She also says she never slept with Karissa Shannon and there is no sex tape — to her knowledge. She's not AWARE of making a sex tape with Spencer, but he had little hidden cameras from China so maybe she did! Moving on: The New Jersey Housewives are "scared for their lives" because Danielle Staub has an armed bodyguard and "constantly" stops by the store where Ashley (the one who pulled the extensions out of Danielle's hair) works, and calls the store all time. Finally: "Beach Body Winners & Sinners" is five pages of women in swimsuits. Sinners include Kelly Bensimon and Snooki, for ill-fitting swimsuits. Winners are Audrina Patridge, Penelope Cruz and "superslim" Ashlee Simpson-Wentz.
Grade: D (planting in nutrient-poor soil)
Star
"Celebrity Assistants Tell All!"
Finally, some dirt: Kourtney Kardasian makes her assistant ride in the trunk of her Range Rover when the car is full. She believes in a lot of old wives tales, like if you walk over a baby, it won't grow, so she freaks out when Mason is on the floor. Khloe Kardashian sends her assistants to buy sex toys. Britney Spears talks in a baby voice all the time and throws lots of temper tantrums. Mariah Carey has taken to lying on the couch, having her assistant feed her pizza or ice cream, like she's a toddler. Miley Cyrus is a flasher; she thinks it's hilarious to greet first-time guests at the door and shock them by showing some skin. John Travolta has 102 hairpieces in different lengths, colors and sizes, in case he gains or loses weight. They have their own refrigerated room in his house. A source says: "He likes to visit and pet them once in a while. They're his little treasures." Also inside: For your enjoyment, a photograph of Jon Hamm and Isaiah Mustafa. LET'S MAKE A SANDWICH. (see image 8) Julia Roberts may have gotten Botox or Dysport in her forehead and Restylane injections in her lips (see image 9), but the before and after pictures look the same to us. Miley Cyrus's boyfriend Liam Hemsworth met a gorgeous blonde named Katy in a bar, they exchanged numbers, and he promised to call. Elisabeth Moss is dating Edin Galli, who appeared as Kurt on Mad Men. Next, Lauren Graham and Peter Krause are costars on Parenthood, and have been dating secretly for months. Mariah Carey isn't pregnant, but has gained weight, since she did 3 IVF treatments in the past six months. Lady Gaga is planning a "wild wedding." She wants to marry bar owner and DrunkDiet.com creator Luc Carl. She's on tour right now, but should have some time off in late September and early October. She'd like to get married in a castle, with a horse-drawn carriage and a custom-made white diamond covered wedding gown by Valentino or Gaultier. Hmm. Nothing about that sounds wild, actually. John Mayer said some things at a concert in L.A.. and people suspect that he was talking about Jennifer Aniston. "I believe in second chances," he said — while Jen was supposedly in the sidelines. "I wrote a sexy song warning a certain woman about getting together with a bad boy like me." Jerk. Lastly: Jon Gosselin is writing a tell-all with his life coach — about Kate Gosslein. The life coach tells Star, "we should have first draft ready to go in a matter of months." Yeah, but who the hell wants to read it?
Grade: D+ (scattering of Miracle-Gro)
From Us
From Star
From Star