Welcome back to Midweek Madness, your friendly neighborhood tabloid roundup. Today, Pax Jolie-Pitt has a BlackBerry, Christina Aguilera is a lush, and Jennifer Aniston is adopting a child from a Mexican orphanage. We're betting she'll name her "Margarita"!
Ana Gasteyer Satirizes the Girl Boss in 'American Auto'
Life & Style
"Bachelor Dirty Secrets"
Basically, the magazine attempts to call Brad the Bachelor out on some inconsistencies, alleging that he was dating people when he said he wasn't dating anyone, and printing stuff like "can a player really change? Brad's new ready-to-settle down persona seems to be based on a foundation of lies." Of course, Brad says, "I want to be an incredible husband," and so on. Meanwhile, Bachelor contestant Michelle Money admits she dated basketball player Carlos Boozer (Money and Boozer? What a couple!) while he was married. She says: "What I did was wrong." Moving on: Seven year old Pax Jolie-Pitt has a Blackberry (see Fig. 1) Jessica Simpson will get married this year, but there won't be any TV cameras — she and Eric want it to be a "very small, intimate affair." Kim Kardashian is totes in love with Kris Humphries and wants to have his baby. Mark your calendars! The Twilight: Breaking Dawn wedding scene will be filmed in Vancouver in April! Lady Gaga's relationship with boyfriend Luc Carl "has always been tumultuous" and is now "hanging by a thread," according to a source. Lastly, here is the wedding dress of Real Housewives Of Atlanta's Cynthia Bailey. Silver! A bold choice. (See Fig. 2)
Grade: F (cold mac and cheese)
G/O Media may get a commission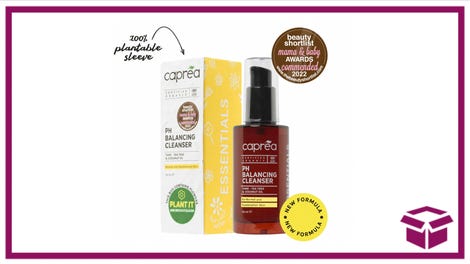 Save $9
47% Off Essential Organic PH Cleanser
Sustainable beauty
Caprea's Essential Organic PH Cleanser is just $10 with promo code TEN. Normally $19, this foaming face wash is crafted with organic Monoi oil. It's meant to target the production of oil secretion while protecting your skin against air pollution. Normally $19, you can save big on this richly-lathering face wash while supporting a brand that keeps the environment top of mind.
Ok!
"Love, Lies & Betrayal."
Last week we learned all about Brad from The Bachelor's criminal past — public intoxication, forgery, writing a bad bad check — and this week, in an exclusive interview, Brad says, "I had a couple of missteps when I was a teenager — some 20 odd years ago." He adds: "Some of the claims have been blown out of proportion." He's been in therapy for three years, he's a new man, ready to commit and very much in love! Oh, and you know Madison Garton, aka the girl with the vampire fangs? Brad says she should be the next Bachelorette."She'd be incredible." Moving on: Kendra dropped 10 lbs. by swapping Cheetos for watermelon and cheeseburgers for Lean Cuisine. Scintillating. In other news, the mag spoke to a "friend" of Angelina Jolie, who says the kids have a lot of freedom! The house in France is covered in crayon and magic marker. Pax and Angelina aren't as close as Pax and Brad, but Angie does have a Vietnamese nanny so Pax can keep speaking the language — he only spoke Vietnamese when he was adopted. Zahara is a mommy's girl and "needs the most lap time of all." Shiloh brings out Angie's playful side, and Maddox is her closest confidant. As for Knox and Vivienne, they like to burrow in their piles of stuffed animals and play hide-and-seek around bedtime. Cute! BTW: did you know that Ali, one of Leah from Teen Mom 2's daughters, is legally blind without her thick glasses? Lastly, Sammi from Jersey Shore reveals how she got her bikini body: "I miss it like crazy, but I don't eat pasta anymore." That'll be fun when you get to Italy! And by "fun," I mean "torture."
Grade: D- (plain iceberg wedge)
Us
"Stabbed In The Heart."
People are always getting stabbed in the heart in tabloids! It's a crime wave. Anyway, this story is about how Jesse James is an insensitive jerk because he returned to Twitter just to gush about how much he loves Kat Von D and she is his best friend and so on. In 2007, Kat was chosen as the "Garage Gal" for Garage magazine, which Jesse owned. "Jesse has been obsessed with Kat for years," a source says. "Sandra never worried. Kat was the girl Jesse was allowed to have a jokey crush on. Sandra thought Jesse was in love with her, his wife, and never figured Jesse would do anything about Kat." But! Sandra has adorable baby Louis now, and he "keeps her busy and fulfills everything she needs right now." Jake Gyllenhaal showed up unannounced in Taylor Swift's hometown begging to see her, "for closure." Jake and Taylor went to dinner, and Jake said he didn't feel that he ended things right, and wanted to talk to TayTay face to face. Ugh, the break-up dinner. Fuck that. Kate Middleton will wear some kind of crown or tiara at her wedding, and has nearly 80 headpieces from the royal collection to choose from! SO JEALOUS. She likes the ornate Strathmore Rose Tiara, and so do we. Sure, it's worth about $10.5 million, but more important? It's pretty. (see Fig. 3). For her bouquet, Kate will carry cream and green blooms, but also a snippet of myrtle grown from a sprig that was used in the bouquet of Queen Victoria. And, of course, Kate has gotten her teeth whitened. Duh. Also, for a year prior to the engagement, she was wearing "high-tech" invisible braces to close the slight gap between her teeth which we didn't even know existed. Lastly, in "25 Things You Don't Know About Me," we learn that Lamar Odom, who is 6'10", was 6 feet tall when he was 10 years old. And! He is afraid of heights. He's also afraid to ski.
Grade: C- (watery lasagna)
In Touch
"My Kids Saved Me"
Jennifer Lopez gives the mag an exclusive interview, in which she reveals that she's had some rough moments in her marriage. She and Marc Anthony fight, but "having kids made us both see that there's a bigger picture." They have promised each other to never go to bed angry. Yawn. In the past, being overworked led to depression… and also, after giving birth, she says "all that chemical stuff peaked." The "baby blues" made her appreciate her husband more. Moving on! The Sandra Bullock story here says that in the wake of Jesse's engagement announcement, Sandy has been "sad and mopey," and that she "barely leaves home, except to go to business meetings or the gym" and is just "down all the time." Sniffle. Kim Kardashian is being really controlling with Kris Humphries, and is "obsessed" with who he hangs out with and who he talks to. His parents listen to Kim, because "they think she can get him into the Hollywood scene." There's an interview in here from Andrew Lewis, the baby daddy of Janelle from Teen Mom 2, and he says that the kid, Jace, doesn't have anyone stable in his life. Andrew secretly visits Jace at daycare, and has had six two-hour visits that Janelle doesn't know about. Pretty shady, since Andrew signed papers to give Janelle full custody. Andrew also says he saw Janelle smoke weed when she was 3 months pregnant, and that he once found speed in her jeans pocket. Reese Witherspoon's fiancé, Hollywood agent Jim Toth, won't let Reese pay for anything. He bought her a $450,000 ring, spent $26,000 on Lakers tickets and treats her to dinner at all of her favorite restaurants. The headline on this is "It's Expensive To Marry Reese!" like it's all her fault. Jake Gyllenhaal flew to Nashville to beg for Taylor Swift's forgiveness, and when his connecting flight was delayed, he rented a car and drove 200 miles so as not to stand her up. They went to dinner, and even though he had a hotel, he spent two nights with Taylor in her apartment. Break-up sex?! Robert Pattinson "has resorted to begging" Kristen Stewart to marry him. She's not sure she is ready. Michael Jackson's kids are moving into a new house — rented by Katherine Jackson — and away from MJ's brothers and their scheming wives — one of whom was trying to write a tell-all. Brad the Bachelor "hasn't really changed," says a source. He sent emails and text messages to his ex-girlfriend while he was on the show, and is just doing the TV thing "to salvage his public image." A source says: "Women everywhere hated what he did. Brad basically had no choice but to fall in love." Say what now? No choice? Calling the ORLY owl. ORLY owl to the white courtesy phone. Three random thin actresses are even skinnier now, hence the spread called "The Return Of Size Zero." (see Fig. 4) And last, but not least, in an epic feat of investigative journalism, "How Tan Is Too Tan" explores the spectrum of celebrity skin tones, from Emma Roberts to Snooki. (see Fig. 5).
Grade: C (SpaghettiOs®)
Star
"Yes, I'm Adopting!"
You know how Jennifer Aniston is always going to Mexico? In between yoga on the beach and drinks in the cabana, she likes to volunteer at one specific orphanage, Casa Hogar Sion in Tijuana, and the orphanage director calls her a "friend." According to the mag, Jen has already signed papers to adopt a child, and the kid will be in her arms by her 42nd birthday on February 11th. We don't know for sure that the baby is coming from Casa Hogar Sion, but the director says "no comment," which, in celebland, totes means yes! We can't wait for the paparazzi pix of little Margarita in a tutu to arrive! In 2005, Jen said, "In five years, I would hope to have a kid." So if she wants to follow some old random timeline she once told a reporter about, she'd better get cracking. Jen already has a gender-neutral nursery in her Beverly Hills home, with a Harry Potter mural on the ceiling. Courteney Cox's daughter Coco has volunteered to babysit. This should be fun! Also inside: In an Unsolicited Uterus Update, we learn that Carrie Underwood is two months pregnant and will make a big announcement soon. Bradley Cooper's dad's "dying wish" was that Bradley marry Renée Zellweger. Shakira, 34, is dating a hot 24-year-old soccer player named Gerard Piqué. What else? Jillian Michaels and her girlfriend Heidi Rhoades have adopted a puppy! Kim Richards of Real Housewives Of Beverly Hills has apparently been hiding her alcoholism for over a decade. She was being set up for a blind date at a dinner party on the show, but got so drunk that they couldn't use all the footage. She went to rehab eight years ago, and Bravo won't renew her contract unless gets sober. Colin Firth has a "secret family" with Meg Tilly, but it's not that secret if it's in his Wikipedia, so we're moving on. Lastly: Christina Aguilera is "in crisis!" Christina recently got wasted and crawled into bed at Jeremy Renner's birthday party, and a week after that, she "unleashed a booze-filled verbal assault" on Julianne Hough at the SoHo House in West Hollywood. Christina was also seen sloshed at a Golden Globes after party, where she kept lifting her dress and making out with her boyfriend. A sidebar called "Bruised & Bloated" points out that Xtina's drinking has her "piling on the pounds." (see Fig. 6) See it's okay to be a lush, you just have to be one of those skinny drunks. Heaven forbid you gain weight! Christina's ex-husband, Jordan Bratman, is allegedly infuriated by her boozing and may go to court to request sole physical custody of their 3-year-old son Max. But Christina wants you to know that she is beautiful, no matter what they say. Words can't bring her down!
Grade: C+ (gnocchi with pesto)
Fig. 1 (from Life & Style)
Fig. 2 (from Life & Style)
Fig. 3 (from Us)

Fig. 4 (from In Touch)
Fig. 5 (from In Touch)
Fig. 6 (from Star)