If it's Wednesday, it's Midweek Madness, in which Margaret and I comb through tabloids, untangling knots of gossip! This week: Aniston's unprotected sex with Mayer while waiting for Brad; Tom Cruise's creepy black van; Twilight fanfic.
Ok!
"I'll Love Him Forever." This article, titled "Our Love Story," is about how Robert Pattinson and Kristen Stewart are "like an old married couple." Why? Because they would drive to the set of Eclipse together, and, when headed home, one would wait for the other to get out of wardrobe and makeup. Oh, and Rob is like a "human magnet" for Kristen. They love each other, etc. BREAKING: Heels are not rain boots, Suri Cruise! (See image 7) Miranda Kerr and Orlando Bloom are "prepping for parenthood" by getting a dog. Lindsay Lohan has been partying all night every night in the last few days. The source here is a paparazzo who follows LL. He says: "After 4, 5, 6 in the morning, she's really crazy. She screams and yells and says very mean things, even though she knows us very well." Maybe she doesn't want to be followed at 5 am? Anyway, another "friend" says Lindsay refuses to go to rehab: "We ask, we beg, but she won't listen."
Grade: F (headlice)
G/O Media may get a commission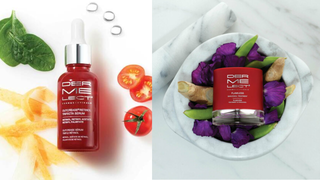 Save $19
Retinol Renewal Kit

Us
"Her Secret Deal."
Katie Holmes is sad and lonely because she's "committed herself" to a seven-year contract and Tom tells her what to wear, how to cut her hair and when to work out. "He even told her to be pale like Nicole [Kidman]," says a source. Meanwhile, Suri is 3 going on 30 with her heels and San Pelligrino and so on. As for Katie, the mag says her "situation" will "not improve until November 2013," when her contract is up. Moving on: Recently at a West Hollywood nightclub, Lindsay Lohan shouted at two photographers: "Why don't you go find my dad? He's the one who wants the pictures." Gwen Stefani and Gavin Rossdale are stalking the stork; a source says: "Gwen has told friends she's trying for another baby." In Rob and Kristen news, they ordered the same thing for room service breakfast recently — and had it delivered to one room, which means, OMG, he slept over. A hotel staffer adds, "They were already dressed when room service was delivered." You can practically feel the magazine's disappointment! In case you're unsure of the milestones in the "Robsten" relationship, Us has provided a handy timeline (See image 8). Jon Gosselin is threatening to have a showdown on Thanksgiving because Kate Gosselin plans to invite her bodyguard, Steve Neild. A source says Jon's jealous: "Even though he knows it's over with Kate, he still can't stand the thought of her being with another man, especially Steve." Another source says Kate's constantly on the phone with Steve, "smiling like a teenager" and "I haven't heard her yell in two weeks." Lastly, Jennifer Aniston and two friends flew via private jet to the One & Only Palmilla resort in Cabo San Lucas. "On Aniston's agenda? Morning yoga sessions, lying by the pool, and being waited on hand and foot."
Grade: F (peeling scalp)


Life & Style
"Tears, Joy, And Drama At The Baby Shower."
While the magazine does not flat-out claim that it sponsored Kourtney Kardashian's baby shower, the guests drank from soda bottles decorated with with Kourtney's Life & Style cover (See image 9). And the magazine says: "Life & Style and Simmons jewelry company gave Kourtney a limited edition Hello Kitty necklace made from white gold, enamel and diamonds." Price? $950. There were 84 guests at the party, and they got chocolate Louboutin shoes and swag bags — it was a publicity event, not a baby shower. Each sister gave an exclusive interview to the magazine, which is where the "drama" comes in — Khloe and Kim used to hate Kourtney's baby daddy Scott Disick, because he was accused of cheating on Kourtney, but now they like him, because "he's done small things" like putting the crib together. And he got a job. With QuickTrim. For which the Kardashians are spokesmodels. Moving on: Michael Lohan is trashing Jon Gosselin and the way he treated Kate Major: "You sleep with a woman, you gain her confidence by saying you're going to hire her, then you use her like that?I spoke to Stephanie Santoro, and it was the same thing." Here are three ways Robert Pattinson and Kristen Stewart are copying Angelina and Brad: First they denied they were in a relationship; then they get people used to the idea of them as a couple with an intimate photo shoot in a fashion magazine; then they GRADUALLY show PDA (see image 10). Also inside: Michael Lohan says: "I will not release another audio tape about Lindsay. I did it because I wanted Lindsay to know how I felt when I heard that tape. When I get a phone call at 2, 3, 4, 5 in the morning from my daughter and she's in dire straits, I get very concerned." Lastly: Michael Jackson's funeral cost $1,146,518.62, and the mag itemizes that receipt for you (See image 11).
Grade: D- (clumps of hair falling out)

In Touch
"Yes! They'll Reunite!"
Re: The cover image: Do you love how they are Photoshopped together, with her arm disappearing into his chest? The cover copy reads: "Jen waits for Brad at the resort they love." But inside, what they mean is: She went to a hotel in Mexico she'd been to with Brad and "waited" for him to text her. "After a few glasses of wine on November 13, his pal reveals that Jen ducked away from her group of friends and exchanged a series of text messages with Brad that crossed the line from friendly to downright flirtatious." Oh, and you know how two tell-all books about Brangelina are coming out? Angelina's "tarnished" image is driving Brad away, and he thinks she's brought this on herself because of her addiction to attention. The copy reads: "Brad isn't worried about how the books will affect Angelina, but how they might hurt their children." A source says: "Maddox is old enough to Google his mom now, and Brad is afraid he'll get hurt." Jen's friend says: "Brad seems haggard. All Jen wants to to when she sees him is give him a big hug and tell him he'll be fine." Oh, and Brad and Jen have reconnected over Norman, Jen's sick dog — who used to be Brad's dog, too. Also inside: Geena Davis may have put on 50 lbs. Jennifer Garner may have lost 35 lbs. Britney Spears is in a "race to the altar." She's expecting Jason Trawick to propose over Christmas, and she wants to get married in the summer of 2010. Wait, is that a race? She wants bridesmaids, a gown and a four-tiered cake — a traditional wedding. (What, no pimps and hos sweatsuits?) "Britney wants to tie the knot ASAP to insure that Jason won't leave her again." She also wants her dad's conservatorship to end. Oh, and her dad wants her to start on another album after her tour, while Jason wants her to take a break — and he thinks her family is using her. Next: When Sarah Palin was on Oprah's show, things backstage were "tense." Did Nicole Kidman have a boob job? (See image 12) BREAKING: Kristen Stewart and Robert Pattinson were spotted getting off of a plane in Paris and HOLDING HANDS. "She grinned from ear to ear and snuggled into him happily," a source says. "They're obviously a couple and definitely in love." During their European trip, they booked separate rooms, but she ordered breakfast and coffee for two the day after they arrived. Lastly: a 41-year-old man named Matthew Roberts was adopted as a baby and found his birth mom in 1997, and she told him he was conceived when she was raped during a drug-fueled orgy involving Charles Manson and four other men. Why this story is here we have no idea, but the guy does look like Manson. (See image 13)
Grade: D- (matted hair)
Star
"Katie's $15 Million Tell All."
Since her contract expires on November 18 (TODAY), Katie is "prepared to pen an explosive and embarrassing exposé" of her life behind closed doors. She COULD get $15 million for her confessions. Like: They have separate bedrooms, and she says it's because Tom snores loudly, but Katie has hinted that they've never slept the whole night together. Tom likes it when Katie wears sexy lingerie, and Tom likes to "parade around the house in military uniforms," similar to the ones he wore in Top Gun, A Few Good Men and Valkyrie. "It makes him feel handsome," according to a source. Tom spends hours each day in front of the mirror, checking out his wrinkles and love handles. He also waxes his chest regularly and gets colonics. Tom lets Suri do whatever she wants and has already had to replace mahogany paneling twice in six months, because he lets her draw pictures on the walls. And! "Katie may also decide to go public about Tom's secret Scientology mobile unit. It's a black American-made van that looks like a regular vehicle on the outside, but inside it's fitted with high tech gadgets, monitors and computer equipment worth of a spy flick." A source says Tom spends a ton of time in the van: "It's how he keeps in touch with Scientologists all over the world. It's padded on the inside, so that no one can hear anything on the outside. Not too many people get to see the inside of this thing." Moving on: Did Kim Kardashian get a nose job? (See image 14). Rihanna is a "carbo-loader" who insists on fast-food feasts. And just so you know, Lady Gaga requests a hot, whole roast chicken in her tour rider. Precious star Gabby Sidibe is featured in a piece called "She's Got Style" and the copy reads, "she's a pro when it comes to turning heads." Seriously, there is not ONE crack about her weight from the magazine which does "Best & Worst Beach Bodies" regularly. (See image 15). Drew Barrymore has kicked Justin Long out of her apartment because he's a slob and started acting like a Frat boy, leaving his stuff all over the place. Someone told Jennifer Aniston that her ex, Adam Duritz, was on his way to a party — with his new ladyfriend, Emmy Rossum — so Jen "bolted out the back door." Bruce Willis took his wife Emma Heming to dinner and the owner of the restaurant mistook her for one of his daughters. Blind item! "Which actor plays a loving dad and hubby on TV, but likes to play the field in real life? While his wife cares for their kid, he hits NYC hot spots, trying to pick up young chicks." Khloe Kardashian was spotted picking up half a dozen pregnancy tests at Rite- Aid. In Brad & Angie news, they visited a museum, and the story goes, "They were so inspired by the beauty all around them that they babbled about their future family plans." Angie said: "I have a mosaic in my house. I have ancient cultures, and we celebrate everything. This year, we're doing Christmas, Kwanzaa and even Hanukkah." When asked if she was going to have one more kid, Angie said "I'm always thinking about it. I would love to." Brad said: "You never know." Fantasia Barrino's fans are upset because she is dating a married father of two who left his wife and kids to move in with her. He used to work in a T-mobile store and now Fantasia has his name tattooed on her chest. Jessica Biel and Justin Timberlake went to a Jay-Z show and guess who came out to sing "Run This Town"? Rihanna. Seeing her was "like a knife" in Jessica's heart, but Justin danced and sang along. "Jessica stood there like a fool… trying not to cry." The New Moon promotional tour took Rob to Japan and Kristen to South America, and when they were apart, Rob realized he couldn't live without Kristen. So then there's some stuff in here for the Twihards: When Rob and Kristen stayed in that hotel in Paris, he arranged for the staff to place dozens of roses around the room — there were flower petals covering the floor and bed and lit candles everywhere when she walked in. The two are planning to get married once all the Twilight craze dies down. Which is never. They might elope in London. Finally: "Wow, Jen's New Bikini Body" is about how in Mexico, Ms. Aniston's belly was slightly rounder and she ate everything she wanted: "Could she be getting ready to be a mom?" A source says Jen's been hooking up with John Mayer — and they haven't always been careful. The "pal" reminds us: "Just because she's single doesn't mean she can't get pregnant!"
Grade: D+ (dandruff)
From Ok!
From Us
From Life & Style
From Life & Style
From Life & Style
From In Touch
From In Touch
From Star
From Star