Welcome back to Midweek Madness, in which in which we we struggle vainly to make meaning of the vast abyss contained within the pages of Star, Us Weekly, OK!, Life & Style and InTouch. This week: BEYONCÉ PREGNANT, MARIAH DUMPED, and KIM both PREGNANT & DUMPED.
---
inTouch
JEN'S BABY DREAMS SHATTERED
Jennifer Aniston's baby dreams have been shattered, as they are literally every week in the dreary nightmarescape of tabloid lore. This week, InTouch has done a bit of extra storytelling: in addition to inventing a pregnancy, they have also invented a miscarriage. Aniston is allegedly "devastated" to realize that she may never have kids. InTouch takes this opportune moment to quote a February interview with Gloria Steinem in which Aniston sarcastically quipped that both were "in deep shit for being famous and childless." Behind the jokes, says the magazine, "there were tears." Ooookay. Props for really committing to your retrograde, sexist garbage-narrative, I guess? Moving on: in infinitely better baby-lies, Queen Latifah and her girlfriend, Eboni Nicols, are planning on having a surrogate baby, and they've asked Lenny Kravitz to be the father. This story is absolutely not true (his reps have denied it), but what a lovely bit of fanfiction it is: "Not only is he handsome, but [Queen Latifah] likes his inner peace and what he stands for as a man," says InTouch of her decision to use his sperm. All good criteria, if you ask me. Elsewhere in the magazine, someone is talking about Jessica Simpson's body again. Now that she has lost a sufficient amount of weight to appease the gnashing masses, who writhe around in a heap and while hissing "post-baby body..." eternally, her stomach remains a "problem area." We know this because she "conspicuously" only Instagrams herself in one-piece bathing suits. Jesus. Enough, people. Finally, the magazine contains an interview with a former underground poker dealer to the stars, who is named Molly Bloom (!!!!). She shares this exciting anecdote: "Once, when Pam Anderson's on/off husband Rick Salomon was playing with Ben Affleck, he questioned the Argo director and star about his former fiancee Jennifer Lopez's famous rear end (Ben eventually admitted J. Lo's derriere 'was nice,' Molly confirms)." Wow. A penetrating look into Hollywood's mysterious underbelly, if ever there was one.
G/O Media may get a commission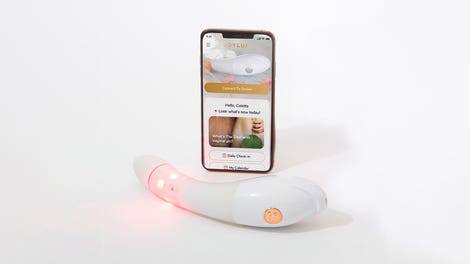 $50 Off
Joylux vFit Gold Device
GRADE: F (what's even the point, man? We're all just meaningless specks contained in a cruel and indifferent eternity that will never recognize or validate our futile struggles.)
---
Us Weekly
MARIAH DUMPED
Mariah Carey and Nick Cannon are getting divorced, and what follows is a bunch of stuff you've probably already read on the Internet: she is a diva! She suspects that he cheats on her! They have differing approaches to parenting! The one part of this story that stood out to me was that Mariah allegedly spends $46,000 a year on spa getaways for her eight Jack Russell terriers. Some of them are named: Squeak E. Beans, the Good Reverend Pow Jackson and Mutley P. Gore Jackson III. In the future, I would like to see more coverage of these terriers and their grooming habits. Next: Chris Martin is wooing Jennifer Lawrence, big-time. He reportedly writes songs for her (she loves his "soulful lyrics") and takes her to "private, romantic spots." This piece also contains the following sentence: "The Hunger Games star... is falling for the father of Apple, 10, and Moses, 8." That sentence is the opposite of a soulful lyric. Moving on: the Kardashians are divided over what to do about Rob, who is depressed and reclusive. What follows from this is a nice little SparkNotes summary of things the Kardashians have said on their tv show and/or at various televised appearances. You know. In case you're worried about Rob but don't want to do the intellectual legwork. And, finally, in utterly shocking news, Us Weekly is saying that Jennifer Aniston is fine with her prolonged engagement ("The 24-month betrothal is even an inside joke for the couple"). Even more shockingly, the following sentences were actually printed in a tabloid: "Says a source, 'At this point, Jen does not want children.' After all, the status quo is pretty good." WHAT!!!!!!! IS THIS ONE OF THE HORSEMEN OF THE APOCALYPSE? SHOULD I START STOCKING UP MY PANIC ROOM Y/N
GRADE: D+ (if God had a name, what would it be?)
---
OK!
BEYONCÉ PREGNANT
Beyoncé is pregnant, according to this extremely dubious story. Yes, you heard it here first: "Beyoncé and Jay seem to have reconciled... [and] they're hiding a life-changing secret: Beyoncé, 33, may be pregnant with their second child." I mean, anyone MAY be pregnant. That's not really a good secret. But here is some proof: Bey "politely declined" a glass of champagne one time "and even rubbed her belly, maybe unconsciously." Belly-rubbing: that immemorial and unmistakable signal of a woman being with child. In other news, Cara Delevingne wants Suki Waterhouse to dump Bradley Cooper because he is old and boring. "Cara teases Suki all the time for dating an old guy whose idea of fun is reading," says a source. Better fun is sitting on a yacht, the source adds. Yacht > book. Moving on: Sarah Jessica Parker and Matthew Broderick, who have been married for 17 years, had a fun time at the beach with their children. Sure! This is "surprising to anyone who's been tracking the pair's relationship," though, says OK! Have you been tracking the Sarah Jessica Parker and Matthew Broderick relationship? Were you surprised by the fact that they enjoyed the beach? Please let me know if this statement applies to anyone on earth. Elsewhere in the magazine, J. Lo is torn between Casper Smart, her ex who I think runs a condiment company and cheated on her, and Maksim Chmerkovskiy, who is a guy from TV who does dancing. What a triangle to be in.
GRADE: D (did you ever think... like... maybe we don't all see colors the same? Did you ever think about that? Damn. You will never truly know another person.)
---
Life & Style
PREGNANT & DUMPED
I think this is the most boring tabloid I've read in recent memory, which is saying something, because last week I read an account of Cameron Diaz eating seafood with Benji Madden's parents. This week in tedium, Kim Kardashian and Kanye West are headed for divorce because he is largely absent from her and their baby's lives; also, she is pregnant, I guess, in an attempt to keep the family together. I am so bored. Here's a good sentence to perk us all up: "[Kanye] loved the idea of getting Kim pregnant on their Honeymoon." Slightly better! Moving on, uh, Justin Bieber took Selena Gomez to Bible study class, which was good for them; several celebrities are planning on getting married in the near future, in case you missed it, including George Clooney and Amal Alamuddin and Lauren Conrad and an affable bro and Ashlee Simpson and Diana Ross' son; Jon and Kate are fighting over something but I value the purity of my mortal soul too much to look into it; "Kendra" will destroy "Hank," who cheated on her while she was pregnant, by making him look terrible on their joint reality show. Tbh, that doesn't really sound like a big challenge.
GRADE: F (damn, life really is a uselessly disturbing episode in the blissful repose of nothingness, if you think about it.)
---
Star
SHOWDOWN AT CLOONEY'S WEDDING
This batshit story about Jennifer Aniston and Angelina Jolie using George Clooney's wedding as a staging ground for a passive-aggressive showdown of epic proportions has everything: mostly just ridiculously fancy underhanded revenge plans ("Jen has become obsessed with the idea that looking good is the best revenge" and has thus commissioned several Lanvin dresses for the occasion; Angelina, too, has had multiple dresses custom made BY GIVENCHY AND CHANEL — DESIGN HOUSES BELOVED BY JEN. "When Jen found out about Angie's dress-designer plot, 'she almost fainted,'" says a source. As anyone would.) Also, Star cites "Brad's former psychic" as a source, which is impeccable sourcing. Brad's psychic says that he still loves Jennifer Aniston. From this illustrious peak, the rest of the magazine is a major letdown: there's an article about how Gwen Stefani is trying to get pregnant with her fourth child in order to "save her marriage," a terrible relationship-salvaging tactic that tabloids just treat as a normal thing that people do and understand; there's a story about Nick Cannon and Mariah Carey divorcing and Nick Cannon having secret girlfriends that's pretty unremarkable, save for this sentence: "But as Nick Cannon hung out on the deejay booth at the launch party for his new venture NCredible Tablet on July 26, he clearly didn't feel like texting Mariah, 'I miss u'"; and Kendra's mom did an interview with the magazine in which she said some questionable stuff about her daughter, who she accuses of being too obsessed with fame. Ugh. Wish the entire magazine were just a short story about the Jen vs. Angie Wedding Smackdown.
GRADE: F- for raising my hopes for good content, only to dash them cruelly (lolnothingmatters.gif)