Welcome back to Midweek Madness! Every Wednesday, we waltz through the pages of In Touch, Life & Style, Us, Ok! and Star in search of gossip. This week, Reese Witherspoon's wedding had Sacha Baron Cohen and a rockabilly band; Camilla, Duchess of Cornwall is being a mean girl to Kate Middleton; and there are a lot of worn-out nostrils on Dancing With The Stars.
Ok!
"Betrayed Before The Wedding."
Kim Kardashian and Kris Humphries are not actually engaged, but this mag claims Kris has set a date for the proposal: April 8. Surprise! What we have here is an exclusive interview with a friend of Kris's ex-girlfriend, Bianka — with a K, naturally — and this friend uses Kris's relationship with Bianka, his first love, to prove that Kris will also dump Kim. Because whatever you do to your first girlfriend you do to the rest. Obviously. Bianka does have one quote in the magazine: "I wish Kris all the best." Recap: No one has been betrayed; there is no wedding. Moving on: At Reese Witherspoon's wedding — which actually happened — Sacha Baron Cohen gave a toast. Did you know that Gerard Butler, Matt LeBlanc and Paul McCartney are all men who've dyed their hair? Hoda thinks that is "not ok!" (See Fig. 1) Lastly, is "Reader Of The Week" Connie Rosenfeld actually in Croatia, or is that background from a stock photography agency? (See Fig. 2)
Grade: F (meth & the macarena)
Star
"Dancing With The Stars Cover-Up."
This is a lot less exciting than it sounds. Apparently Kirstie Alley has a "secret husband." They met in high school in Wichita and got married when she was 20. His name is Bob Alley, so we're not sure how this is a "secret." Also, Kirstie and Bob's marriage was over by 1976, so he hasn't been her "husband" in decades. Alas! No "secret husband." The "extreme surgery" cover line refers to Wendy Williams, who has been quite open with the fact that she's gone under the knife. "Cocaine & Pills!" is an excuse to list the four people on Dancing With The Stars who had drug problems in the distant past: Kendra Wilkinson, Sugar Ray Leonard, Kirstie Alley and Wendy Williams were all cocaine enthusiasts! In general, there's no "cover-up," making for a cover story fail. But we do like the headline used on this druggy page, "Snorting With The Stars." Moving along: Dita Von Teese looks impeccable even when she's buying lettuce (see Fig. 3). Jessica Simpson has "decided to take charge of her health once and for all" before her wedding. And when they say "taking charge of her health" they mean "get skinny." She's lost 20 lbs. since January, and she's not done yet. You'll never guess who she's working with: Tracey Anderson! Kevin Federline's pregnant girlfriend is not looking forward to giving up her personal time or her great body thanks to the spawn of KFed, says an insider. Courteney Cox and David Arquette were together to promote Scream 4, and even held hands! Here some words from the Teen Mom story "Jenelle Tells Why She Snapped": Talking trash. Bad mom. Text text text. Fight. "Messed with me on the wrong day." Camilla, Duchess Of Cornwall is a "Monster In-Law." Why? "The very sight of Kate makes Camilla fume with jealousy." And: "Kate is the people's princess." And! Camilla calls her "Kate Simpleton" behind her back. Ouch. Once they went to lunch and Camilla insisted that Kate try the foie gras. Kate obliged, but later was ripped apart in the press because Prince Charles has banned foie gras from royal menus since it's inhumane. Also, this one time Camilla told Kate to eat some Swedish energy bars to lose weight, when they really make you GAIN weight! Ugh. In The Bachelor news, a "friend" claims that Emily may be pregnant. The mag interviewed Brad Womack's old girlfriend Laurel, who says that he can be verbally and emotionally abusive. Laurel says he once thought a guy was calling her and got so upset he started "violently kicking and punching" the bed. "He literally tore it to pieces." And! He would yell at her and call her a slut. We're assuming this was before he went to therapy?
Grade: D- (roofies & the robot)
G/O Media may get a commission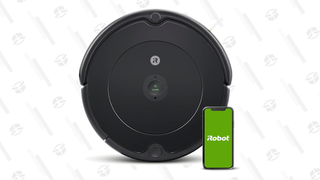 35% Off Black Friday Deal
iRobot Roomba 694 Robot Vacuum
In Touch
"Teen Moms Addicted To Plastic Surgery."
Poor Teen Moms. They do not deserve to be on this cover. Jenelle, on the left, hasn't even had plastic surgery, by the way. But she wants to get small implants. So: Not addicted! Leah wants to have her stretch marks removed, but also doesn't have any plastic surgery at this time. Maci (on the right) became really self-conscious about her body on the show, and got implants, and now feels "super confident." She may get more surgery soon, but again, no evidence that she is "addicted." Amber is planning to get a $50,000 plastic surgery makeover so that she can look like Marilyn Monroe — and then she'll pose for Playboy — but as of right now, she's had zero plastic surgery. Farrah got a boob job a while back, and "she's always talking about what else she can fix." Her face, her nose, her lips, etc. But no addiction. Meanwhile, Teen Mom Kailyn does not want lipo or plastic surgery, bless her heart. Next: Kendra Wilkinson is jealous of Kirstie Alley's popularity on Dancing With The Stars. Kendra thought she'd be the sexy one everybody's talking about, but Kirstie upstaged her. And! Even though Kendra has lost her baby weight, she's still taking water pills. Ew. Brad Pitt, Angelina Jolie and the kids were all in New Orleans on the set of Brad's movie Cogan's Trade; then Angie took the kids back to L.A., supposedly so they could go to school, but actually because she "overstayed her welcome." Brad felt that Angie was "checking up on him" to make sure he wasn't smoking or flirting with other actresses. Uh-uh. Right. Eddie Cibrian is starring in an NBC series called Playboy, and LeAnn Rimes is worried that he'll cheat, since he's hanging around hot ladies all day long. Jennifer Aniston has been texting Bradley Cooper again, and a friend says she'd give him another chance "in a heartbeat." Drew Barrymore is totally smitten and talking marriage with boyfriend Will Kopelman. "She can't keep her hands off him," wants babies and thinks he's the one. Ashton Kutcher bought a $4,000 "doomsday kit," with emergency blankets, water rations, ready-to-eat meals, flashlights and the like. He's ready for the apocalypse! "How To Lose A Guy In Four Months" is all about how Kim Kardashian is clingy, and Kris Humphries will dump her by summer. Kate Middleton is a "princess under pressure," and getting only two hours of sleep a night. To combat stress, she's taking vitamins and echinacea, and attending Bikram yoga. Lastly: Jessica Simpson may not be ready to marry Eric Johnson — she's yearning for independence, and many of his pros are turning into cons. For instance, the former vegan is now eating meat! She's sad that he changed for her, sob.
Grade: D (pills & the polka)
Life & Style
"Baby Drama."
Britney's coverline reads, "baby no. 3 on the way!" and is solely based on a conversation Brit had at a little league game, when another mom asked her if she'd have more kids. Brit said, "Oh yes, I would." This does not mean that Britney is pregnant! But sources say she and Jason are one step closer to being engaged. A doctor who does not treat Britney weighs in on whether or not she should get knocked up, keeping in mind which prescriptions she's taking. Khloe is "feeling lots of pressure" about getting pregnant. "I feel like I'm letting people down," she says. "My mom literally calls me daily to ask when my period is supposed to be." She also says: "I'm not desperate to have a baby right now, but if I got pregnant tomorrow I'd be over the moon excited." We don't even really know why Kim Zolciak, the other "baby drama" lady, is on the cover, since her quote about being "fearful" someone will attack her is from January. Taylor Swift is "struggling" with being single; though she sings about Romeo, backstage she shouts, "I hate boys." In this story about Reese Witherspoon's wedding, the mag notes that tents were set up because there was gloomy weather, "but any clouds parted — literally — when Reese spotted Jim." Just like a Reese Witherspoon romcom! An eyewitness says: "After an overcast day, the sun broke through to deliver blue skies for the beginning of the wedding." Sniffle. Kirstie Alley and Maks from Dancing With The Stars have been flirting and getting touchy-feely, and there might be something going on! She likes bad boys; Maks has a history of romancing his partners. In other news, Emily and her daughter are moving to Texas to be with Brad from The Bachelor; an insider says: "They genuinely love each other." Bleh. Ruby Gettinger — who has lost 400 lbs. — says she doesn't want to die a virgin. "I hope that it will come with marriage, but I will never say never." Lastly: The Situation's club appearance rider specifies no eye contact or direct conversation. And by the by — it's been 167 days since he last showed off his abs.
Grade: D+ (steroids & the stanky leg)
Us
"Inside Reese's Wedding."
Here, you'll find three aerial photographs from the day Reese Witherspoon got married, which means while people were trying to enjoy the charming farm atmosphere, there was a helicopter buzzing over the house. Reese was going to say her vows with a veil over her face, but changed her mind at the last minute and pulled the veil back. Scarlett Johansson attended the festivities and told a friend that it was "amazing" and "Reese looked so happy." T Bone Burnett's pals — rockabilly band The Americans — played during dinner, and guests ate endive salad with olives and fava beans and wild striped bass, garlic mustard grilled chicken, and herb-roasted lamb. Dessert was chocolate cake without icing — maybe more like a brownie? Sounds good. Reese and new husband Jim Toth don't have a honeymoon scheduled — her spring is full of promotional duties for Water For Elephants — but a source says a baby is "definitely" on the agenda. Just in case you're interested, this article comes with a sidebar called "Rules For A Second Wedding." FYI: The bride should not expect a gift! Also, Reese made a "blunder" by choosing a classic long veil. Next up: Despite the fact that we're always hearing that she's a bitch and he's storming out, Angelina Jolie and Brad Pitt went on a mommy and daddy trip to Utah's Amangiri Resort. We suspect they spent some time in the gorgeous spa, since that's what we would do if we went on a mommy and daddy trip with Angie and Brad to Amangiri. Seriously, this place is gorgeous. Lastly, in the special "Makovers Of The Year" section, Emma Watson was awarded "best total improvement."
Grade: C (coke & the can-can)
Addendum:
Fig. 1, from Ok!
Fig. 2, from Ok!
Fig. 3, from Star