Welcome to Midweek Madness, where we find out about the potential nor'easter, dread the days spend trudging through the two feet of snow, and daydream about spending a week in Los Angeles at Jennifer Aniston and Justin Theroux's house. Justin cooks the breakfast. Jen makes the juices. "Do you want beet in yours?" she asks me. "Beets me!" I respond. We all laugh. Because we're friends.
This week, every married couple is getting a divorce, Blake and Gwen may or may not be tying the knot, and Beyoncé is pregnant.
Let's get this over with so I can daydream some more.
---
OK!
GWEN & BLAKE: SHOTGUN WEDDING
I know they're saying this is a shotgun wedding because Gwen is allegedly "pregnant with twins," but I wouldn't be surprised if it were also called that because they're expecting every guest to bring a shotgun or three to the ceremony. Or maybe they'll give shotguns to every guest? Or there's some kind of 21 shotgun salute after they both say "I do"? Honestly you could tell me any shotgun-related thing about this wedding and I'd believe it. Sources closest to the couple say, "They want to give the event a lively, down-home flair—more beer and barbecue than champagne and caviar." And while that does sound lively, it also sounds like the opposite of Blake Lively—and that's Blake and Gwen in a nutshell.
G/O Media may get a commission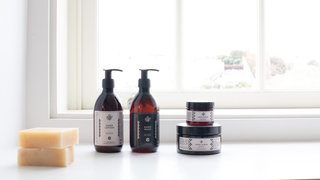 Exfoliate and Hydrate
The Handmade Soap Company
Khloe's "hitting the bottle" and doesn't plan on putting any of them down in the near future. She's reportedly been drinking herself to sleep most nights due to depression over Lamar (what's going on with him, by the way?), and those close to her think "the timing of her new show [Kocktails with Khloe] couldn't be worse." If the story is accurate, and Khloe does indeed have a problem, the following description of her upcoming show is not funny. If, however, it's all garbage and Khloe is fine, the following description of her upcoming show is and hysterical:
"Khloe is clearly inebriated in episodes already filmed, and so are some of her guests, which just makes for messy, uninteresting television. She also rambles on about her family, which producers warned her would be a problem, fearing Kardashian fatigue setting in."
Yeah, I'll be watching.
Before I move on, please know that OK! is reporting Jennifer Lawrence and Leonardo DiCaprio may soon be fucking. Though Leo's people have denied this to, we all know who the more reliable source in this scenario is.
And Also:
Kyle Richards is quitting Real Housewives of Beverly Hills.
Gwyneth is mad at her boyfriend Brad Falchuk for offering a role on Scream Queens to Julia Roberts and not her.
Yoga is ruining Julianne Moore's life.
Jonah Hill is probably drunk enough right now to be on Kocktails With Khloe.
Amber Heard is pregnant with Johnny Depp's baby.
Paris Hilton was brainwashed by her boyfriend.
Grade: D- (You go on Kocktails with Khloe and they run out of booze.)
---
In Touch
GWEN CANCELS THE WEDDING
Oh dang! Remember how I just told you Gwen and Blake would be walking down the aisle along with a wheelbarrow filled with shotguns and Budweiser? Well I guess I was wrong, because In Touch is reporting that they have canceled their wedding. Oh, and they're not pregnant with twins either. But though some of their friends say this just just another sign that their relationship is nothing but a "major fling," Gwen "insists it's true love with Blake." Other things who insist it's true love with Blake include camouflage, kegerators, every single employee of Jack Link's jerky, and all the women he's made suggestive tongue gestures to at some dive bar in Oklahoma.
Madonna is so scared that her ex, aspiring journalist Sean Penn, is going to be murdered by someone associated with El Chapo, that she's offered to let him use her bodyguards. Penn, ever the gentleman (..........), refused her offer, despite reports that he "believes Mexican authorities want to put him at risk and in the crosshairs of the cartel." In a statement to In Touch, a former DEA officer said, "There are plenty of people who would kill Sean Penn for no pay." No word on how many of those people are connected to El Chapo, but I'm assuming it's somewhere between 10 and 15%.
In an interview, Melissa Gorga revealed she and Teresa Giudice are fine now:
"Drama's behind us! We are good! I think she and I both have realized that we made a lot of silly choices before, and we've come a long way."
She's also "so excited" to read Teresa's prison memoir. Same!
And Also:
Tan Mom is a Scientologist now.

Kim and Kanye will renew their vows "to save their marriage," because that's generally effective.
JLo got breast implants.
Jennifer Lawrence got a Chris Evans implant. ;)
Wrong Answer:
Grade: F (You show up to Oklahoma for Gwen and Blake's wedding not knowing it's been canceled.)
---
Life & Style
THEIR WORST NIGHTMARE: PREGNANT & DIVORCING
Until recently, Beyoncé Knowles and Cameron Diaz haven't had anything common apart from their involvement in the 2000 Charlie's Angels movie (Cam acted, Bey sang with two unidentified women), but today they are sisters in grief. As much as it pains me to say this, the two are both pregnant, divorcing their husbands, and miserable. Reasons behind both their divorces are the same old stuff. There are "career demands" and "infidelity rumors," and both couples have hired divorce attorneys. With any luck, the two will become close friends and we'll get to see pictures of them pregnant together in the April issues of Life & Style. That's a good friendship.
Doctors told Rob Kardashian he's gonna drop dead if he doesn't start dieting. Though it's possible to "save his life" through diet and exercise, sources say "he's depressed and angry" and doesn't feel like putting in any effort. Another source says he has "a death wish." I used to think Rob was going to end up with his own reality show on E! about his physical transformation, but am beginning to think he never wants to see a camera (or Ryan Seacrest) again. SAVE HIM, KHLOE!
And Also:
James Harden reeeeally wants Khloe to divorce Lamar.
Mariah books two hotel rooms when she travels: one for her, one for her luggage.
Russell Crowe's nipples are constantly chafing.
Bachelor Ben's ex says he's "not bad" in bed.
Brad Pitt's skin is so good because he eats a shitload of chia seeds.
Amy Schumer's gonna marry that guy who did blackface.
I don't know what the hell liquid metal is but if you don't wear it this week I hope you become the T-1000's next target.
Wrong Answer:
Grade: F (The T-1000 finds you and you're nowhere near a steel mill.)
---
Star
3 DIVORCES: AND ONE OF THEM IS PREGNANT
It's Wednesday, so that means everyone in Hollywood is either divorcing or planning a secret wedding. Among those headed to divorce court are Nicole Richie, Drew Barrymore, and Cameron Diaz—three sisters-in-law (two legally, one spiritually.) Here's a rundown of why the hell they're all so miserable:
Nicole Richie:
WHY: Her husband, Joel Madden, is constantly cheating.

HOW'S IT AFFECTING HER: She's "losing sleep."

IS SHE PREGNANT: No.
Drew Barrymore:
WHY: Drew has become "bored with the marriage" because she has a "need for drama."

HOW'S IT AFFECTING HER: She's preparing for a custody battle.

IS SHE PREGNANT: Maybe.
Cameron Diaz:
WHY: She and Benji are just "very different people."

HOW'S IT AFFECTING HER: She's "stressed."

IS SHE PREGNANT: According to Star? No. According to Life & Style? Hell yes. With twins.
Is Corey Gamble gay? Star won't say. But they will rudely say this:
And Also:
Heidi Klum eats macarons by the box...and she doesn't share.
All the women in Ghostbusters: Lady Edition hate each other.
Hailey and Ireland Baldwin hate each other.
I can't tell Hailey and Ireland apart.
"People dread working with Krysten Ritter."
Naomi Watts and Liev Schreiber are probably gonna divorce soon, and that makes me sad.
Blake Lively and Ryan Reynolds are probably gonna divorce soon, and that makes me hungry. Time for lunch!
Wrong Answer:
Grade: F (You read all of this week's tabloids in a row.)
---
Appendix:
Fig. 1 - In Touch
---
Contact the author at bobby@jezebel.com.