Two more women have come forward with allegations against R. Kelly, just days after the Women of Color committee within the Time's Up movement threw its support behind the #MuteRKelly campaign and the singer's representatives responded by calling it a "lynching."
In a report published on Friday, one of the women, Lizette Martinez, told BuzzFeed she lost her virginity to Kelly at age 17. Another woman named Michelle said her daughter met Kelly as a singer, moved to Atlanta to become his personal assistant, and has since been unreachable by phone.
The report states that Martinez was a high school student when she first met R. Kelly at a mall with her friend in Miami. It was then that, Martinez said, his manager handed her the singer's phone number on a balled-up piece of paper. Within a month, their relationship became sexual, according to Martinez, who told BuzzFeed, "The first time I had sex with him there was a party going. Some of his crew gave me alcohol and I was drunk basically when we had sex." Her mother and her friend confirmed that she told them the story not long after.
Martinez said she later got pregnant and that Kelly wanted her to get an abortion:
"I came from a very Catholic background. I didn't believe in abortion."
One night, while waiting in her room at the Marriott Hotel Downtown on Chicago's Magnificent Mile, she miscarried. She tried to call Kelly, but she couldn't reach him. She went through the experience alone. "I guess it was for the best. I didn't want to go through that abortion."
G/O Media may get a commission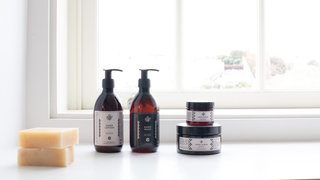 Exfoliate and Hydrate
The Handmade Soap Company
Martinez said she stopped seeing R. Kelly in 1999, after recovering from a bout of mono that required her hospitalization. Martinez also said Kelly was physically abusive before then (she said he hit her five times) and extremely controlling, dictating what she wore and said and how she spent her time. "I was damaged. I didn't want to do music anymore. I kind of gave up on my dreams," she told BuzzFeed. "I wanted to live a normal life. I was too young to go through those things."
The other woman, Michelle, described to BuzzFeed how her daughter, referred to as N., met Kelly through Jerhonda Pace, a woman who broke her nondisclosure agreement to speak to the press about her own alleged underage sexual relationship with the singer.
According to Michelle and Pace, N. began to spend more time with Pace and Kelly at the singer's mansion in a suburb of Chicago. The report states that N.'s relationship with Kelly turned sexual, that she was hired as his personal assistant, and that she moved into Kelly's home in Atlanta.
At first, Michelle said, N. came home for the holidays and her birthday and she could always reach her daughter on the phone, but then things changed:
In Atlanta, Michelle says, her daughter started using a new phone that Kelly had given her, "But it wasn't a number that I could reach her." Anytime she tried to call her daughter, Kelly answered; sometimes N. would call back later.

"I don't have no number for her," Michelle says. "Anytime I need to talk to her, I have to go through [Kelly], and then he'll say, 'Oh, she's at the mall. She's busy.' And one time I asked him — he FaceTimed me, and I said, 'Why you ain't letting my daughter come home?' And he was like, 'She don't want to come home.' Nigger, you're a liar! Anybody knows me and my daughter, we are best friends, like literally, you know?"
Both women's accounts seem to corroborate the story that Jim DeRogatis—who co-wrote this latest report with Marisa Carroll—broke at BuzzFeed last year about Kelly's alleged history of luring young women into his circle, promising mentorship or career opportunities, and then entrapping them in a so-called "cult" in which he controlled various aspects of their lives and sometimes forced them into sexual acts against their will.
"My purpose of telling this story is this has gone on for years. This is not new, this 'cult' thing," Martinez told BuzzFeed.
Read the full report here.